Swine welfare specialist ensures quality pork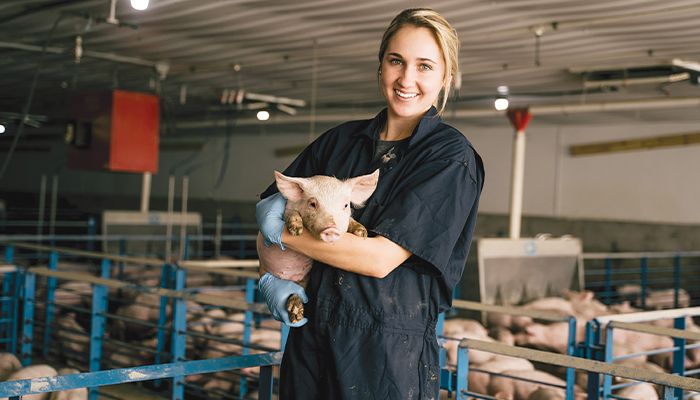 Consumers increasingly want to know how farmers work to ensure farm animals are safe, comfortable and well cared for.
And Iowa farmers are responding to consumer demand. Many farms are hiring animal well-being specialists, opening up barns to third-party auditors and adopting pork quality assurance standards to give consumers confidence in the pork they buy.
"Farmers are focused on how well the animal is treated, and consumers are driving this trend. They want to know that we (farmers) are doing our job, that we care about the well-being of animals," says Jennie Greene, health and welfare specialist at Eichelberger Farms, a pork farm based in Wayland.
Best possible care
Greene, an Iowa State University graduate who grew up in Crawfordsville, travels regularly to the Eichelberger Farms' sites to ensure pigs receive the best possible care. These sites include 14 sow barns in Iowa, Illinois and Missouri, plus 260 finishing barns in Iowa.
On Mondays, Greene visits one of the sow sites, so she has a weekend without exposure to other pigs to protect biosecurity. She spends the rest of the week visiting finishing barns.
In each barn, Greene conducts what's known as the common swine industry audit. 
The audit, created by animal well-being ex­­perts and adopted by U.S. pork farmers and processors, confirms that caretakers are following best management practices to ensure pigs are healthy, comfortable and less stressed.
"It's not just a farmer raising a pig; there are a lot of checks and balances (in pork farming). There are many steps in places and so much we do to keep pigs healthy," Greene says.
Greene says it takes about 3 to 5 hours to audit a farm. During the audit, Greene inspects the cleanliness of the barns and pigs. She checks the overall environment — ventilation, temperature, and access to food and water.
In addition, Greene walks through the barns to confirm the pigs are healthy, injury-free and well-fed.
To ensure food safety, Greene checks caretakers' records, which document any medications given and the proper withdrawal times before the pigs can be marketed.
Unbiased audits
Greene says she audits the sow barns about four times a year; the finishing barns about two times a year.
Packing plants also send third-party auditors to random sites to confirm that animal well-being and food safety standards are followed, she says.
"Consumers want these unbiased auditors," Greene explains.
Greene says she spends about 45% of her time auditing farms. She also is a certified Pork Quality Assurance (PQA) instructor. Greene conducts and tracks all PQA training certification for caretakers at Eichelberger Farms.
Iowa farmers are listening to consumers, and they understand that keeping pigs as comfortable and stress free as possible improves overall pork quality, Greene says.
"For farmers, pigs are their livelihood, and they care about the pigs a lot," she says.
Want more news on this topic? Farm Bureau members may subscribe for a free email news service, featuring the farm and rural topics that interest them most!