Summer treats on wheels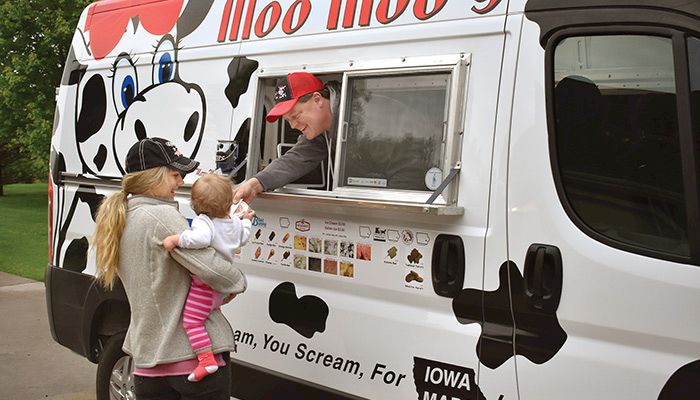 I scream, you scream, we all scream for ice cream.
Farm Bureau member Sheila Happel learned the familiar ditty as a young child dancing around the kitchen with her grandfather.
"It's amazing when I think back on it, how much of my childhood involved ice cream," says Happel. Even checking fields with her dad included a family trip to town for ice cream.
Little did she know her life road would lead her to her favorite treat.
Happel, along with her husband, Jason, own and operate Moo Moo's Ice Cream Truck in the Cedar Rapids-Iowa City corridor, providing young and old with an ice cream experience that never fails to put a smile on their face.
There are five Moo Moo's Ice Cream trucks on the road — one in Iowa City, one in Coralville and North Liberty, one in Solon and the surrounding small towns, and two in the Cedar Rapids, Hiawatha and Marion areas.
"Drivers will usually go to businesses in the afternoon, then residential neighborhoods in the late afternoon and early evening," says Happel.
Local business and industry have been some of their best customers since the trucks began running this March, offering ice cream to employees and customers for appreciation days or as part of food truck days. They do private parties, and have special birthday party packages. Along with many small town festivals and celebrations, they can be found this summer at the Iowa Arts Festival and Jazz Festival in Iowa City, North Liberty Blues & BBQ and the Freedom Festival in Cedar Rapids.
Jason comes from an entrepreneurial background and both he and Sheila have supply chain experience. Jason also carries fond memories of driving an ice cream truck in college. They had kicked around the idea for some time, but finally made a plan during a 12-hour road trip.
"We were looking for a different way to bring back an old tradition to the area," says Happel, "and I'm one of those people who likes to have a purpose to what I do, so I wanted the business to tie into a larger mission."
That mission is to promote agriculture and local producers. Raised on her family's farm in North Dakota where her son now farms, Happel knows first-hand the struggles of today's farmers. The couple both have many childhood memories on their grandparent's farms in North Dakota and Iowa.
"I guess you could say it's in our DNA," says Happel. "We're passionate about farming and about supporting Iowa-made products."
Moo Moo's doesn't sell just any ice cream. It only sells Iowa-made ice cream.
Ice cream sandwiches come from Thelma's Treats in Des Moines, where a quest to bring "Grandma's" cookies to the public led to pairing them with Anderson Erickson Dairy ice cream.
Dan and Debbie's Creamery, a first generation dairy and creamery near Ely, provides individual servings of ice cream and Italian ice. In addition to ice cream specialties, Dan and Debbie's produces cheese, milk and butter.
Nearby Kalona is home to the infamous Kalona Bar, the ultimate old-fashioned ice cream bar. The regional specialty dates back to the 1950s. Today's version is made by Yotty's Ice Cream Shop and also uses Anderson Erickson Dairy ice cream.
And of course, one can't serve Iowa ice cream without including Wells Blue Bunny — the frozen goodness that has made Le Mars the Ice Cream Capital of the World.
The trucks also cater to four-legged customers with handmade, healthy dog biscuits from Woofables Gourmet Dog Bakery in Coralville.
"We hope to include other small dairies and their products going forward," says Happel.
"We want this to be more than just ice cream you can buy anywhere," she adds. "We're learning as we go, and it is fun and exciting to support other small businesses and our Iowa farmers."
Moo Moo's Ice Cream truck drivers are well versed in the stories of the ice cream providers and readily share them with customers, often leading to independent customer adventures to the dairies and ice cream shops to see the operations for themselves.
Happel says the venture is well received in the community, making the time and financial investment worthwhile.
But all the dollars, corporate bookings, even the excitement of promoting Iowa products doesn't compare with seeing a pack of kids jumping up and down screaming in anticipation, or the broad smile on a youngster exploring her first ice cream treat.
"The number one question people always ask me," says Happel, "is how do you get that (ice cream truck) music out of your head. That's not a problem. At the end of the day, all that is stuck in my mind is the joy and smiles of kids and their parents, and the satisfaction of knowing we're able to carry out our passion for supporting other small businesses, farmers and Iowa made products."
Queck-Matzie is a freelance writer from Greenfield.
Want more news on this topic? Farm Bureau members may subscribe for a free email news service, featuring the farm and rural topics that interest them most!