Spreading knowledge kid to kid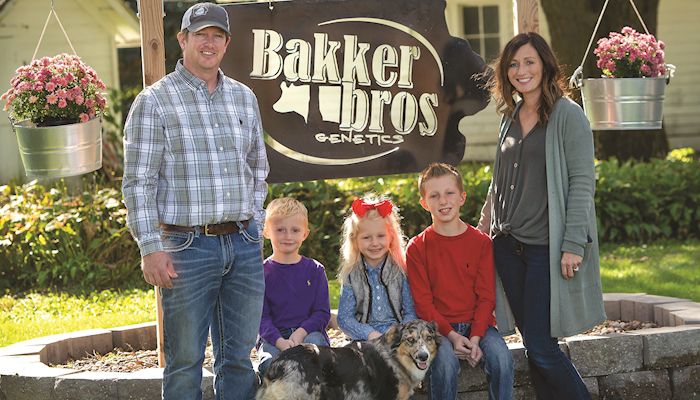 Caeden Bakker is only 9 years old, but he knows a lot about pigs. He's been showing pigs since he was two and has traveled the country with his family, showing pigs the family raises.
Now Caeden is sharing his pig knowledge with other kids through a project from the Iowa Agriculture Literacy Foundation (IALF).
Caeden is featured in IALF's latest book, My Family's Pig Farm. It's written by Katie Olthoff and designed by Jenn Hindman. The book will be released this month in honor of October Pork Month.
Through Olthoff's story, Caeden shows the family's pig farm near Dike.
He takes young readers inside the family's farrowing barn and shows how he and his family take care of the pigs. He points out how the family uses technology to monitor temperatures inside the barn. Readers are taken through the various stages of the family farm, showing pig care, how manure is used as a fertilizer to grow crops and how pigs are eventually harvested.
Caeden said the book serves a special purpose: "So kids can start learning about ag and what we do on the farm," he said.
Only about 10 percent of the students at his school live on a farm, he noted, so they are removed from Iowa agriculture.
That's what made this book important to write, says Will Fett, executive director of IALF.
"As much as anything, we're continuing the series with Iowa commodities," Fett said.
This book is a special project of the Iowa Agriculture Literacy Foundation, Iowa Pork Producers Association and Ag Ventures Alliance. IALF has already released books about Iowa soybean, corn, cattle and wind farming.
It's the continuation of Iowa agriculture series in what Fett calls the big four in Iowa: corn, soybeans, cattle and pigs.
"I don't know that everyone connects Iowa with pork. If you're from Iowa you do, but I think more people associate it with corn," Fett said.
Now, readers can see the connection between raising pigs and using Iowa corn and soybeans to feed them, Fett says.
Importance of pig farming
The book is a good way to show the importance of pig farming not only to Iowa, but also to national and international markets with the related meat products and byproducts, he said.
Pig farming is very important to the Bakker family, who are Grundy County Farm Bureau members. Caeden's parents, Jarrod and Shari, are third and fourth generation farmers. They grew up raising and showing pigs, and now Caeden and his brother and sister, Cooper and Olivia, are following in their footsteps.
That's why the book is important to them, too.
"As much as people have gotten away from the farm and they're generations removed from the farm, it's important to teach children where their food comes from and how it's raised. Obviously, food doesn't just show up at the supermarket. There's a process behind it and it's important that we have consumers that know where their food comes from and know that farmers and agriculturalists are doing what they need to do to make a safe product," Jarrod said.
The book is written at a third-grade reading level, but supplemental text is geared toward more advanced readers.
"I know the book is meant for third graders, but I bet there are parents who would learn something," Jarrod said.
Much of the pork produced in the United States comes from family pig farms in Iowa, like the Bakker family's farm. And much like the farm chats Shari facilitates with her work at Iowa State University (ISU) Extension, the book helps connect students and readers with a local farmer.
"Ninety-nine percent of Iowa's farms are family farms, and this helps put a face to a farmer's name," Shari said. "A farmer is the same person that you see at the town sporting events and at the grocery store and we're people, we're not big corporations. It's important for kids as well as adults to see that," she said.
Involved in the farm
Caeden, Cooper and Olivia are very much involved in the family's pig farm, the Bakkers say. They help not only with daily chores, but also help their mom and dad with vaccinations and are learning other animal care tasks. Caeden has been certified through the Youth for the Quality Care of Animal program, a national multi-species quality assurance program for youth that focuses on food safety, animal well-being and character development.
Caeden, Cooper and Olivia also help care for the show pigs that the family raises, shows and sells.
"They know that they have to be out there if they want to show pigs. We raise show pigs as a business as well, so they know that if they don't put the work in, those pigs are going to go to someone else as a project and not stay here," Shari says. "I think it's important because it teaches them not only about chores and responsibility but having something that relies on them to eat and drink and stay healthy every day is such a huge life lesson."
The next generation
"We're kind of building the next generation," Jarrod says. "We're trying to teach them some things so hopefully they learn and start to appreciate it. If there is an opportunity down the road, hopefully they want to stay involved. Even if they don't stay and take a different job, they will know then at least how food is raised and where their lunch comes from. They can be advocates for the industry."
The digital version of the book and accompanying lesson plans will be available at www.iowaagliteracy.org.
To request hard copies of My Family's Pig Farm, or other books in the series, email the Iowa Agriculture Literacy Foundation at info@iowaagliteracy.org.
Want more news on this topic? Farm Bureau members may subscribe for a free email news service, featuring the farm and rural topics that interest them most!