Spokesman Extra: Livestock in Iowa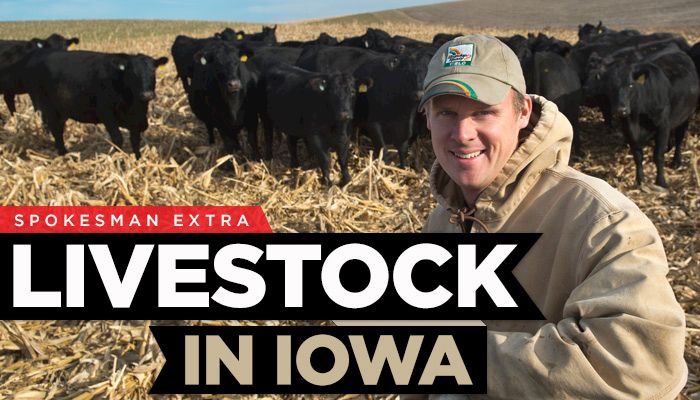 Livestock production is a powerful engine for Iowa's economy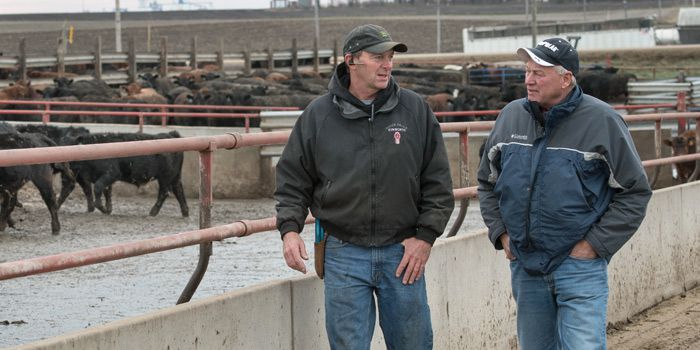 Just as livestock raisers in Iowa need corn and soybeans as feed ingredients to feed their livestock, Iowa corn and soybean growers say the livestock industry is a key to their business success.
"As a grain farmer, we need the livestock in Iowa for our markets. We need each other; it really does go hand in hand," said Steph Essick an Iowa Soybean Association board member from Dickens. She's the chairperson of the board's demand committee.
Nearly one in four rows of soybeans is fed to more than 38 million pigs that are fed annually in Iowa, Essick said. Nearly 20 million metric tons of U.S. soybean meal is used to feed pigs, cattle, dairy cows, and poultry in the United States, according to the American Soybean Association.
The livestock industry is the largest customer for Iowa corn growers, said Mark Mueller, a corn grower from Waverly.
"Livestock is critical to our state, and it's important to my operation," Mueller said. He is on the Iowa Corn Growers Association's Iowa Corn Animal Agriculture & the Environment Committee.
"Forty percent of Iowa's corn goes to livestock, and that's bigger than any other place for it to go in the state of Iowa," Mueller said.
While exports and ethanol may get more attention, livestock remains the top customer for Iowa grain farmers. The top usage for U.S. corn is livestock feed, according to the Iowa Corn Growers Association. About 39 percent or 5.3 billion bushels of the U.S. corn crop went into livestock feed in the 2014/15 marketing year. Nearly 10 percent or 1.42 billion bushels of U.S. corn was turned into DDGs in the 2014/15 marketing year.
One of the essential elements in raising livestock in Iowa is the access to high quality grain to feed to livestock, says Lee Schulz, assistant professor and extension livestock economist at Iowa State University.
"Value can be added to crops by converting them to animal proteins," Schulz said.
It's a continuous cycle full of value for both grain and livestock farmers, Schulz noted. Manure from the livestock is used as a high quality fertilizer; corn and soybeans are used for livestock feed, and the cycle continues.
"We have that opportunity and option to market our corn or soybeans through our cattle and hogs here since we are large in feed grains and livestock production," Schulz said.
Video Gallery:

Link To Study / Infographics:
Ag Economic Contribution Analysis (CSIF website). Click
here
to visit.
Iowa Counts on Agriculture Infographic (.PDF format). Click
here
to view.
Just the Facts - Agriculture's Contribution in Iowa (Sioux County). Click
here
to view.
Additional Links:

Iowa Minute Video Gallery:
Want more news on this topic? Farm Bureau members may subscribe for a free email news service, featuring the farm and rural topics that interest them most!