Solar energy pays off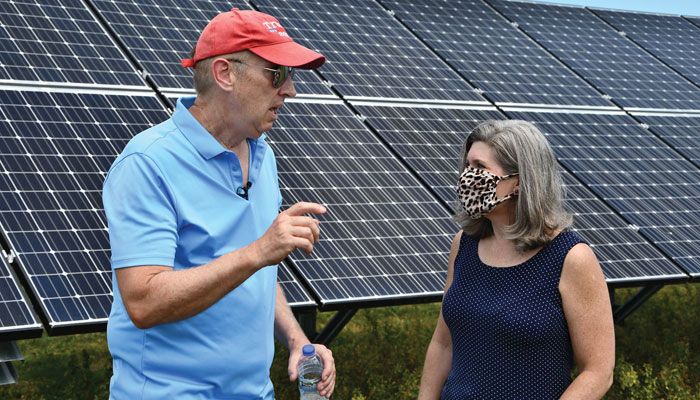 Sometimes, the fiscally sound way of doing business and sustainability line up. That's what the Dorr family of Cherokee County expect from solar energy systems installed recently at six of their hog barns.
Each barn holds between 2,000 to 4,800 head, and all six are now receiving between 95% to 100% of their electricity from solar arrays constructed at each site late last year.
"With six sites, it costs a fair amount of electricity, and you know, electricity costs only go up," the hog barns' co-owner Phil Dorr said.
The cost to install solar panels all six sites ran the Dorr family about $2 million up front, but according to Blue Horizon Energy LLC, which built the systems, the arrays should break even within six to eight years, allowing many years of energy savings left in the life of the solar panels.
"This is a significant investment for us, but ultimately, it will provide a lot of value," Dorr said.
Last week, the Dorrs welcom­ed Iowa's U.S. Sen. Joni Ernst and Iowa Agriculture Secretary Mike Naig to one of the hog sites to see the new system and learn more about solar power.
"What's I've seen today is ab­­solutely remarkable," Ernst said following a walk around the array. "I want to commend … the Dorrs for being so engaged in the renewable energy space."
In addition to the Dorr farm, Ernst also visited with leaders of the Marcus-Meriden-Cleghorn/Remsen-Union Community School District (MMCRU) in Marcus. The district recently announced plans to have Blue Horizon install a solar array at the high school after seeing the success of the Dorrs' systems.
Leading the way
"It is really so great. Iowa is leading the way … with our renewables," Ernst said. "We [receive] so much of our electric from wind turbines, and now we see more solar and, of course, with renewable fuels. It is pretty remarkable for a state to be able to cover so many different avenues of sustainable energy."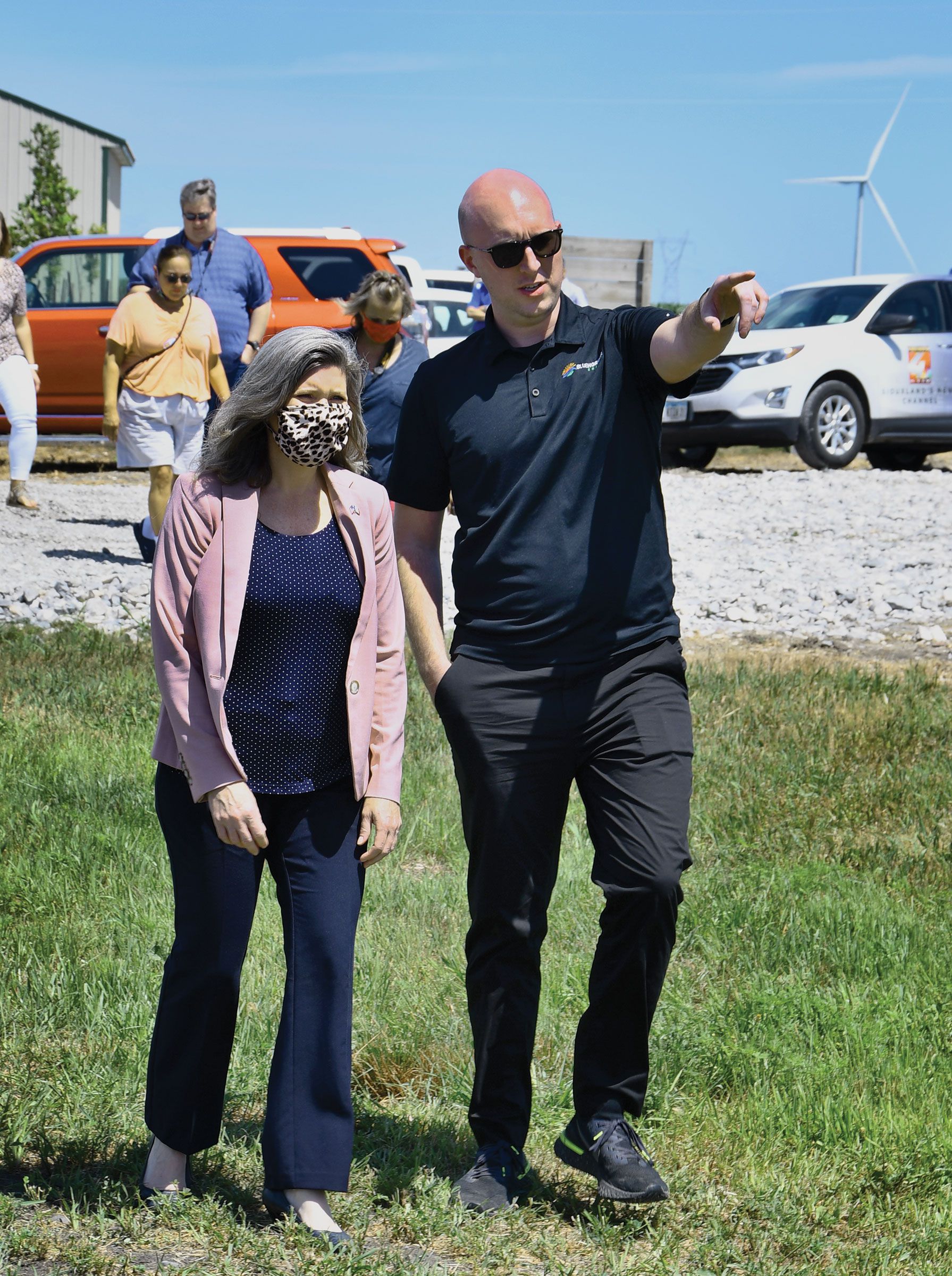 Griffin Dooling, president of Blue Horizon, noted that their solar arrays use almost exclusively American-made products, including the panels themselves, which come from a Panasonic factory in upstate New York. He said the panels come with a 25-year warranty, which is the approximate life expectancy of a solar panel, making it a fairly low-risk investment. "Barring an act of God, like a tornado, these panels will last a long time," he said.
Dooling also said farmer interest is picking up for solar power.
"We're seeing a lot of in­­terest across the ag value chain," he said. "Whether it's grain sites, hog sites, other live poultry sites and even drain tile pumps, placing arrays in remote locations to run sites is a cost-efficient way."
Managing costs
Naig said he was impressed with the system and how it was applied to help manage costs at the Dorr farm.
"In so many ways, we're just at the beginning of this innovation," Naig said of solar power in Iowa. "That's one of the things I love about Iowa agriculture. We have so many opportunities here," he said. "We've got some challenging times right now — there's no doubt about that, but now is really one of those opportunities to look ahead and figure out: How do we want to grow? What do we want Iowa agriculture to look like coming out of this crisis, and what opportunities are there to innovate and become more cost efficient?"
Want more news on this topic? Farm Bureau members may subscribe for a free email news service, featuring the farm and rural topics that interest them most!