Soil health partnership setting sites for 2017 field days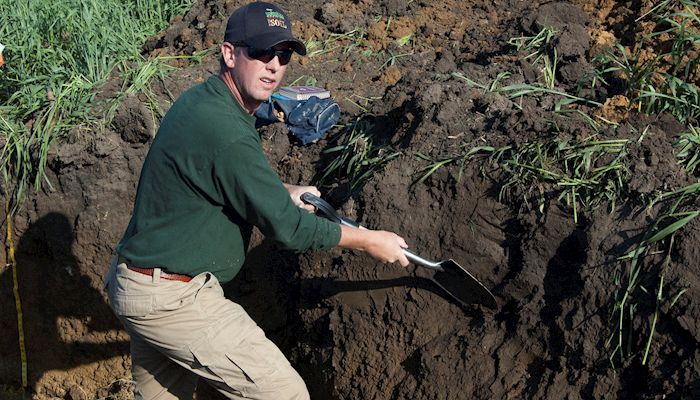 The Soil-Health Partnership (SHP) is in the process of setting dates and locations for field days that will provide information about long-term studies the organization that began in 2016.
SHP is a farmer-led initiative of the National Corn Growers Association. SHP brings together diverse organizations including federal agencies, universities and environmental groups.
The partnership was launched in 2014 to identify, test and measure farm management practices that improve soil health and benefit farmers, according to SHP Iowa Field Manager Elyssa McFarland.
SHP works with farmers to identify their soil health concerns and identify which practices would be feasible to incorporate into their existing management.
This process allows farmers to customize how they implement soil health improvement on their farm, while the SHP data collection process helps evaluate how well that management change is preforming for soil health improvement and economic feasibility.
"This is a new program with a lot of different components," McFarland said.
Information provided at the field days will come from SHP demonstration sites across the Midwest in the states of Iowa, Illinois, Minnesota, Nebraska, Ohio and Wisconsin.
In 2016, the SHP had 65 demonstration sites. In 2017, there will be at least 100 sites. The sites are 20 to 80 acre fields where long-term studies look at different practices that farmers are interested in to improve soil quality. They fall into three broad categories: cover crops, nutrient management and reduced tillage. Initial research results are in the process of being collected and will be available on the SHP website.
McFarland saids that producers who provide test sites get some compensation plus the benefits of the data collected. They also gain access to the AgSolver—Profit Zone Manager program.
Local soil information
The goal of SHP events is to engage with farmers at a local level, and answer their questions about soil health and adoption of soil management practices. SHP events provide a venue for networking among farmers about how to most effectively adapt management practices for their local growing conditions and cropping systems.
Field day dates for 2017 will be posted on the SHP website http://soilhealthpartnership.org/ as they become available.
The SHP initiative is made possible with support from Monsanto, Natural Resources Conservation Service, United Soybean Board, The Walton Family Foundation and Midwest Row Crop Collaborative; and with technical support from The Environmental Defense Fund and The Nature Conservancy.
Meyer is a freelance writer in Garrison.
Want more news on this topic? Farm Bureau members may subscribe for a free email news service, featuring the farm and rural topics that interest them most!