Snow, tough economy slows activity at equipment show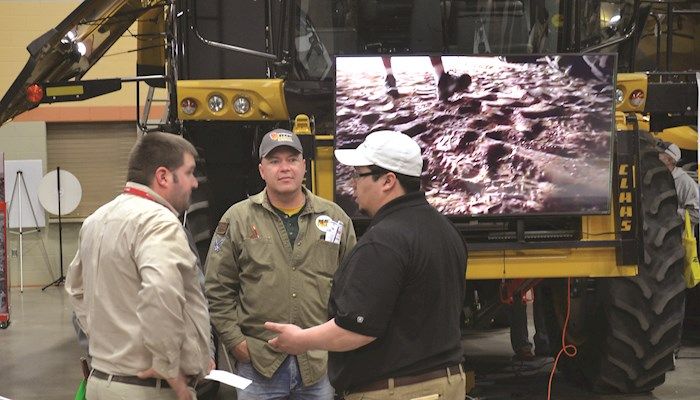 A winter storm held down attendance at the Iowa Power Farming Show last week, and slumping farm prices had those who braved the weather in a cautious mood about making big purchases.
A school snow day allowed Mike Sibbel to bring his son and two grandsons to the annual show at the Iowa Events Center, but the Carroll County farmer said he isn't planning to upgrade equipment this year.
"It's going to be pretty tight this year, and probably next year too," Sibbel said.
Matt Bor­mann made the two-hour trek from Kossuth County to Des Moines with his brother and 5-year-old son to check out the latest equipment and technology offerings, even though he wasn't planning to buy anything when he left home.
"I'm looking at new (grain) trailers, but don't tell my wife," joked Bormann. "Overall, we're not looking to buy a lot this year.
"We upgraded during the good times. I'm sure there will be good times again, but this year is going to be a little slow."
Slow was the word Kirk Martin, a sales representative for Timpte trailers, used to describe the opening day of the show, when a snowstorm dumped more than a foot of snow over parts of northern Iowa and high winds created hazardous driving conditions. Exhibitors spent most of the day talking to each other, he said. Another round of snow and sustained winds created similar problems on the second day of the three-day event, although crowds were much better than the first day, he said.
Looking for quality
With 1,870 total booths, the Iowa Power Farming Show is the third-largest indoor farm show in the United States. Exhibitor displays cover six floors in three buildings over a total of 7 acres.
Even with tighter budgets, farmers are still looking for quality equipment when they make purchases, Martin said. Optional features that increase durability or convenience remain popular, especially among older farmers, he said.
While farmers may not be in the mood to invest a lot of money in big iron, they are still interested in technology that can help save money or improve yields, said Dustin Sage, a Black Hawk County farmer who created an app that allows farmers to track and review farm production records from any phone, tablet or desktop computer. The app, called FarmSage, provides a simple and clear way to calculate profits or losses on a field-by-field basis, Sage said.
"We're looking at input costs and deciding, 'Do we really need that?' It's the same kind of question every farmer should be asking themselves," he said.
Sage and his partner, Paul Farmer, said they had good conversations with potential customers despite reduced crowds at the show. Many of those who managed to make it to the show were interested in serious conversations about products, Farmer said.
"We've had more engaging conversations," he said. "They're looking to squeeze every dollar out of every acre."
Emerging technology
Farmers also showed strong interest in emerging technology, like unmanned aerial systems (UAS) that provide a cost-effective method to capture overhead images of crops and identify areas of concern, said Tom Junge, director of the Iowa Power Farming Show.
"Attendees coming to the show know they're going to see the future of farming and agriculture," he said.
In that vein, the 360 Yield Center brought a 3D printer to demonstrate the production of a prototype for its 360 Chainroll, an advanced stalk roll system. The 3D printer allows 360 Yield Center engineers to develop and test prototypes more quickly and inexpensively than traditional prototypes, said product support specialist Justin Miles.
The technology has the potential to benefit farmers in a couple of ways, said Junge.
"While 3D printers will not be directly used by farmers in their operation, they will be used by manufacturers to bring new products to the market more quickly," he said. "Many of the innovations in ag equipment come from farmers. 3D printers will allow them to more easily bring their concept to life."
Want more news on this topic? Farm Bureau members may subscribe for a free email news service, featuring the farm and rural topics that interest them most!