Slow down, let farm equipment pass, and enjoy Iowa this fall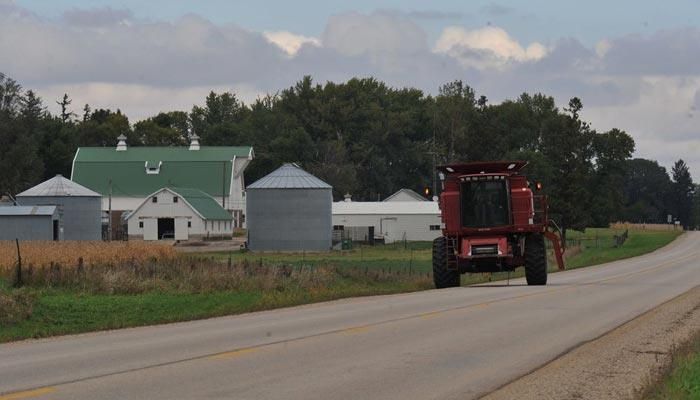 It doesn't seem like that long ago when my teenage self loved to roll the windows down, crack open the moon roof and sing some Led Zeppelin at the top of my lungs while cruising down the highway. Today, with two car seats in the back of the car, my windows stay up, my hands are usually positioned at 10-and-2, and the steel drums and electric guitar blasting through the speakers have been replaced by something a little softer for the little ears.
My cruising style has changed since I earned my license at 16, and so has society's driving habits. Texting and distracted driving has become a real problem, and it seems everyone is in a major hurry to get to their next destination. I even pass two billboards on my way to work with a daily update of Iowa traffic deaths and a message urging drivers to slow down and use caution.
With harvest underway, it's even more important to be careful on the roads. Iowa farmers are on the road with large agricultural equipment, moving from field to field, hustling to bring home this year's crop. And with narrow shoulders on rural roads, there's not much room for large ag equipment to pull over.
That means, as a driver, you might need to allow a few extra minutes to reach your destination.
You might actually find that you like it. Fall in Iowa is beautiful! Crack your window a little bit and smell the autumn air. Take a look at the beautiful grass waterways channeling through harvested farm fields or the dark green terraces lining the hillside. Rather than gripping your steering wheel with white knuckles and swerving out looking for an opportunity to dangerously pass, take a look at beauty around you and enjoy the serenity. It's good for your mind and blood pressure.
Yes, ag equipment will cause some traffic jams and slowdowns this fall, but use your short delay as an opportunity to enjoy the breathtaking Iowa farmscapes and beauty that surrounds us, or even roll down the windows and enjoy some classic rock like the teenage version of me. Together, we can make this harvest season a safe one for everyone on the road!
By Andrew Wheeler. Andrew is public relations coordinator for the Iowa Farm Bureau Federation.
Want more news on this topic? Farm Bureau members may subscribe for a free email news service, featuring the farm and rural topics that interest them most!