Riding a dream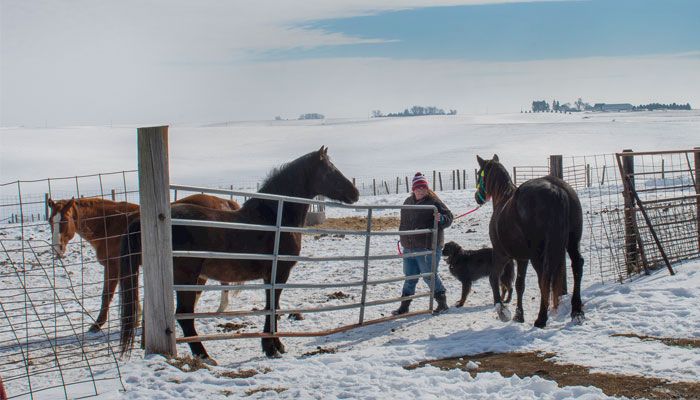 Josie's Riding Experience, an Iowa Farm Bureau Grow Your Future finalist, offers horse-riding lessons for all ages.
Josie Cable has been surrounded by horses since she was a toddler; she now dedicates her life to them.
"He trots the air; the earth sings when he touches it."
Perhaps quoting William Shakes­peare when talking about horses seems unusual, but it certainly captures the feeling of many horse lovers. And you'd be hard-pressed to find someone more passionate about horses than Josie Cable.
A Walnut native, Cable has been around horses her whole life — even when taking her first steps. Her grandfather, Walter Knudtson, always had horses and roped with them. Cable attended summer horse camps in Guthrie Center, eventually serving as a counselor.
Cable studied equine science and equine management at Ellsworth Community College before trans­­ferring to Iowa Western Community College for their veterinary technology program. While a college student, Cable started working as a 911 dispatcher to make ends meet, and she did so for five years. Then she got restless and tired of being behind a desk. She needed a change of scenery, but she still needed extra income. So Cable turned to something she knows and loves: horses.
For some time, when people would post on Facebook that they were looking for a horse trainer, Cable's friends and family would tag her, but she didn't have the resources at the time to give lessons. One day last year, she decided to change that.
"Finally, I said why not," Cable says. "Why not make it happen."
With the encouragement of her boyfriend and friends, she cleaned up the old dairy barn she was renting to keep her horses, got insurance and started giving riding lessons, advertising her lessons on Facebook.
"I figured [I'd get] two or three students part-time," Cable says. "I ended up getting 12 students right away, and that was all I had time for, so I started turning people away after that."
Word-of-mouth advertising sent business for Josie's Riding Experience soaring. At her peak last summer, Cable had 57 students a week — that's 57 hours a week of her time, on top of everything else she had going on.
Because the business was doing so well, Cable moved out to her family farm, where her grandfather had built a horse barn in the 1970s, constructing the stalls by hand.
The farm is the perfect place for Cable's riding school business, and she spent countless hours over the course of 2020 renovating the place herself, including putting up new fence and building an outdoor arena.
Cable does all the instructing, horse training and bookwork for Josie's Riding Experience. On top of that, she cleans and does all of the farm chores herself.
"It's pretty much sun-up to sundown most days," she says of her full plate.
Currently, Cable has 13 horses at her place. She owns five personally and boards horses as well. One of her own is an 18-year-old beauty that belonged to her grandfather, who passed away around Thanksgiving last year. The horse, which her grandfather had owned since it was a weanling, is very dear to Cable. She plans to use the horse for lessons.
All horses hold a special place in Cable's heart.
"I grew up in a not very easy situation," she explains. "I was pretty down and out as a young child. It always seemed like going and being around my horses — my grandpa's or camp horses — kept me positive and working toward doing good."
Caring for her horses and making sure they're as comfortable as possible is very important to Cable. Even during a recent blizzard, Cable was outside several times, frigid wind whipping across her face, checking on her horses and ensuring they were all right.
"I think they're great to teach work ethic and responsibility," she says. "They just help me through life and some of my hardest times."
Because she cares so much for her horses, she spends a lot of time and resources on keeping them healthy. All of Cable's horses get chiropractic treatment, annual teeth floating and massage therapy.
"My biggest priority is the animals," she says. "If I have a happy horse, I have a happy lesson."
Looking to the future, Cable hopes to add more animals to her 13 acres of farmland, including goats, chickens and hogs, possibly even a few steers as well.
While she has a lot to juggle on top of running a business — from pasture care to fence maintenance to harrowing the arena sand — Cable has goals of doing even more.
One of her dreams is to purchase a team of driving horses so she can offer services in a horse carriage for weddings or parades.
Cable, who was a finalist for Iowa Farm Bureau's 2021 Grow Your Future Award, is also helping to build a horse program for the East Pottawattamie County Fair. This year will be the first year it's offered for the county's 4-H students, with Cable serving as horse superintendent.
No matter where life or Josie's Riding Experience takes Cable, her heart will always be with the horses.
"If you really know what you're doing," she says, "they're just good for the soul."
Giardino is a freelance writer from Polk City.
Want more news on this topic? Farm Bureau members may subscribe for a free email news service, featuring the farm and rural topics that interest them most!