Recovering from the flood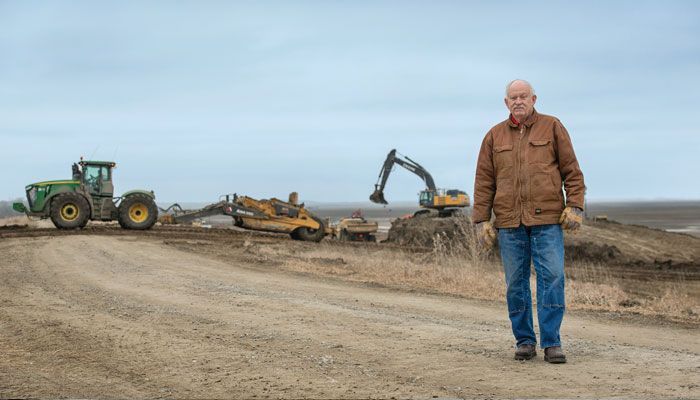 With the 2020 planting season around the corner, farmers and others along the Missouri River in southwest Iowa are hustling to get ready for the growing season and hoping to avoid another round of flooding.
Fremont County Farm Bureau member Charlie Zanker, who lost about two-thirds of his acres underwater in 2019, is ready to plant again this year. But he's taking precautions. He's decided to stick with soybeans so he can hold off until a little later in the season, just making sure the river doesn't come up again.
Zanker said his land fared better than some. Because of its location near the exit breach — the spot where the flood waters rejoined the Missouri River main channel — he was spared a lot of the silting, sand and debris residents are still dealing with upstream.
"When you farm between two rivers (the Missouri and the Nishnabotna), it's a crap shoot," Zanker said. "We'll plant it, that's what we do, but it's going to be tough."
In Hamburg, one of the hardest hit communities in last year's flooding, Pioneer dealer Tyler Woodward said conditions at his office are workable, if not exactly ideal.
"We've got everything cleaned out and cleaned up," Woodward said of the business' office, warehouse and grain bins.
He and his dad are working out of a trailer parked near their office. The building has electricity, but plumbing is still a challenge.
When the water came up last March, the bins were full of seed beans, which got swamped and then formed an almost concrete like material as they dried in the augers.
It took Woodward several months to get the bins cleaned and back in working order.
The Woodwards were able to move the rest of their seeds out of their warehouse a day or two before the water came up and spent several months working out of another seed dealer's warehouse.
"Not much is changing with how we do business. We're still in the same spot," Woodward said. "Hopefully, the new levee they have proposed around Hamburg will prevent this from ever happening again. And if they can get the river back to normal, that will really help too."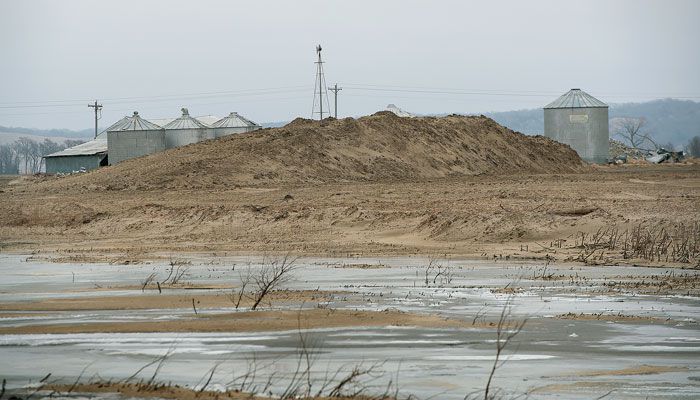 Managing the river
The future of the Missouri River is of particular interest to folks in southwest Iowa.
Many blame ef­forts undertaken by the Army Corps for causing more flooding in recent years. Residents said the Corps put too much emphasis on maintaining water levels for sensitive fish and wildlife habitat at the expense of flood control.
Though not one to often praise the Army Corps, Zanker said at least this time they seem more open to hearing directly from those impacted by the flooding.
"[Army Corps is] a little more receptive this go around, as far as suggestions go," he said. "They're trying to evacuate as much water out of the dams as possible this winter. That gives us a little better chance it won't flood again this spring.
"They're doing a pretty good job under the circumstances. But they're also in the limelight right now."
Zanker said Iowa Gov. Kim Reynolds and other lawmakers have been pushing the Army Corps to prioritize flood mitigation rather than environmental concerns in the region.
On a lot of mornings, Zanker can be found in his truck near where the Missouri River levee is being rebuilt, keeping an eye on progress. Locals contracted by the U.S. Army Corps of Engineers earn about $50 an hour running scrapers and dozers.
"Working on the levees has turned into an opportunity for some of these guys who got hit really hard last year," said Zanker. "If there's a silver lining, it's that these are good paying jobs."
Living with flooding
In 2011, last time the river topped the levies, Zanker's home wasn't far from the levee breach. That year, 11 feet of water swamped his house. When he rebuilt, it was on top of a bluff, away from any flood less than biblical. During the 2019 flood, on the spot where the old house stood, the water was more than 13 feet deep.
In fact, over the 30 years he and his family lived in the old house, they were evacuated six times.
Another challenge is uneven restoration of infrastructure in the area. Because the flooding occurred in three states and several cities and counties, there is government involvement at all levels, making it a slow process.
For example, a road could get repaired on the Iowa side of the border, but the Missouri side may not be slated for repairs until later. Transportation, on top of all other concerns, has been challenging.
"The counties, especially, have been devastated," Zanker said. "They can't keep up with repairs. We're in the process of working on that now."
A lot of work to be done
Some money is coming in from the Federal Emergency Management Agency (FEMA), but there is still a lot of work to be done.
One immediate concern is the water pumping system, which was destroyed in the flooding last year. The system is meant to move water out of low-lying areas back into the rivers.
Because of this, and with many ditches still filled with silt and debris, Zanker said even a moderate rain can impact fields in the area.
"When you're that close to the river, a two-inch rain will cover up your four-inch corn in a hurry," he said.
Want more news on this topic? Farm Bureau members may subscribe for a free email news service, featuring the farm and rural topics that interest them most!