Ready for the challenges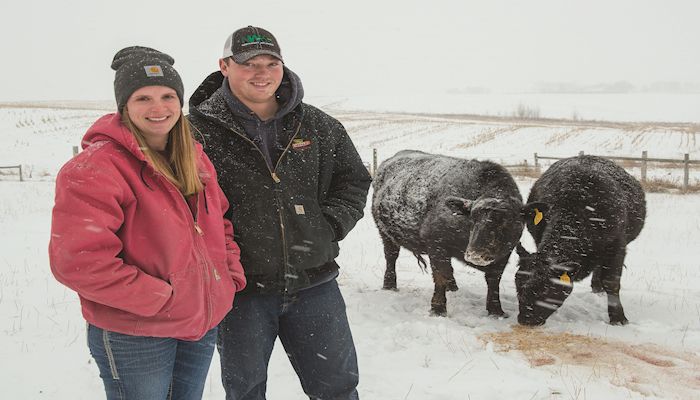 Young farmers face plenty of challenges today, but it wasn't hard to find a lot of excitement and optimism about their future in agriculture among the nearly 600 attendees at the 2018 Iowa Farm Bureau Young Farmer Conference held recently in Altoona.
Creating a future in farming takes some juggling, said Taylor Dorsey, who grew up on a livestock farm. She is now working on building a farm with boyfriend Josh Blair near Wall Lake. She says having a full-time job off the farm is helping her to do so.
"It feels like in most situations to get started where we're at you have to have an off-farm job in order to be able to make up that other income," Dorsey said.
She works at a local co-op selling cattle feed. Without the off-farm job, Dorsey said she wouldn't generate enough income on the farm to make it her full-time job.
"After going to college and having so much student loan debt, you have to get that paid off before you can get too deep into more debt," she said.
Blair agrees it's a balancing act.
"You really have to prioritize what you absolutely need because you're not going to be able to do everything," he said. Blair grew up on a farm, but the farm crisis forced his family out of farming. Since then, he's been finding opportunities to put himself close to farming again.
"I was around it (farming) when I was little, and I've always been interested in it, so I put myself in those positions to be around it," he said.
He helped a local farmer with his crops, and when that farmer died, the farmer's family asked Blair if he would continue to help manage the farm. He continued to do that and separately farmed some acres of his own this past year.
For Jessica and Eric Hunziker, who raise cow-calf pairs and grow corn and soybeans near Lake View, growing the family farm means finding off-farm work. Jessica is a first grade teacher, Eric does construction, has a custom baling business and recently began selling Beck's Hybrids seeds.
Expanding networks
Eric says expanding his network and letting others know he was interested in raising cow-calf pairs on pasture helped the family eventually grow their herd.
Through his custom baling business, he met a farmer who eventually got out of farming. Eric and Jessica were able to purchase cattle and rent pasture from the farmer.
"It was the right place, right time kind of thing," Eric said. "Now we're working to improve what we've got."
Dorsey and Blair say they hope to steadily grow their farm, but it's been a challenge.
"We've been trying to get more pasture to expand a little bit of a cattle herd," Blair said.
But it's a struggle, Dorsey said, because buying cattle and pasture at the same time isn't always financially feasible.
Dorsey and Blair say they're investing in their farm with "fun money," the money that's left over after bills have been paid. They've invested this money into two bred heifers for their farm.
Despite the challenges, the young farmers said they are hopeful.
The best place to raise kids
The Hunzikers said the family farm is the best place to raise their three kids.
"It's the passion we have for farming. It's watching our kids go out there. Even our 3-year-old recognizes the combine and wants to be out there," Jessica said.
Less than a handful of students in her class live on a farm, so she's able to educate them about her family's livestock and crop farm. And their kids' friends beg to stay over at their house to play on the farm.
Blair says it's the passion for agriculture and farming that keeps him involved.
"You have to have a lot of passion and love for it, because without that we wouldn't be doing it," he said. "It's not like you're getting into it to get rich being a young farmer."
For Dorsey, it's a way of life.
"When I was little, it was something I looked forward to — looking at the new calves in the spring or going outside," she said. "It's the way I was raised, and I don't know a whole lot else."
Want more news on this topic? Farm Bureau members may subscribe for a free email news service, featuring the farm and rural topics that interest them most!