Pulled pork madness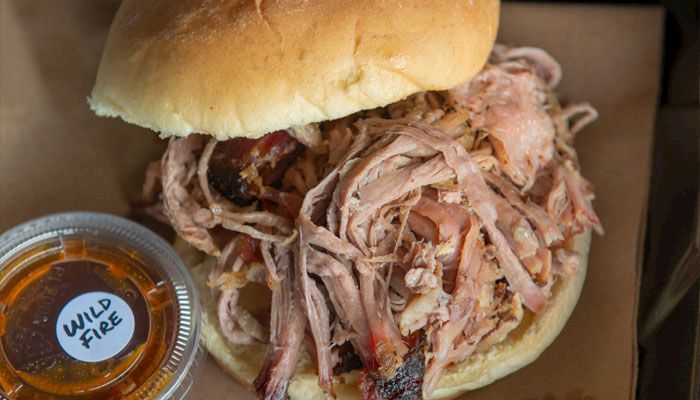 Travelers can always find authentic BBQ, including the state's best pulled pork, at Whatcha Smokin? in Luther.
Sitting on a patio, eating fresh barbecued pork and looking out at prime farmland.
Is this heaven? No it's Iowa.
It's pretty much the same thing at Whatcha Smokin? BBQ + Brew on the edge of Luther.
Owned by Tanya Doyle and Steve Perlowski, Whatcha Smokin? opened in 2017 in an old gas station on Highway 17 and has built a solid reputation. It earned top honors in the Iowa Pork Producers Association's (IPPA) Pulled Pork Madness contest this spring, claiming victory in a field of 125 nominations. And it is still in the running for IPPA's Best Pork Tenderloin, to be named soon during Pork Month.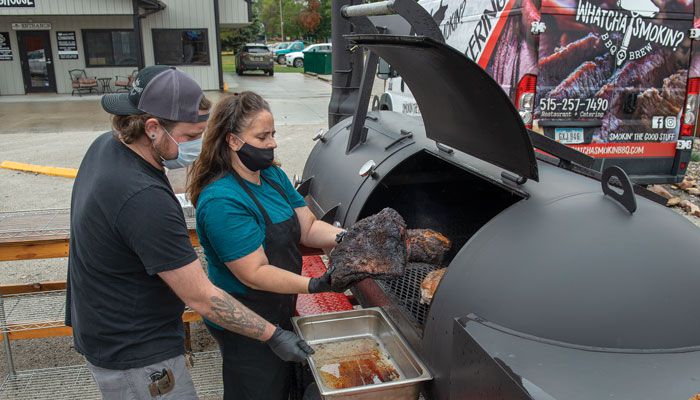 (Photo above: Chef Ryan Determan and Dionne Estes-Vennard check on the smoker. Texas-style brisket is the restaurant's top seller.)
Perlowski took interest in barbecue and smoked meats during his college days at Iowa State University and honed his craft eating and networking his way through Texas. "They have a very open and welcoming culture there," says Perlowski. "They let you see their pits and answer your questions."
He and Doyle teamed up on establishments in Ames over the past 10 years, and now Whatcha Smokin? BBQ + Brew features Texas style BBQ.
"The place has a really unique atmosphere," says Perlowski. A great stop for locals and travelers, it sits near Highways 30 and 17, on the edge of Ledges State Park. "The day we opened, we were greeted by a line waiting at the door, and we knew we had a good thing. Those were the days."
COVID changed things. First there was the four to six week period of take-out only. Perlowski says people were incredibly supporting, understanding and generous with their business and tips.
Then there was figuring out how to reopen according to COVID guidelines.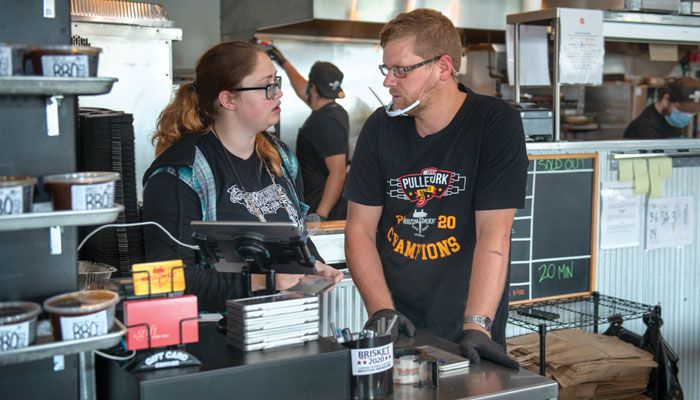 (Photo Above: Aly Swain and co-owner Steve Perlowski of Watcha Smokin? BBQ + Brew in Luther review the daily specials.)
"We've had to change our business model and how we lay out our processes — all to keep staff and customers healthy," says Perlowski. "Even when only offering take-out, we had to redesign how and where people parked and how we tracked who was where to receive their order." He credits his staff, always a good team, with stepping up to meet the challenges.

They added additional seating outdoors, expanding the eatery's atmosphere as well as capacity. The patio will soon be heated for fall and winter traffic.
What hasn't changed at Whatcha Smokin? BBQ + Brew is the food.
The fresh cut, hand breaded tenderloins are one of the biggest draws. "We tenderize it, soak it in buttermilk and bread it with a seasoned cracker mix," says Perlowski.
They sell around 100 breaded tenderloins a day on an average weekend. "We put a lot of love into it."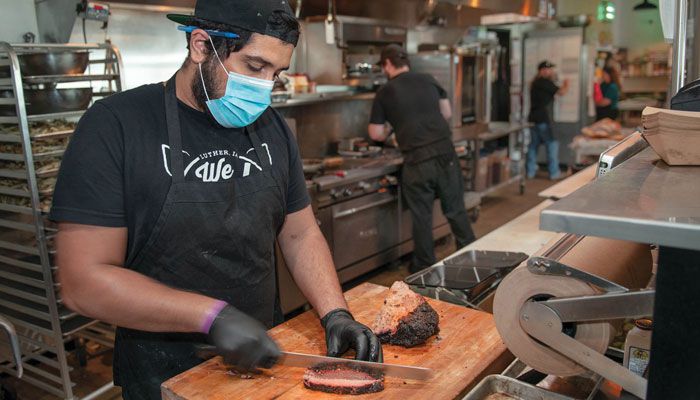 (Photo above: Chef Amadeio Zanger slices beef brisket at Whatcha Smokin? BBQ + Brew in Luther. The BBQ spot, located on Highway 17 north of Madrid, is a popular destination for travelers on their way to Iowa State Cyclone games and Ledges State Park.)
The pulled pork is dry-rubbed with five spices and cooked at 200 degrees for 12 to 14 hours "until it has good bark, good caramelization, with the smoke and spices working together." It's then wrapped in foil to keep it warm while the juices set. Plates are cut to order. "It's all about attention to detail," says Perlowski.
He says the Texas style brisket is what people most often request, and are most likely to express disappointment about when it sells out. Smoked with a simple salt and pepper rub, Perlowski cooks the whole packer brisket and separates the lean and fatty muscle according to order.
Smoking the brisket and pulled pork is a long process. When the day's batch is gone, it's gone.
Meat goes in the smoker overnight, tended by the pit master in the early morning. Cooking low and slow allows the fat to break down and keep the meat full of flavorful juices.
A second smoker fires up around 7 a.m. filled with ribs, turkey, bac­on and fresh made sausages from Stanhope Locker & Market in Stanhope. Meats in the short-term cooker can be replenished through the day to meet customer demand.
Everything at Whatcha Smok­in? is cooked from scratch. Sides are made daily, and a full-time baker keeps the dessert case brimming with goodness, especially the customer favorite Texas style banana pudding.
Sausages are not the only thing sourced locally. The July menu featured Iowa sweet corn. Even the wood for the smoker comes from the restaurant's backyard.
And E18 Brewing Co. in Boone creates brews specifically for Whatcha Smokin?. The most popular is E18 Light American Lager, so popular with customers they abandon their better-known favorites.
Whatcha Smokin? BBQ + Brew has only Iowa craft beer on tap. "I'm a lover of craft beer, and we have some of the best in the country here," says Perlowski. "We have good brewers, and I love that we can support and feature their creations."
Whatcha Smokin? BBQ + Brew also provides catering services, working closely with Iowa State University (ISU) Athletics and the ISU Alumni Association. They are expanding an on-site clubhouse to accommodate socially distanced private events with a full bar.
For restaurant hours and catering information, go to
whatchasmokinbbq.com
 or follow Whatcha Smokin? BBQ + Brew on Facebook or Instagram.
Want more news on this topic? Farm Bureau members may subscribe for a free email news service, featuring the farm and rural topics that interest them most!