Pressure from Iowa sways reversal of proposed biofuel cuts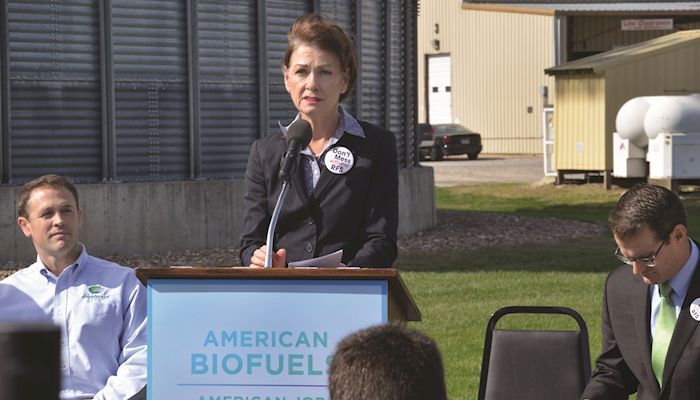 The outcry from Iowa's top political leaders over a proposal to reduce renewable fuels usage requirements shook the highest levels of the Trump administration last week.
"They are feeling the pressure, and that's why we need to keep it up," Iowa Gov. Kim Reynolds said after telephone conversations with both President Donald Trump and Environmental Protection Agency (EPA) Administrator Scott Pruitt. "When I talked to the president, he reiterated his commitment to the Renewable Fuel Standard. He made it clear he stood with the RFS."
Shortly after talking to Rey­nolds, Trump directed the EPA to pull back its proposal to reduce biodiesel and cellulosic ethanol usage under the RFS, according to a Bloomberg news report.
Pruitt subsequently sent a letter to Sens. Chuck Grassley and Joni Ernst of Iowa, along with other Midwest senators, promising not to follow through on proposals that would undermine the integrity of the Renewable Fuel Standard.
"It's a great day for Iowa and a great day for rural America," Grassley said. "While this is good news for the industry, it's also good news for the entire country, which is made stronger by the many jobs, increased energy independence and cleaner air that renewable sources of energy like biofuels provide."
The EPA had proposed reducing the 2018 advanced biofuel volume requirement by nearly 500 million gallons and even deeper cuts to proposed 2019 volumes.
In addition to the lower biofuel requirements, there were also rumors that the EPA has been considering an oil industry proposal to allow exported ethanol to count toward domestic quotas by attaching renewable identification numbers, or RINs, to the exports. The biofuels industry is concerned that doing so would flood the market with RINs and harm domestic biofuel producers.
In his letter, Pruitt said the EPA's preliminary analysis suggests it would not be appropriate to reduce biodiesel usage requirements. He also said the agency would not pursue efforts to amend RIN regulations or another proposal to move the "point of obligation" from refiners to blenders.
Earlier in the week, Grassley, Ernst and other Midwest senators held an hour-long meeting with Pruitt to outline their concerns about the potential RFS changes, which they said would weaken rural economies.
After that meeting, Ernst said she will be watching closely to make sure Pruitt keeps his word not to mess with the RFS.
"Administrator Pruitt again claimed today that he will not do anything to undermine the program. However, we have heard this before. We now need to see it," Ernst said. "I will continue to work with the EPA, but they must prove to the agricultural community who put their faith in this administration that they will fulfill their promise to maintain the letter and the spirit of the RFS. We will not accept anything less."
All four of Iowa's U.S. House of Representatives members joined the fight by signing a letter from the House Biofuels Caucus asking Pruitt to restore renewable volume obligations un­­der the RFS.
In interviews with reporters, Grassley suggested he might hold up EPA political appointments if Trump failed to live up to his campaign promise to support a strong Renewable Fuel Standard.
"This is about the president's keeping his promise to the people and the executive branch's executing the laws as passed by Congress," Grassley said. "I'm watching this issue closely and plan to hold the administration accountable."
Reynolds also said she's not letting up until RFS volumes are restored to higher levels. She plans to discuss the issue again this week during meetings with the Trump administration in Washington, D.C.
"I felt very good after my conversation with him and the administration, but that doesn't mean we stop," Reynolds said during a press conference at Two Rivers Cooperative in Pella. "It's not done until it's done, and if you think it is — you're mistaken. We need to bring certainty and stability back to the market."
Iowa farmers would be hurt by reduced demand for their corn and soybean crops if biofuel volumes are reduced, said Grant Kimberley, Iowa Biodiesel Board executive director and director of market development for the Iowa Soybean Association.
"Anything that would undermine the RFS is a serious issue for Iowa and U.S. agriculture at a time when the farm economy is already enduring a downturn," said Kimberley.
Want more news on this topic? Farm Bureau members may subscribe for a free email news service, featuring the farm and rural topics that interest them most!