Powered by the sun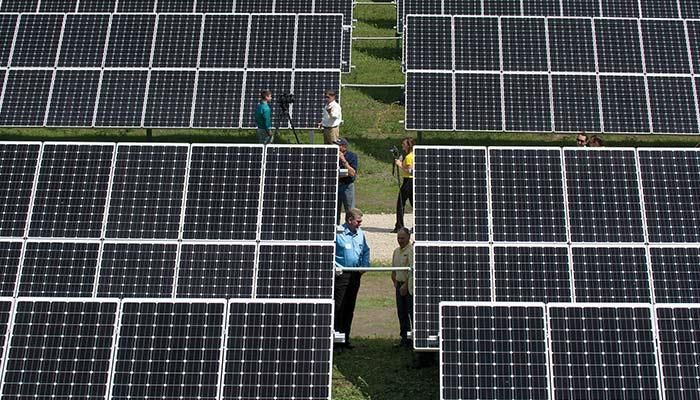 Solar energy is a community effort in St. Ansgar thanks to Heartland Power Cooperative.
The rural electric co-op (REC) re­­cently starting offering output of their community solar generation to its member-owners. The REC's solar array of 2,706, 315-watt panels is being built near Highway 218 just east of St. Ansgar.
Heartland Power will operate, maintain and insure the array for the 20-year life of the project, so there's no equipment installed on members' homes.
"Community solar allows members to invest in renewable energy without the individual research, construction, maintenance and insurance requirements of a standalone system," says Jon Leerar, CEO and general manager. "In addition, the economies of scale for a large scale utility project allow members to invest in solar energy at a competitive cost."
During the cooperative's strategic planning session in August 2013, the board of directors requested that staff investigate renewable energy as a cooperative initiative.
As the staff evaluated all types of renewable energy, they determined a solar project would work best because the cost of solar has declined over the last several years and has proven to be a viable technology — even outside of the "Sunbelt states."
Each solar panel is expected to generate 8,500 kilowatt hours over the 20-year life of the project. The units are being sold to members for $700 per unit, which comes out to 8.2 cents per kilowatt hour — lower than the current residential rate.
Members receive a monthly bill credit for their portion of the array's generation, which is used to offset the energy charge on their monthly electric bill.
"It is difficult to project total savings because it is unknown what future energy rates will be. However, we expect they will continue to rise," says Leerar. "Our solar array can generate enough energy to power approximately 125 residential homes."
The cooperative serves 5,200 ac­­counts, and there are currently 134 members who have purchased 1,744 units, subscribing to nearly two-thirds of the array. Some members have purchased a single unit, while others have purchased enough units to cover their total annual usage.
"We've nearly reached the generation capacity the cooperative is able to own under our all-requirements contract with our generation and transmission provider," says Leerar. "If there is enough member interest and a change to the current contract, the cooperative would most definitely consider adding more capacity. Our goal is to provide our members with safe, reliable, affordable and environmentally responsible energy, whether it is from traditional or renewable sources."
Kort is a freelance writer from Ankeny.
Want more news on this topic? Farm Bureau members may subscribe for a free email news service, featuring the farm and rural topics that interest them most!