Planting love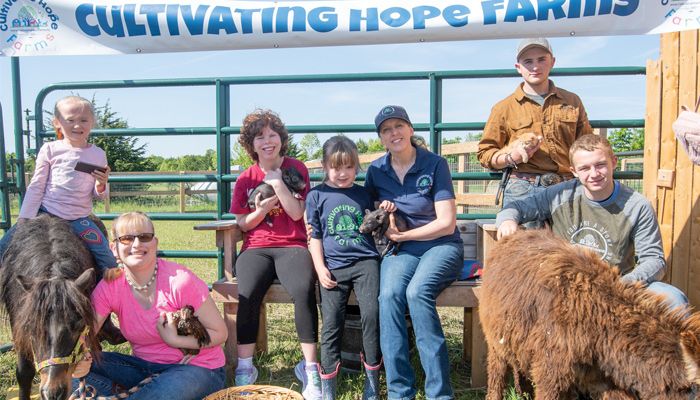 An Ames therapy farm uses farm animal care to teach life and job skills to Iowans with special needs.
Cultivating Hope Farms, the first care farm in Iowa, helps individuals with special needs build skills and to meet their goals.
"We are not people who shy away from a challenge. We walk very strongly in a direction to help others," says Boone County Farm Bureau member Gina Perkins.
That's part of the reason why Perkins and her husband, Brad, started Cultivating Hope Farms in rural Ames, a non-profit working farm that uses care farming practices to teach life and job skills to individuals with autism and other special needs.
Their inspiration for the farm came from personal experience. The Perkins have five children, including 6-year-old twins. One of the twins, Caitlin, was diagnosed with autism. Brad and Gina tried traditional therapies with Caitlin, called applied behavior analysis, many of which take place in facilities that have rooms with no windows. While those interventions are highly effective for some individuals with autism, the environment wasn't conducive to Caitlin's learning, making it difficult for her to meet milestones.
Eventually, the Perkins found a therapist who does applied behavior analysis and would come to the family's acreage in Boone County to work with Caitlin. At their place, the Perkins have goats, chickens, ducks, pigs, horses and more, and found that being with those creatures was a real benefit for their daughter.
"Farm animals have always given Caitlin a certain amount of peace," Gina says.
Her therapists would work with her while she interacted with the animals, and within a few weeks of doing so, Caitlin said her first words — "Hi Mommy."
Gina quickly realized that a farm is an emotionally safe location for individuals to develop work and life skills that might not be as easily reached in a clinical setting. From that revelation, the idea for Cultivating Hope Farms was born.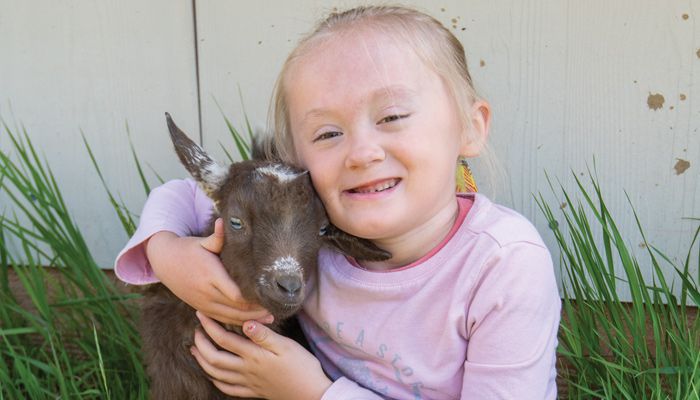 (Photo above: Top right: Corrie Perkins, daughter of Cultivating Hope founders Gina and Brad Perkins, plays with a goat on the working farm.)
The Perkins own a bed and breakfast called Raspberry Hill that sits on 74 acres of land in Ames. They weren't utilizing all of the land, so they dedicated 25 of those acres to their new non-profit, which was established in April 2020.
Cultivating Hope Farms is the first care farm in Iowa — a working farm that utilizes the environment to enable individuals to learn by doing and provides a safe space to make mistakes, which Gina believes is an extension of learning. At the farm, those with special needs help with all the chores that a farm and its animals require, building confidence, character and camaraderie along the way.
"We are a working farm," Gina says. "We are utilizing those chores to build the characteristics and grow that hard work ethic."
Gina points out that 80 percent of adult individuals with autism are unemployed, and at least half live in poverty. Those who visit Cultivating Hope Farms learn new skills that can help them eventually find gainful employment.
"We want to smash that number and give more individuals the opportunities for a successful future, because we all have value," she says.
Since 2020 didn't allow for many opportunities to bring folks out to the farm, Gina worked behind the scenes networking, building a board of directors and recruiting volunteers. In spring 2021, some activities restarted at the farm, including opportunities to care for baby animals, like goats and pigs. They also partnered with Story County Conservation to host a program focused on observing Iowa birds.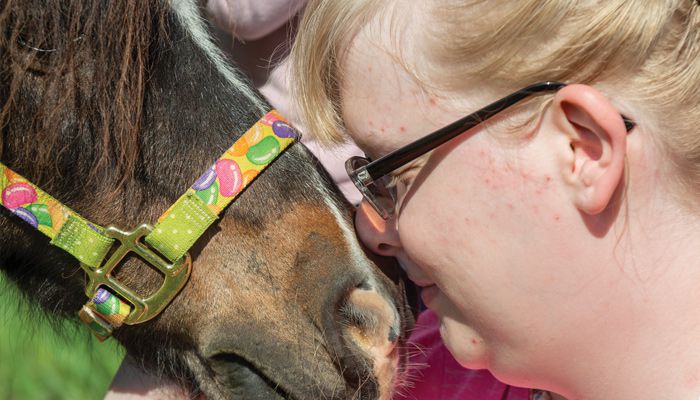 (Photo above: Caroline Kauffman nuzzles her favorite horse at Cultivating Hope Farms in Ames. Cultivating Hope is a working farm that gives special-needs individuals a safe space to work with farm animals.)
Caitlin is an example of how beneficial working with farm animals can be. She now has complete conversations with people — even strangers — and can look into their eyes while talking. That was a big goal for her, and Gina believes it's partially because learning social skills from animals is a non-intimidating and emotionally safe way to do so. "It's a lot more comforting to have a conversation with them, to pick up those social cues," she says.
Gina hopes to expand Cul­tivating Hope Farms. Right now, they have one horse, one mini cow, some turkeys and ducks because they don't have the buildings or other infrastructure to host more. Through the Superheroes campaign, which aims to raise $150,000 for Cultivating Hope Farms, Gina hopes to build a riding arena and barn. This would expand the animals they have and create more opportunities for kids and people with special needs to learn and grow developmentally through chores and hands-on learning.
Gina says, "Together, since it's a community farm, I really have high hopes that Iowa gets behind it and says, yeah, Iowa needs this first care farm and let's do this."
Giardino is a freelance writer from Polk City.
Want more news on this topic? Farm Bureau members may subscribe for a free email news service, featuring the farm and rural topics that interest them most!