Planes are flying across Iowa to give cover crops an early start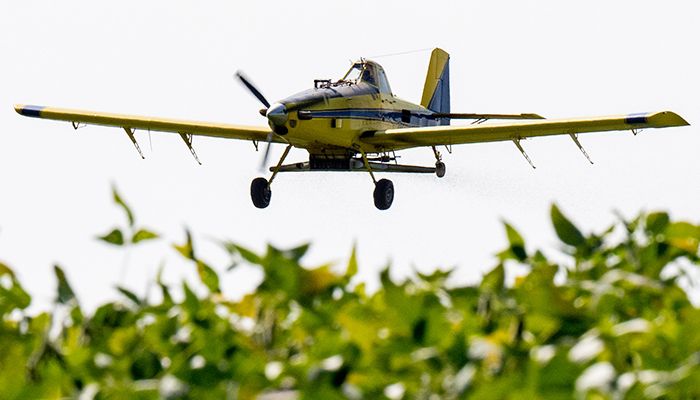 Chris Ullrich has been seeding cover crops for roughly 10 years and can't say enough about the benefits he has seen on his Ida County farm near Kiron.

"It helps prevent soil erosion, builds organic matter and holds nutrients in place," Ullrich said this month as he watched the first flight of aerial seeding.

This year he seeded a mix of kale, oats and camelina on ground going from soybeans to corn and put rye and camelina on corn-to-soybean ground.

"The oats and kale will kill over the winter," he explained. "Camelina converts to organic matter better. It will live through the winter, so there's a little green in the spring. Then we'll kill it with our pre-herbicide."

Camelina also helps keep nutrients in the soil and reduce soil erosion, he said.

"We chose to add kale this year to try it out and add something different in the mix," Ullrich said.  "It's nutrient scavenging, helps with compaction and has quick growth."


Gaining popularity
Cover crop seeding is gaining popularity in Iowa, and mid-late September is prime time for aerial applications. Experts point to the benefits of weed control, limiting soil erosion, helping water quality and improving organic matter as confirmation that cover crops are helpful to soil health.

Ullrich worked with Tony and Chad Meyer of Steier Ag Aviation and Agronomy in Whittemore and Algona to aerial apply his early cover crop mix this year.  Steier is a third-generation, family-owned business founded by Elmer Steier who, in 1954, fitted his first Aeronca Champion single-engine airplane with a 20-gallon-capacity holding tank for chemical applications.

In 2018, Tony and Chad Meyer purchased the business from their father, Dennis, and have expanded to include ground rigs in addition to their three air tractors and 1978 Cessna for herbicide, fungicide, insecticide and fertilizer applications.

In 2015, they ventured into the cover crop application business.

"The first year we probably did 300 to 400 acres, and it's grown substantially since then," Tony said. "We run every day for six to eight weeks" from late August through the first week of October.

"The majority of it is oats and rye," he said. Growers can select any other plant species they would like to add to the mix.


Conservation efforts
As an aerial applicator, Tony said he sees first-hand the benefits of adding cover crops to a field. Most growers tell them they see an increase in soil health planting cover crops year over year.

"It's fun to see the progressive part of the business," said Tony.  "Farmers are always trying to better the soil. To me, it just shows that farmers care about sustainability. They appreciate that and want to do everything they can to make sure it's here for the next generation."

While cover crops can be applied via drone or drill seeding, Tony said he advocates for the timely benefits of aerial application.

"We don't have to wait until the crops are out to start putting it on," he said. "There's more season for it to take off. There's more benefit the longer it's out there."

Tony said with an airplane, many acres can be seeded in a short period of time.  

"We can place it where it needs to be," he said.

In a single season, they'll venture 100 miles in any direction from their home base to apply cover crop seeds. Tony said he expects that due to the popularity and increased adoption of conservation efforts, business will continue to grow.

Ullrich agreed, adding that when he first started he seeded only rye, but has since utilized a blended mix of cover crops.  

He uses aerial seeding to get the cover crops going before winter and also drills seed after harvest to spread out the workload.

The results he's seen point to less soil erosion, less compaction and better water infiltration.

His suggestion for those considering a cover crop move: "Start small," he said. "Do a little test, and go from there within your comfort level. Don't expect to see instant benefits."

Want more news on this topic? Farm Bureau members may subscribe for a free email news service, featuring the farm and rural topics that interest them most!