Perfection on a bun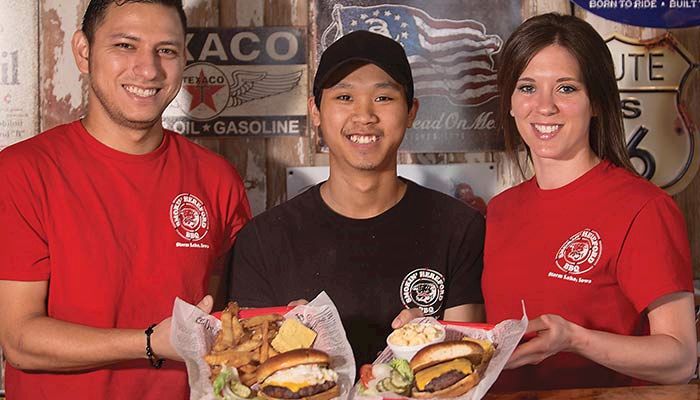 When Seth and Etta Smith of Coon River Farms near Nemaha accepted an offer to provide their beef to a local restaurant, they didn't expect to find fame. They just wanted to provide consumers with tasty beef and maybe a connection to the farm.
That changed last month when Smokin' Hereford BBQ of Storm Lake earned 2017 Best Iowa Burger honors from the Iowa Cattlemen's Association and the Iowa Beef Industry Council. The annual initiative marks the celebration of May as Beef Month.
Owned by Nathan and Nancy Jensen and Chad and Jennifer Hustedt, Smokin' Hereford BBQ features a menu packed full of BBQ delights, including a smoked prime rib Friday and Saturday special (with house horseradish sauce), the requisite baby-back ribs and the customer favorite brisket burnt ends.
If you think all BBQ sauce is created equal, think again. Smokin' Hereford BBQ gives a choice of house-created Mississippi Honey, Sweet Memphis Belle, Carolina Red, Chile Chipotle, Georgia Mustard, Buffalo Habanero or Ghost Pepper.
The Hereford Burger began as a weekend special and was so popular it found a permanent home on the menu. Now diners any time of day or night can get the luscious beef smothered in cheese and topped with a choice of bacon, fried banana peppers, spicy mac & cheese or coleslaw. Every burger comes with one side and cornbread.
It wouldn't be a Best Burger contest without the creators being asked the secret to success. "It's grinding all the meat in the carcass," says Jennifer Hustedt. "You get the whole thing – the steaks, the rib eye. The prime cuts of meat help give the burger its flavor." A little house seasoning doesn't hurt, either. Neither does cooking it over an open-flame grill.
Open since 2015, the restaurant has a hometown feel with the old gym floor from nearby Fonda High School and barn wood from Hustedt's parent's farm. A salvaged scoreboard from St. Mary's school in Storm Lake joins six TVs to welcome sports fans.
From the beginning, they hoped to incorporate as many local ingredients as possible, says Hustedt, though it was Nathan Jensen's love of Hereford cattle and Nashville barbecue that set the name well before the Smiths were approached to provide the beef.
Coon River Farms is well known in Sac County. Seth, Etta and Seth's father, Lynn Smith, farm 1,900 acres of prime northwest Iowa farm ground, much of it organically.
"We're here to provide what the consumer wants," says Smith. "If they want organic, we'll follow the rules and grow organic crops."
The 2017 Iowa winner of the National Cattlemen's Beef Association Environmental Stew­ardship Award, the Smiths operate a 2,200-head feedyard, filled with what Smith describes as "every breed and color under the sun" and run 230 cows — the source of the award-winning burgers. They also raise hogs and own and operate Coon River Gate Company.
The Smiths often sell their beef to a network of friends and neighbors. When the Smiths were approached by the Smokin' Hereford BBQ owners about joining forces, they were happy to oblige.
"It was a chance to provide meat and try to make a connection," says Smith. "Whether people buy a steer from us or eat a burger at the restaurant while reading our story on the menu, the goal is to get them to eat more beef. Every time a family puts beef instead of another protein in their diet, or maybe just eats more meat because they tasted ours and liked it, that's a success."
Smith finds the disconnect be­­tween consumers and the farm applies to the kitchen as well as the big picture. Etta helps with the cut order at the locker, educating consumers on the use of different cuts.
"Many people just don't know the difference," says Smith. "They just didn't grow up that way."
Nor were they raised on the farm. Smith says both his 5- and 7-year-olds have only one other child in their class that lives on the farm.
Coon River Farms is frequently opened to tours. "If we can make a connection, it pays for our time and effort," says Smith. "People get to see what they're eating and how it's produced." Both adults and kids are welcome at the farm, and Smith finds Storm Lake's diverse ethnic population particularly re­­ce­­ptive.
"We may not reach a million people personally," says Smith, "but if we can reach a few, they might pass it along to others."
The Coon River Farms story on the back of the Smokin' Hereford BBQ menu is one more outlet for the message.
The award-winning burger on the plate is one more chance for folks to taste beef fresh from the farm.
And that's just what Smith wants to see: "You can't go wrong when you have your name on something this good."
Visit the Smokin' Hereford website at http://www.smokinherefordbbq.com for more information about the menu, hours and location.
Queck-Matzie is a freelance writer from Fontanelle.
Want more news on this topic? Farm Bureau members may subscribe for a free email news service, featuring the farm and rural topics that interest them most!