Perdue off to a fast start as ag secretary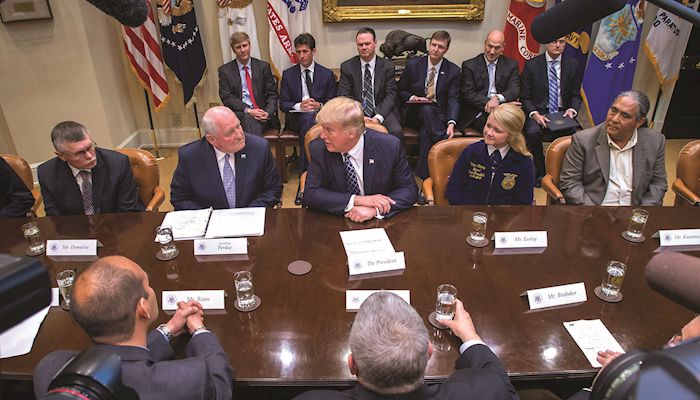 After a three-month delay in his confirmation process, U.S. Agriculture Secretary Sonny Perdue hit the ground running last week by hosting a farmers roundtable with President Donald Trump at the White House hours after being sworn into office.
The session capped a busy first day in office for Perdue, who was sworn in as the 31st U.S. secretary of agriculture and outlined his goals in a meeting with employees at the U.S. Department of Agriculture (USDA) before the White House roundtable.
"The people who are on the front lines of American agriculture don't have the luxury of waiting to tend to their crops and livestock, so there was no better time to convene this meeting of the minds than on my first day," said Perdue, a veterinarian and agribusinessman who grew up on a dairy and row-crop farm in central Georgia. He served as the state's governor from 2003 to 2011.
Addressing rural needs
"President Trump has made it clear that addressing the needs of rural America will be a top priority, and the message that we want to send to the agriculture community is that we are here, we are working hard and we are on their side," he said.
Iowa Agriculture Secretary of Agriculture Bill Northey, who is rumored to be under consideration for a top post under Perdue at USDA, was among 14 farmers and ag representatives invited to the roundtable to discuss a variety of key issues, including agricultural trade, regulatory reform, rural in­­vestment and infrastructure, labor issues and the Farm Bill.
"The president was very open, very engaged," said Northey, a corn and soybean farmer from Spirit Lake. "I mentioned I was from Iowa, an ethanol state, and the president jumped in and said, 'I'm a big supporter of ethanol."
Northey said Trump also showed a lot of confidence in Perdue, whose nomination as ag secretary was praised by virtually every major agriculture organization.
"You could see he leaned very heavily on Gov. Perdue. As some of these issues would come up, he'd look over and say, 'I want to know more about that,'" said Northey. "You certainly got the sense that he highly respects his secretary of agriculture, that he wants to be engaged himself on these issues, and he wants to make the rest of the federal government work for agriculture, too."
Rural task force
Earlier in the day, Trump signed an executive order establishing the Interagency Task Force on Agriculture and Rural Prosperity.
The task force will examine regulations affecting agriculture and rural communities as well as "promote economic development and revitalization, job growth, infrastructure, innovation and quality of life issues for rural America."
Among other issues, the task force will emphasize regulatory flexibility for farms and small businesses, rely on sound science to examine crop protection tools used by farmers and address concerns regarding labor needed for livestock and year-round agricultural jobs. Additionally, the group will focus on tax policies that allow family farms to remain intact, while also protecting against federal takeover of state-adjudicated water rights, permitting and licensing and conservation requirements.
Regulation concerns
"It used to be that people in agriculture feared disease and drought as the greatest threats to their livelihoods and their mission of feeding America and the world," said Perdue, who will serve as chairman of the task force. "While those hazards remain, too often now it is the government — through interference and regulation — that poses the most existential threat to American farming. We aim to put a stop to that."
Perdue said his polices as U.S. secretary of agriculture will be guided by four principles: to maximize the ability of American agriculture to create jobs, sell food and fiber, and feed and clothe the world; to prioritize customer service for the taxpayers; to ensure that country's food supply is safe and secure; and to maintain good stewardship of the country's natural resources.
Perdue also emphasized his understanding that global trade is of top importance to agriculture.
American Farm Bureau Fed­eration President Zippy Duvall, a longtime friend of Perdue, said the new ag secretary is the "right man for the job" as the USDA addresses the many challenges farmers are facing, including plunging farm incomes.
"He is a real-world farmer himself and knows the business inside out," said Duvall. "He understands the impact of farm labor shortages, trade agreements and regulations have on a farmer's bottom line and ability to stay in business from one season to the next."
Want more news on this topic? Farm Bureau members may subscribe for a free email news service, featuring the farm and rural topics that interest them most!