Northern Iowa family opts for conservation tillage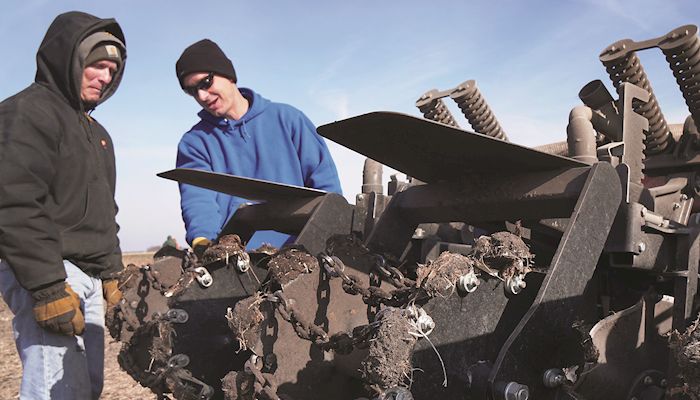 "Corn isn't going to be $7 forever." With those words six years ago, Joe Bormann sparked a family conversation on how he and his dad, Mark, and brother, Matt, were growing corn and soybeans on their northern Iowa farms.
The trio farm separately, but share equipment and labor. They had powerful tractors and were making several tillage passes over their fields with various implements such as stalk choppers, disks, rippers and field cultivators to prepare the dark, rich soils for planting. The time, cost and stress were adding up, Matt said.
Together, they made a decision to adopt strip-till and vertical till practices. They put together their first strip-till rig in 2011 and covered nearly 1,000 acres with it in the first year.
"We started planting right into it, and it worked great. The rest is kind of history," Matt said. "You compare yields with other people, and they're the same."
The Bormanns hosted a field day last week on their farm south of Algona to give other farmers a peek at the economic and environmental benefits they've realized from strip-tilling and other minimum tillage practices adopted over the years.
"We want to show people what we do. We are just ordinary guys trying to do a better job farming, and we believe there is a way to add more value to the land and our bottom lines through better soil and water quality," said Matt, a Kossuth County Farm Bureau member and past winner of the Iowa Farm Bureau's Young Farmer Achievement Award.
Strong interest
Farmers started showing up 30 minutes before the field day began, and the crowd continued to grow as the Bormanns gave field demonstrations and ride-alongs.  
"I would never have guessed that many people would come," said Matt, estimating they served more than 60 people for lunch. "There is interest, and (farmers) want to talk to people who have done it."
The Bormanns said they're applying fertilizer more precisely, saving money on fuel by making fewer trips across the field and spending less on equipment and repairs since making the switch to minimum tillage practices.
"The pressure to keep lots of equipment moving in the spring is gone. It's just so much less stress," Matt said.
Just as importantly, he said they've seen noticeable improvements in soil quality and water infiltration.
"The effects of water infiltration and soil quality are outweighing (the economic savings)," Matt said. "We're not seeing near the erosion. Water infiltration is better. You don't see water sitting around as much."
The family has also added waterways and planted cover crops to reduce gully erosion, he said.
Instead of aggressively working corn stubble, they make a single pass with a Kuhn Krause Excelerator 8000 vertical tillage tool to help break down residue. The implement chops and sizes corn residue but leaves more cover on the ground than traditional tillage methods helping to protect the soil over the winter.
The vertical tillage "takes the edge" off of no-till for planting beans in the spring, Matt said.
"The residue will start decomposing and breaking down. In a month, you can't believe it's the same field," he said.
On soybean stubble, they use a Kuhn Krause Gladiator strip-till bar with a Montag fertilizer tank to prepare strips for planting corn the following spring.
A gradual process
Matt said they strip-till nearly all of their corn into soybean stubble, but it wasn't an immediate transition.
During the first couple of years, they still hadn't eliminated all of the other tillage passes because they didn't quite trust that a single pass with the strip till or vertical tillage machines would prepare the seedbed well enough, Matt said.
"We just couldn't believe this could work. It's tough to break the habits," he said. "Tillage gets so instilled in you, it's tough to break it."
Then came back-to-back wet springs in 2013 and 2014, which delayed planting. Waiting for conditions to dry out enough to run a field cultivator ahead of the planter would have pushed things even further behind.
"The field was dry on top. We knew we could plant if we didn't field cultivate," Matt said. "That was a game-changer. That's when we finally realized it would work.
"I think we can plant a day sooner with strip-till. We don't second-guess ourselves with the field cultivator every spring — should we go or wait?"
Mark Bormann, who started farming in 1974 while he was still in high school, has embraced the transition to minimum tillage with his sons.
"That was huge," Joe said. "Without his support, we couldn't do what we're doing."
Just makes sense
The elder Bormann shrugs, and admits reduced tillage and precision fertilizer makes sense even though it was a big change at first.
"I was kind of the hold out on this, but now I probably like it the best of anyone," Mark said. "The ripper mostly stays in the shed. We only use it on the compacted areas where the semi runs.
"We've found our ground is in better shape with minimum tillage. If we weren't seeing good results, we would be done with it."
As with any new practice, Matt advises farmers to start with small changes.
"I recommend renting (equipment) from somebody first so you can learn before you buy it," he said. "Find somebody that's doing it, and try it on 40 acres or 80 acres."
Want more news on this topic? Farm Bureau members may subscribe for a free email news service, featuring the farm and rural topics that interest them most!