New pork plants creating opportunities for farmers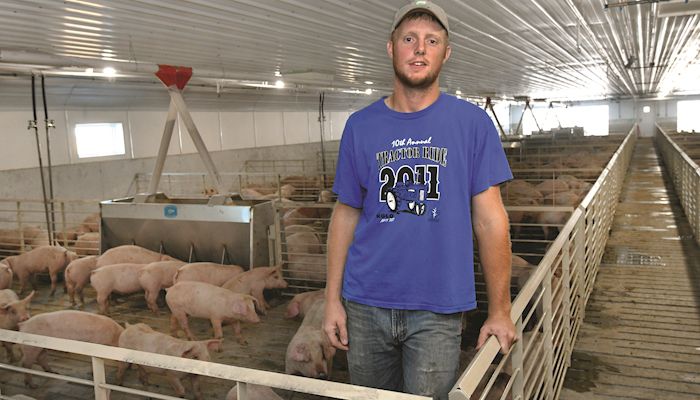 Some men spend the morning of their wedding on a golf course.
Garrett Cole spent his pouring cement, literally laying the foundation for the next chapter of his life by starting construction on a new hog barn on his Worth County farm.
"They poured the pit floor on my wedding day. I was here until about 45 minutes before I needed to take pictures," he said. Last week he received the first load of pigs to fill the new 2,400-head wean-to-finish barn.
Creating opportunities
The construction of two new hog processing plants in Iowa is creating opportunities for farmers of all ages to establish or diversify their operations by raising livestock.
"There's a demand because of the two new packing plants that are coming on line," said Joel Schmidt of West Bend, who will raise pigs for Seaboard Foods beginning next month.
Seaboard Foods and Triumph Foods began processing hogs last month at the $300 million plant they jointly built in Sioux City. The plant is slowly ramping up production and plans to add a second shift next year, raising its processing capacity to 21,000 hogs per day.
Prestage Farms is also building a new hog processing plant near Eagle Grove that is scheduled to open in fall 2018. That new facility will process 10,000 hogs a day, providing a market for farmers who currently raise pigs for Prestage in more than 30 Iowa counties.
Both Seaboard Triumph Foods in Sioux City and Prestage Farms in Eagle Grove also have pledged to buy a percentage of their hogs on the open market, creating opportunities and reducing transportation costs for independent hog farmers as well.
Easing capacity squeeze
The opening of the Triumph Seaboard plant, plus another plant that opened in Michigan last month, provides much-needed processing capacity to keep up with the growing U.S. hog herd, said Steve Meyer, vice president of pork analysis for EMI Analytics.
U.S. hog slaughter ran above listed capacity for several weeks at the end of 2016, putting a drag on pork prices. EMI's projections show the number of hogs coming to market at the end of this year will be almost identical to slaughter capacity. Prices are still expected to experience a seasonal swoon, but the new capacity eases fears about the bottom dropping out of the market.
"Last year's slaughter versus capacity situation was much worse than what we will see this year," Meyer said. "Prices will be lower because of large pork supplies, but little of that downward pressure will come from plants being full and over-worked."
Staying in business
Schmidt said the opening of the Seaboard Triumph plant came at an opportune time for him. His production contract with another company was coming to an end, and the company wanted him to convert his barns from wean-to-finish into feeder-to-finish facilities. The upgrades were estimated to cost around $200,000 for new heaters, gates and other pricey accommodations to house younger pigs.
He started exploring his options and settled on a five-year agreement to feed hogs for Seaboard Foods. Instead of staring at a major renovation to stay in the hog business, Schmidt said his 23-year-old barns will be ready for his first load of pigs from Seaboard after a few minor repairs and upgrades.
"It was substantially in my benefit to go that route rather than converting over to wean-to-finish," he said. "My lending institution is extremely happy I got an additional five years. They were more than willing to help me make the modifications I need to make."
He's pleased to be able to keep raising hogs, which is what drew him back to Iowa more than two decades ago. Prior to that, he worked seven years as an aircraft mechanic for Delta in Atlanta.
He also farms some row crops with his dad and brother, but hogs are his primary source of income.
"That's what enticed me to come back — the pork industry," he said. "I was born and raised in the West Bend/Ottosen area. It just enticed me to come back home."
Coming home
Coming home to farm was also the realization of a dream for Cole, who says he wanted to be a farmer for as long as he can remember. He fondly recalls memories of working on the farm alongside his grandpa, who taught him how to drive at the age of 7.
He wanted to start farming after two years at North Iowa Area Community College, but his parents encouraged him to continue his studies at Iowa State, where he majored in ag studies while adding minors in agronomy and ag systems technology.
Now, feeding hogs is helping the ambitious 24-year-old carve out his own niche as he and his new bride begin their lives together just a few miles from where they both grew up. It's the same path followed by his dad, who raised hogs at the beginning of his own farming career, Cole noted.
He was glad to have options, talking with several companies and reviewing different building designs before beginning construction on his barn.
"I was looking for some consistent cash flow," said Cole, who is feeding pigs under a marketing arrangement with Christensen Farms, which supplies pigs to the Seaboard Triumph plant in Sioux City as well as Triumph Foods' plant in St. Joseph, Missouri. "I don't mind a little extra work while I'm young."
He also raises crops with his dad and works as a representative for DuPont Pioneer's Encirca precision ag services. His wife, Taryn, teaches third grade at Central Springs school in Manly.
Economic boost
Financial investments by hog farmers will buoy rural communities with demand for building materials, feed, trucking and other equipment, not to mention property taxes, Cole said.
A study by the Iowa Pork Producers Association found construction of a new 2,400-head wean-to-finish hog barn generates more than 14 jobs, provides more than $869,000 in labor income, $1.1 million in value added and $2.3 million in sales.
Cole invested around $750,000 in his new state-of-the-art barn, which includes automated controls that he can check from his phone or iPad anywhere he has an internet connection. An alarm system will send him a text message or call his phone if the power goes out or other problems arise.
The marketing agreement with Christensen Farms alleviates the financial risk associated with the hefty investment, Cole said.
"The banker has no trouble lending me money for this. He knows he'll see the money," he said.
Neighbor relations
He has also emphasized neighborhood relationships and environmental stewardship, starting with selecting a building site that far exceeds regulatory requirements even though it meant extending electrical service to the site at his own cost.
He also welcomed friends and neighbors to tour his new barn during and after construction to ease any concerns they may have.
"I would say the biggest problem is lack of knowledge," he said. "There's very few livestock farms in this area. It's mostly all grain farming."
As his pigs get settled into their new environment, Cole said he'll continue to add to landscaping around his farm.
"I'm definitely going to plant trees. I'll have it looking nice," he said.
Want more news on this topic? Farm Bureau members may subscribe for a free email news service, featuring the farm and rural topics that interest them most!