New conservation field days announced the week of 6/14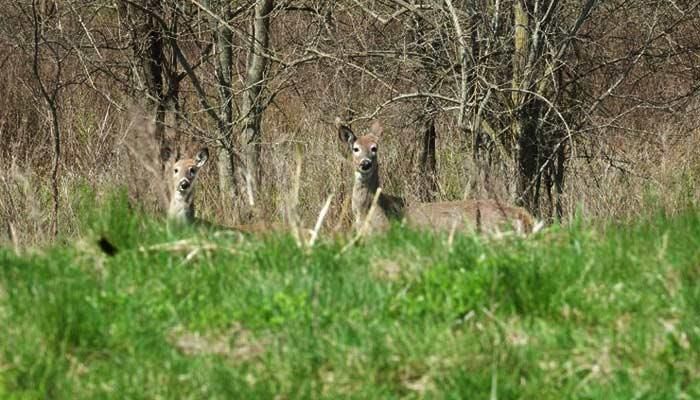 There were no field days announced during the week of June 14. For details about 15 previously announced field days, visit here.
Upcoming
June 18 | On-Farm Habitat Management for Wildlife and Water Quality
Join Bob Zimmerman and biologists from Pheasants Forever as they discuss habitat restoration and management activities at the South Place farm. Topics will include: prairie restoration; habitat management using prescribed fire and other techniques; landowner-tenant relations and conservation; and the dual benefits of habitat for wildlife and water quality. Information on cost-share programs for conservation will also be available. Learn more and RSVP for the event here.
June 18 | Native Perennial Plantings Workshop
Iowa Learning Farms, in partnership with Iowa State University Extension and Outreach, will host a native perennial plantings workshop on Tuesday, June 18 from 5:30-7:30pm at Spirit Lake Community Building. The event is free and open to the whole family and includes a complimentary meal. Native perennial plantings are growing in popularity in Iowa among farmers and landowners alike due to their many benefits for wildlife and pollinators, as well as improving soil and water quality. There are many opportunities to maintain, restore and seed new native plantings on the farm. To RSVP please contact Liz Juchems 515-294-5429 or ilf@iastate.edu.
June 19 | Webinar: Drainage Water Recycling: An Emerging Conservation Drainage Practice
Hear from speaker Chris Hay, Senior Environmental Scientist at the Iowa Soybean Association about drainage water recycling. Connect to the webinar here.
June 19 | Grazing Native Perennials in the Little Sioux Watershed
John and his cousin, Aaron, will discuss the benefits and challenges associated with grazing native perennials. Amy Crouch, an ecologist and Little Sioux project manager for The Nature Conservancy, will highlight the ecological benefits of managed grazing. With John and Aaron, she will also discuss conservation leasing issues associated with grazing conservancy-owned lands. A meal will be served at the Buena Vista County Conservation Park following the field day. Please RSVP here.
June 19 | Tile Inlet Protection Field Day
The Southfork Watershed Alliance is hosting a tile inlet protection field day on June 19 from 10 am to 1 pm near Eldora. Iowa Secretary of Agriculture Mike Naig is the keynote speaker. Attendees will be able to view a blind inlet, field sock, and saturated buffer. Click here for more information.

June 20 | Iowa State University Southeast Research and Demonstration Farm Spring Field Day
Farmers and farm businesses in southeastern Iowa can learn about the latest crop production research and trends during the Iowa State University Southeast Research and Demonstration Farm spring field day June 20. Register by June 13 for the morning CCA session and the noon lunch, at https://isuext.typeform.com/to/yivcsb, or by calling the ISU Extension and Outreach Washington County office at 319-653-4811.
June 20 | Northern Research and Demonstration Farm Field Day
Daniel J. Robison, holder of the Endowed Dean's Chair in the College of Agriculture and Life Sciences at Iowa State University, will welcome farmers and agribusinesses to the Northern Research and Demonstration Farm field day June 20. The field day is free and open to the public. Lunch will be served at noon and the day concludes at 1 p.m. Learn more on the Northern Research and Demonstration Farm webpage or by contacting Paul Kassel at 712-262-2264, or kassel@iastate.edu
June 20 | Diversified Crop Rotations and Cover Crops
This event will showcase a diversified farm with crop rotations, cover crops and livestock. Tim will speak about his crop rotation consisting of corn, soybeans and rye or wheat. Learn how this rotation presents opportunities for diverse cover crops (namely, legumes) and how Tim incorporates a small cattle herd and hog manure. We'll also view a couple of on-farm research trials investigating cereal rye cover crops for improving weed control in soybeans. Learn more and RSVP for the event here.
Want more news on this topic? Farm Bureau members may subscribe for a free email news service, featuring the farm and rural topics that interest them most!