NW Iowa high school program sets students on the path to jobs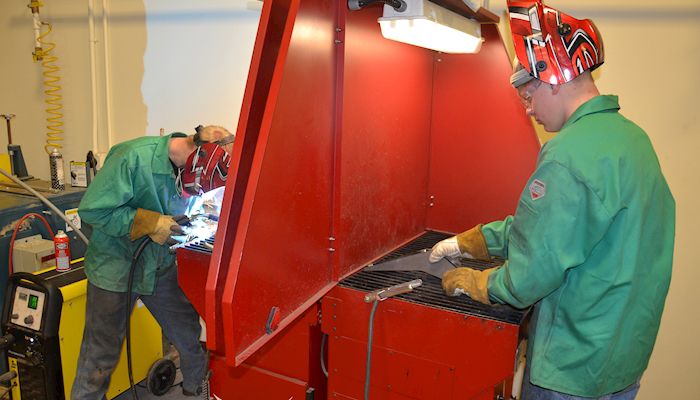 Agricultural products like feed bunks, livestock gates and equipment parts are some of the most visible things coming out of the student-run Rocket Manufacturing program at Rock Valley High School.
But students are also building something even more important — the business, creative and social skills needed to succeed in today's job market, according to school officials and community business leaders.
"We need people with really good problem solving skills who also have the ability to make something," said Cal De Ruyter, president of Rock Valley-based Siouxland Machine. "We could double our business if we had the people. That's our restraint."
That sentiment was echoed by other business leaders when Rocket Manufacturing was in the developmental stages, said Rock Valley Superintendent Chad Janzen.
"They said, 'We can teach anybody technical skills. We need good people who can communicate and are responsible,' " Janzen recalled.
De Ruyter pitched the idea for a school-based manufacturing center to Janzen after reading about a similar program at a Wisconsin school.
Rock Valley, a community of 3,500 people in northwest Iowa, is home to a growing base of manufacturing companies who need skilled welders, machinists, laser cutters and shop foremen. However, liability and time factors made it difficult, if not impossible, for students to get meaningful job experiences at those businesses.
"It's too hard to manage these kids going back and forth to businesses," said De Ruyter. "I thought it would be so much better if we could put the business in the school."
Janzen and other school leaders traveled to Eleva-Strum in Wisconsin to check out the school-based manufacturing program there, and liked what they saw.
"I thought, 'This is the right fit for our community.' We were hooked," Janzen said.
From that concept, Rocket Manufacturing was born in the spring of 2015 as the first student-run manufacturing business in Iowa. The school built a 10,000 square foot addition to house the program and — with help from donors — filled it with up-to-date equipment, including a CNC machine and plasma cutter.
Working with customers
Local manufacturing businesses subcontract some of their smaller jobs to Rocket Manufacturing, and students also line up commercial jobs directly with customers.
"These kids are making real things for real money," Janzen said. Students also design and produce various made-to-order items for the school, such as custom desks, shelves and music stand holders.
The students handle all of the interaction with customers from start to finish, including taking job orders, finding out exact details and specifications, and following up with questions, said industrial arts teacher Todd Vander Velde, who oversees Rocket Manufacturing with colleague Micah Weber, the school's vocational ag instructor and FFA advisor.
The program attracts a wide variety of students, from sports standouts to those at risk of dropping out, Vander Velde said.
"It's fun to see the kids working with real-life stuff," he said. "They work so well together to get things accomplished."
The school invests profits from Rocket Manufacturing back into the shop, helping keep students supplied with the latest equipment. Support from the Rock Valley business community is also a key factor in the program's success, Janzen noted. Local manufacturers view the school program not as a competitor, but as a training ground for potential future employees.
Many businesses support Rocket Manufacturing with monetary or equipment donations and lend their expertise to students on challenging projects.
"There's been lots of people helping. The support we've gotten is incredible," said Vander Velde.
"This has kind of revived my teaching," added Weber, who has taught at Rock Valley for 16 years. "The school district has made this a big enough focus that they put two teachers on it. I don't know if that would happen everywhere."
Students are required to apply to become part of the Rocket Manufacturing team, including compiling a portfolio of their experience and going through an interview process with community business leaders and school officials. The program includes 14 students this year, and that number could grow to 20 students next year due to strong interest, Janzen said.
Earning potential
There is good earning potential for students who decide to go into manufacturing, De Ruyter noted.
"If they're good at it, in five years they could be making more than some of these teachers," he said. "The income-earning potential is real, but you've got to have some skills."
Reese Schulze, a senior, said he joined Rocket Manufacturing three years ago thinking he'd learn how to weld and run the CNC machine, which he has done. However, he was surprised by the communication and business skills he gained along the way.
"It's a lot of things like calling businesses and finding out what they want, and being accountable. We have to do a good job to get more work," he said. "It's rewarding when you get a job done, and it's done right."
A wide diversity of projects allows each student to the best fit for their situation, Schulze added. Ethan DeVries, a junior, said he enjoys the design aspects of manufacturing, especially computer-aided design.
"This is pretty much the perfect class for me," said DeVries, who is designing and building a standing desk for a Rock Valley middle school teacher. "It fits my skills really well. I look forward to it all day."
Mason Van Beek turned his experience at the school into a summer job opportunity at a local manufacturing firm. "I'm getting experience I can bring into the workplace," said Van Beek, a senior. "(We're) working on real-life stuff. The opportunity to do that for two periods a day definitely adds something more to the school day."
Honing business skills
In addition to building mech­­an­ical aptitude, Rocket Man­ufacturing has also created opportunities for students to sharpen their business skills. Brittney Strait, a senior, joined the team this year to handle graphic design and promotional duties. One of her favorite projects was creating a pair of 6-foot-tall banners that tell about Rocket Manufacturing. The banners are used when students travel to talk about the innovative program, such as STEM Day at the Iowa State Capitol this year. She has also created brochures, designed signs for customers and keeps Rocket Manufacturing's website updated.
"It expanded my skills," said Strait, who plans to major in graphic design in college.
The students track their work using Job Boss computer software, which tracks the status of jobs and hours each student spends on a project. The software was donated to the school and is more advanced than some local industries have.
"Everything now is data gathering," Weber said. "The kids understand the importance of logging in and logging out. We're able to see how efficient we can be."
Several schools from around Iowa have shown interest in creating their own program modeled after Rocket Manufacturing, Janzen said.
"We see (potential for) this to be implemented in other places," he said. "The idea of doing real things is what this is about — it doesn't have to be manufacturing. It has to fit the community's niche."
Want more news on this topic? Farm Bureau members may subscribe for a free email news service, featuring the farm and rural topics that interest them most!