Meet Dutchland Dairy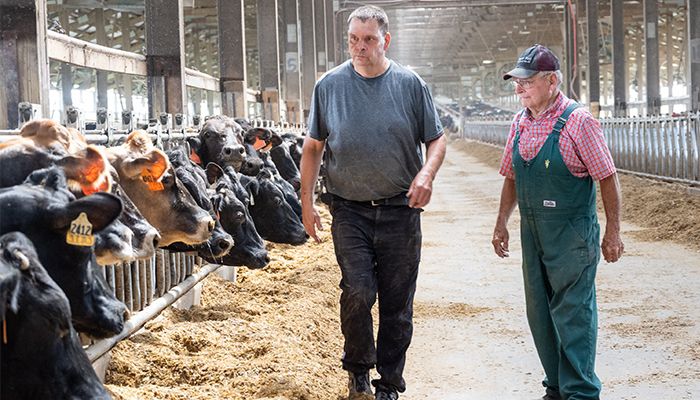 From the gently rolling hills of Pocahontas County to the limestone caves of southeast Minnesota, the high-quality milk produced at Dutchland Dairy, located near Rolfe, has a journey and a story ahead of it.
Dutchland Dairy was founded in the late 1990s by Dean Duitscher and is now managed by his sons, Dan and Dave. The family has grown the business over the last 25 years — from an initial herd of 250 milking cows to more than 1,900 head today — all cared for in a state-of-the-art facility.
High quality product
Known for its Grade A, high-fat content milk, Dutchland Dairy is a primary supplier to Minnesota-based cheesemaker Faribault Dairy. The company uses Dutchland's milk to make its award-winning Caves of Faribault brand blue cheese, which is aged in caves carved out of Faribault's  limestone hills nearly a century ago.
Dan Duitscher said it's a good feeling knowing the product he helps produce contributes to a prized cheese sold all over the country. He estimates about 50% of Dutchland's milk goes directly to Faribault Dairy. The rest is distributed to various plants within the farmer-owned Prairie Farms Dairy Co-op system.
"We are Prairie Farms members," Duitscher said. "It truly is a farmer-led co-op; they do a really good job."
Family farm
The story of Dutchland Dairy dates back to 1998 when Dean Duitscher, a longtime veterinarian in the region, decided to buy a small dairy herd. Within a couple years Dean retired from vet work, and his two sons joined him on the farm.
Dave Duitscher, like his father, is a veterinarian. Dan spent many years in ag product manufacturing with expertise in milk processing. 
Now, Dan and Dave oversee the day-to-day operations at the farm. However, Dan noted, Dean, now 85, still gets to the barn before 5 a.m. every day, checking on the animals.
In addition to producing milk and raising calves, Dutchland also manages nearly 2,000 acres of corn silage and alfalfa haylage fields, which are harvested and used throughout the year in the dairy's feed rations.
Along with the Duitschers, Dutchland includes a full-time staff of 27, helping care for the herd and managing milking and transportation.
Getting recognized
"Multigenerational farm families like the Duitschers make Iowa agriculture so special because they are committed to their land, their livestock and their community," noted Iowa Secretary of Agriculture Mike Naig recently after visiting Dutchland Dairy in April. "I was so impressed by their nonstop commitment to innovation and their incredible focus on ensuring that consumers can enjoy high-quality and delicious Iowa-raised dairy products."
Dutchland has been honored with a growing list of accolades for the milk it produces. 
In 2022, Caves of Faribault blue cheese secured a second-place award at the American Cheese Society Annual Conference in the blue-veined cheese category, and it finished third at the World Championship of Cheese.
Duitscher said he appreciated Naig's visit and the opportunity to share his family's story. 
It's also a good feeling seeing Faribault Dairy cheese showing up on store shelves across the country, he added.
In Iowa, the Faribault cheese is carried at Hy-Vee. Prairie Farms Dairy Co-op sells cheese, butter, cream cheese, and sour cream, along with other dairy products, in most grocery stores in the Midwest.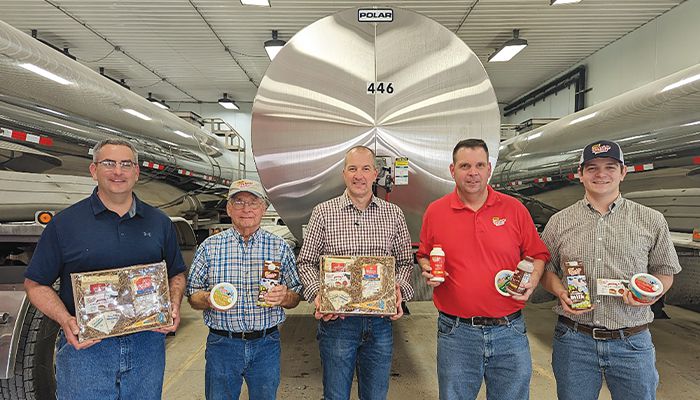 Pictured above: In April, Iowa Secretary of Agriculture Mike Naig visited the Dutchland Dairy near Rolfe. From left to right, Dave Duitscher, Dean Duitscher, Naig, Dan Duitscher and Payton Duitscher show Prairie Farms dairy products made with milk from the family's dairy.  PHOTO CONTRIBUTED
Want more news on this topic? Farm Bureau members may subscribe for a free email news service, featuring the farm and rural topics that interest them most!