Mayhem, memories highlight Calhoun County Century Farm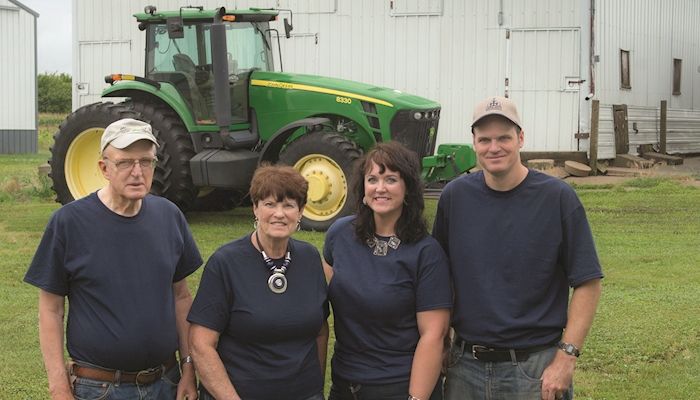 By the time I was 18, I couldn't wait to get away from the farm. Riding a bean bar during the hot summer months held little appeal. While I didn't mind feeding the sows in our farrow-to-finish swine operation, I never did like the aroma the barn imparted to my hair. And then there was the infamous "corn incident."
I had to take a 5-gallon bucket of corn to feed some larger hogs in a pen near the garage. A recent rain had turned the lot into a mud hole. As the hungry hogs charged at me and my bucket of corn, I tried to run. No luck. My foot slipped free and pitched my whole body forward as a horrible sucking sound indicated my muck boot had stuck in the mire. Down I went, face first, into the mess, as a barrage of hogs assaulted me to get their dinner.
Not knowing what else to do, I starting bawling. When the ruckus attracted other family members' attention, my flabbergasted father could only shout one thing: "Be a man!"
Enough of the farm
And that was when I decided I'd had enough of farm life. Sure, I had joined FFA and enjoyed some aspects of growing up on a farm, but I had no intentions of pursuing ag as a career. And few people encouraged me to.
After all, my generation was the legacy of the 1980s farm crisis. The unspoken message to us? There's no future in rural America.
Facing an uncertain future, I took my dad's advice and studied agriculture, along with journalism and mass communication, at Iowa State University, landing a career as an editor at the Iowa Farm Bureau Spokesman in 1997. While I was quite content to enjoy West Des Moines living, something began to change by my late 20s. I couldn't quit thinking about how much I truly missed the farm.
Irish heritage
I had always been fascinated to think of all the previous generations who had lived and worked on our Calhoun County farm. I was also proud of our Irish heritage.
Although many Irish families who emigrated to America in the 1800s remained in the large East Coast cities, some, including my great-great grandfather John Dough­erty, a native of County Cork, Ireland, sought new op­­portunities in rural Iowa.
In 1889, John purchased 160 acres in Lake Creek Township, Calhoun County, after moving west from New York, New Jersey and Chicago. Of John's nine children, his oldest son, Charles, also became a farmer. Our Century Farm is his legacy.
Charles and his wife, Myrtle, purchased 160 acres of Elm Grove Township land from Maurice Sheehy for $93.75 an acre. The family, which included son, Glenn (born in 1897), and daughter, Gladys (born in 1903), moved to the Elm Grove Township farm (our home place), which Charles expanded in 1916 when he paid approximately $200 an acre for another 160 acres south of the farm.
An early John Deere
Charles was known as an in­­dustrious, progressive farmer. In the 1920s, he purchased one of the first John Deere tractors in the neighborhood. When Charles passed away in 1931, Glenn took over the operation of the farm.
My Grandpa Glenn and Grand­ma Katherine raised their three sons, including Jim (born in 1937), Jack (born in 1939) and Robert (born in 1945), on the farm, which included cattle, hogs, sheep, ducks and chickens.
The Dougherty farm provided many lessons in entrepreneurship. One summer during the 1940s when crews graded the gravel road that ran south of the farmhouse, Jim and Jack, who were charter members of the Jackson Pioneers 4-H Club, built an observation platform in a pear tree in the south pasture so they could watch the work. They also sold live chickens for $1 each to the crew.
My dad, Jim, knew early on he wanted to farm for a living. After graduating from Lake City High School in 1956, he earned his bachelor's degree in ag business/farm management from Iowa State University in 1961. After serving in the U.S. Army Reserves and working as a U.S. Department of Agriculture food inspector, he began farming full-time with his father in the fall of 1965.
Honoring the past
While Dad is still active in the operation, the farm is transitioning to my younger brother, Jason. Although a lot has changed in 100 years, some things endure, like our barn and the 1953 John Deere 40 tractor that Glenn purchased new at Snyder Implement in Lake City.
I love sharing stories from our Century Farm. I also decided this is where my heart is, so my husband and I moved back to the area in 2006. Sometimes when I'm running the combine, I think back to my 18-year-old self who couldn't wait to escape from the farm. And now here I am, by choice, and proud out it.
I'm grateful my family has the opportunity to farm because of our ancestors. Our Century Farm is a legacy we cherish, just as countless other Iowa farm families value their Century Farms. This is an essential element of Iowa, and it's a heritage worth preserving.
Darcy Dougherty Mauls­by serves as the Calhoun County Farm Bureau president and is the author of the books "Calhoun County" and "A Culinary History of Iowa." Visit her online at www.darcymaulsby.com.
Want more news on this topic? Farm Bureau members may subscribe for a free email news service, featuring the farm and rural topics that interest them most!