Livestock lessons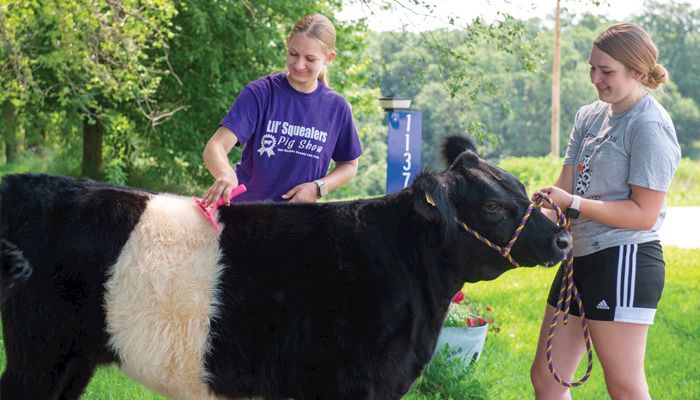 Ahead of fair week in Des Moines County, there is no lack of projects for Jennifer Lohmann, 15, to accomplish.
"Every morning I feed my goats, check their hay, take them out for their morning walk and work on showmanship," she explained last week. After taking care of the goats, she feeds the chickens, which the family keeps for fresh eggs, then heads into the big barn to check on her Belted Galloway cattle. After cleaning out their pens, spraying on fly control and filling their food bunk, it's time for a wash, brush and maybe a little bit of pampering.
And as if that wasn't enough, before heading into Burlington to help her 4-H club set up booths and do some last-minute painting at the fairgrounds, Lohmann runs the family's two rescue dogs, Peanut and Trip, through obedience practice.
At one point or another, Lohmann's two dogs, two show cattle, two horses (which Lohmann's big sister, Ashley, checked on for her this day) and four goats will all make an appearance at and compete in the Des Moines County Fair, July 28-Aug. 3.
"I'm pretty excited for the fair this year," Lohmann said. "It can be really busy, but I love it."
Experiences like Lohmann's were repeated all over Iowa this summer as the prime county fair season gears up around the state. Unlike last year, Iowa's county fairs are back to their full schedules in 2021. That's giving young people the chance to show livestock and participate in other activities that make county fairs the highlight of the summer.
Lohmann lives on the family's 40-head Belted Galloway cattle farm. The black cattle with a white stripe around their middle stand out among beef cattle for their unique coloration.
This is only the second year Lohmann has owned goats, but she said the experience has been fantastic.
"They have so much personality," she said. "I just think they're more personal than other animals, and they really like to play."
Lohmann competes at the fair as a member of the Sperry Sodbusters 4-H club. She also serves on the Teen Council, which allows her to help with set-up, run games and other activities during the fair and serve as a bit of an expert on ag for visitors to the annual event.
"I get asked a lot of questions by people visiting the fair," Lohmann said. "It's everything from what do the animals eat to what do you do when they go to the bathroom."
She believes the local fair is valuable because it offers people who are removed from agriculture the chance to see and interact with livestock.
"There are sometimes people who are negative about animal agriculture," Lohmann admits, "but I focus on being an advocate for myself and explain there's nothing wrong with raising livestock."
Family tradition
A few hundred miles north of Lohmann's farm, Allie Bieber, 18, was about to head to the Allamakee County fairgrounds in Waukon after she got done with her daily chores for her 8-head purebred Angus herd.
Bieber is the fifth generation in her family to raise Angus cattle. It's a tradition she is very proud of.
"I'm really passionate about these animals," she said. "Raising them, caring for them, has really taught me a lot and helped me to be driven and focused on this industry."
Her love for cattle runs so deep that last year she was named Miss Iowa Angus.
"It was such a great opportunity for networking and meeting new people," she said. "I know these connections I'll have forever. It's not often you get the chance to meet people from all over the country."
This year, she is president of her 4-H club, the Westridge Riders. But she wasn't worried about the extra work that was involved at the Allamakee County Fair last week.
"Ag is really (what) all my life has been building up to," Bieber said. "I'm just driven in that direction."
Solid career path
Wade Fisher, 17, of Plymouth County said his love for animals has translated into work opportunities.
"I started out back in (4-H) Clover Kids working with a bottle calf, then switched to goats," he explained. "They've taught me a lot of patience for sure and time management."
His experience caring for live animals helped him land a job tending hogs in a neighbor's confinement buildings. And it's likely to keep paying off as he prepares to head off to college in another year or so.
"My plan is to go to South Dakota State (University) and study either animal science or agronomy," Fisher said. "I want to keep working with animals, whatever I end up doing."
While Wade Fisher has foc­used mostly on goats at his family's acreage near Remsen, his younger brother Jace, 15, is all about cattle.
They both show animals as members of the Grant Little Giants 4-H club. This year, Jace Fisher is showing a steer at the Plymouth County Fair July 28-Aug. 1.
"Showing animals is really my favorite part of the fair," Jace Fisher said. "It's the main reason I'm there and I really enjoy it."
Want more news on this topic? Farm Bureau members may subscribe for a free email news service, featuring the farm and rural topics that interest them most!