Linn County farmer Dan Voss presented Iowa's 'Conservation Farmer Of The Year' Award for commitment to sustainability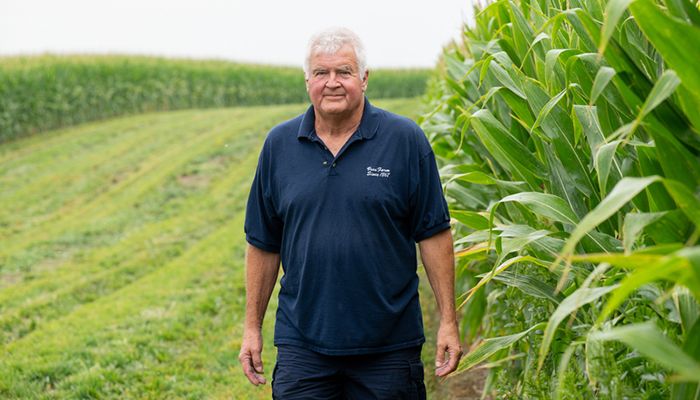 Dan Voss reflects proudly when recalling the evolution of conservation efforts on his family's farm near Palo, with roots dating back to the 1860s. It's this dedication to caring for the land that led Voss to be named the 70th winner of the Iowa Conservation Farmer of the Year Award. 
This award, sponsored by the Iowa Farm Bureau Federation (IFBF) and the Iowa Department of Agriculture and Land Stewardship (IDALS), recognizes an Iowa farmer who has demonstrated long-term commitment to soil conservation and water quality.
Voss farms along with his son, Bryan, who represents the 5th generation on the family's Heritage Farm. He recalls his passion for protecting the environment dating back to celebrating Earth Day in school, and it continues today by sharing results from new practices he's implemented over the years. No till has become a common practice in Iowa agriculture, but Voss credits his father as being a no till pioneer in the 1990s, and the importance of sharing his results with fellow farmers. Voss is a conservation pioneer in his own right, with several innovative conservation practices on his farm, including a nitrate-filtering bioreactor. 
Grass waterways, buffer strips, saturated buffers, prairie strips and flowering pollinator habitat encompass the Voss family farm. The diverse farm is even host to a wildlife food plot and honeybee hives and is green nearly year round with hundreds of acres of cover crops.  Voss hosts conservation field days to share insight and results from his efforts, and just recently hosted the city of Cedar Rapids in May, and credits them for their collaborative approach to water quality efforts and partnerships with local farmers. 
"Collaboration and partnerships are crucial to conservation progress, and the state of Iowa is doing a great job partnering with farmers to ramp up conservation efforts," says Voss.  "In Cedar Rapids we have lots of partners in conservation because we all depend on clean water. Families in town, farmers raising food, grain processors and other industries need clean water, and I'm proud of our brainstorming with lots of great things happening.  It's a win-win for everybody." 
"As farmers, we know that everyone has a role to play in protecting our soil and water quality, and that's why leading by example and sharing our experiences is so valuable," said IFBF President Brent Johnson. "Our role as farmers is more than just growing food, and we must all work towards leaving the land and water better for the next generation. Dan Voss and his family continue to lead the way by implementing new conservation practices on their farm and being willing to open up their farm and partner with others."
The Voss farm is a model for sustainable agriculture and a wide array of conservation practices, but Voss says it didn't happen overnight and every farm is different. Some changes over the years were significant, like moving from tillage to no till; others were minor, like switching variety of cover crops.
"I give a lot of credit to my dad when it comes to our conservation practices," Voss says. "We started small in 1988 with one field; by 1993 we were no till on all of our soybeans, and in 1997 we started strip till, which we still do to this day." 
Voss took the same incremental steps as his father planting cover crops, starting on one field more than a decade ago, and after seeing the benefits to soil health and water quality, he's ramped up to covering most of the farm. A bioreactor was installed in 2021, and early results show reduced nutrient loss and improved water quality, so Voss plans to install two more and has vowed to continue his focus on sustainability.  
"Because of innovative leaders like Dan Voss who are consistently doing more, we continue to see record engagement in our state's water quality and conservation activity," said Iowa Agriculture Secretary Naig. "As we accelerate our water quality efforts statewide and pursue the goals in the Nutrient Reduction Strategy in the years ahead, Dan's conservation focus should inspire others to rise to the challenge and add even more conservation practices to their own land." 
As winner of the statewide conservation award, Voss received the free use of a John Deere 6E Series utility tractor for up to 12 months or 200 hours, a $12,000 value. The tractor award is sponsored by Van Wall Equipment of Perry and John Deere. 
Regional winners from 2023 are: Roger Bumann of Ida County; Ken Anderson of Webster County; Neher Acres of Grundy County; Tim Daly of Dubuque County; Steve Killpack of Harrison County; Brian Sampson of Story County; Don Williams of Clarke County and Ralph and Colleen Krogmeiers of Lee County.  
Want more news on this topic? Farm Bureau members may subscribe for a free email news service, featuring the farm and rural topics that interest them most!