Keeping meat at the center of the plate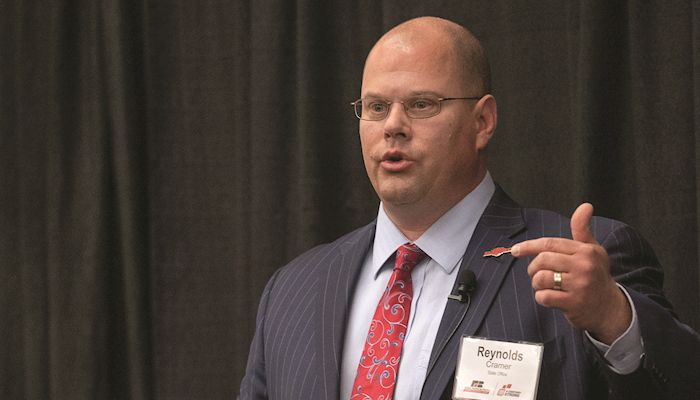 Consumers' appetite for protein is changing, and restaurants and grocery stores are adjusting to accommodate those needs. And while consumers look for new cuts or different flavor profiles, they still just want the homegrown proteins that Iowa farmers have been trusted to produce for more than 100 years.
Two top industry representatives shared their view of shifting consumer trends during a panel discussion at the Iowa Farm Bureau Federation's annual meeting in Des Moines last week.
The grocery business has changed since Reynolds Cramer's great-grandfather started Fareway Stores in 1938. Today, the store is best known for its meat market and is expanding its offerings to fit the needs of customers.
Fareway has 123 stores in five states and is expanding to standalone meat markets to offer more of its popular products to hungry consumers. The company already sells and ships meat products online, much of it sourced from farms in Iowa and throughout the Midwest. The company is set to expand to online grocery sales within the next year or so, Cramer says.
Fareway has adapted to meet the needs of its consumers, Cramer says, offering different types of cuts and a variety of portion sizes to fit recipes and lifestyles of its customers.
The company looks at creating an experience for its customers, just as restaurants do, Cramer says.
"Overall, it's an exciting business. We know that people aren't going to stop buying proteins. It's always going to be there; it just has to be marketed a little bit differently," he says.
But, Cramer says, without Iowa farmers, none of that would be possible.
"At Fareway, we're proud of not only the job we do but the job many of you (farmers) do. This is why we have such quality products of all kinds in our meat case," he says.
Hot new cuts
Jessica Dunker, CEO of the Iowa Restaurant Association, says new cuts of meat, street food-inspired dishes and ethnic-inspired breakfast items are among the top five on a "what's hot" list from a national survey of chefs.
Pork, beef and chicken are all gaining steam and space on restaurant menus, Dunker says. Notably, pork butt use in restaurants increased 60 percent over the past year thanks largely to the increase of pulled pork sandwiches on national menus.
Dunker says hyperlocal and chef-driven, fast-casual concepts top the list of chefs' top concept trends in the restaurant industry. Also, the industry has seen an uptick of consumers picking up food or having it delivered.
"Sixty-three percent of restaurant food is being carried out, delivered or picked up through a drive thru. So our industry, like yours, is changing greatly," Dunker says.
Alternative proteins
Although lab-created and cell-cultured alternate proteins get a lot of press, Dunker and Cramer say they don't anticipate it getting much traction in Iowa.
"New cuts of meat still mean meat. Let's just be clear about that. But chefs want to work with local products that they understand where it comes from. And that's what consumers want too. We want to do what consumers want," Dunker says.
Cramer says the industry must continue to evolve with its consumer, beyond thinking about millennials.
"Actually, we gotta be thinking about Gen Z. That's the next group. That's my son, who's 14," Cramer says. "Son Benny, who is 10 months, that's Generation Alpha … We've got to be thinking 10, 20 years out. How are we going to be selling these proteins to the consumer? What is going to be the way that they are going to want to prepare meat?"
Hear more – tune into The Spokesman Speaks podcast
Want to hear more about meat trends from Fareway CEO Reynolds Cramer and Iowa Restaurant Association CEO Jessica Dunker?
We sat down for exclusive interviews with both CEOs; you can listen to those interviews in an upcoming episode of our new Spokesman Speaks podcast.
We invite you to tune into The Spokesman Speaks podcast and subscribe in your favorite podcast app, including Apple Podcasts, Google Play, Spotify, Stitcher and TuneIn Radio.
Want more news on this topic? Farm Bureau members may subscribe for a free email news service, featuring the farm and rural topics that interest them most!