Keeping agriculture research out front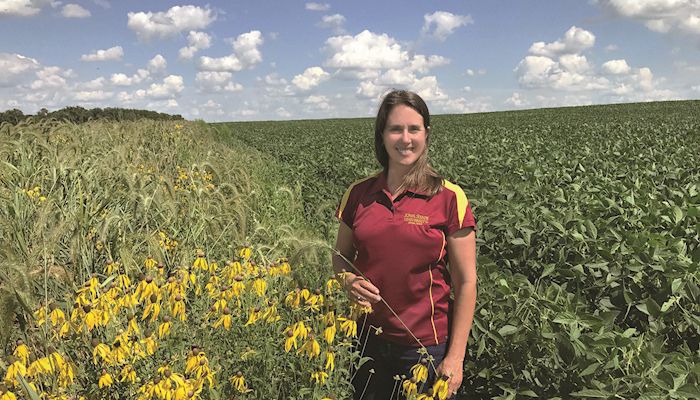 A new effort to boost federal investment in agricultural research launched last week is bringing together Iowa State University (ISU) with15 other public and private universities.
The initiative, called FedByScience, was timed with the release of the 2018 House farm bill and is aimed at focusing the public and policymakers on the many ways that projects and researchers funded by the U.S. Agriculture Department (USDA) are creating a safer, healthier and more productive food system.
"As researchers, we consider it our job to provide real-world solutions," said Lisa Schulte Moore, professor of natural resource ecology and management at ISU, whose water quality research in the Midwest is featured on the new initiative's website. "But solid science and training the next generation of problem-solvers requires additional investment into our nation's future."
FedByScience highlights the work of Schulte Moore and others. Schulte Moore and her colleagues, supported by USDA grants and other funding sources, examined a set of problems confronting corn and soybean farmers — soil and nutrient retention, especially during rainstorms — and engineered a solution: interspersing strips of native prairie vegetation throughout the crop rows.
Schulte Moore's team estimated that the prairie strips solution could be used on 9.6 million acres of cropland in Iowa and a large portion of the 170 million crop acres in the United States.
Global food needs are growing
"Access to safe, nutritious food and a healthy environment is a fundamental human right. The need for healthy food will only grow as we look to the future. There is no issue of greater importance for our experts in the agricultural and food sciences and few more deserving of federal support" said Kathryn Boor, FedByScience co-chair and The Ronald P. Lynch Dean of Cornell University's College of Agriculture and Life Sciences.
Addressing farmers' needs
"U.S. farmers are confronted by turbulent commodity markets, extreme weather, and an uneven economy," said FedByScience co-chair and University of Nebraska-Lincoln Chancellor Ronnie Green. "A stronger investment in agricultural research can provide the science and innovation that farmers need to navigate these obstacles. Universities are now joining together to ensure that our stories about the value of food and ag research are heard."
Such challenges can only be addressed through additional research, yet the U.S. agricultural research budget has declined in real dollars since 2003. The U.S. has been second to China in total public agricultural research funding since 2008; in 2013, China's spending on public agricultural R&D became nearly double that of the U.S.
"There is so much that federally funded food and agriculture research has accomplished, but these stories need a broader audience," said Thomas Grumbly, president of the SoAR Foundation, which organizes FedByScience. "We are delighted to collaborate with our university partners to make this initiative a reality."
Want more news on this topic? Farm Bureau members may subscribe for a free email news service, featuring the farm and rural topics that interest them most!