Japan offers lucrative market for Iowa farmers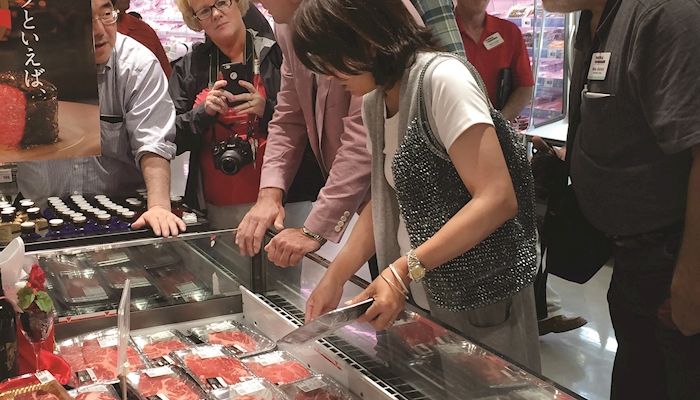 The Japanese market for pork, beef and other high-value agricultural products is big today, continues to grow and is far too lucrative for American farmers to pass up, Farm Bureau members and U.S. trade officials said last week.
That's why passage of the Trans-Pacific Trade Partnership, or TPP, in Congress is so critical, they said. The TPP, which would link the United States with Japan and 10 other nations in a trade bloc spanning the Pacific Ocean, would significantly reduce tariffs on meats imported into Japan and other nations, reduce prices for Japanese consumers and increase demand.
"We need the TPP. We can't afford to let this opportunity with Japan slip away," Scott Heater, Louisa County Farm Bureau president and cattle raiser, said during the Iowa Farm Bureau Federation county presidents' incentive trip to Japan, which ended last week. "They have the money to buy things, and they also have infrastructure that is necessary to get fresh meat across the Pacific and into stores."
Heater's view was echoed by other county presidents who visited both Tokyo and the Yamanashi prefecture in Japan. And it was underscored by Japanese representatives of the U.S. Meat Export Federation (USMEF), as well as ag trade officials at the U.S. Embassy.
"We can't miss out on this market," Jason Russell, Linn County Farm Bureau president and a hog raiser, said after he and other county presidents visited a Japanese supermarket and the food aisles of a high-end department store in Tokyo's fashionable Ginza district. "Trade is so important to us today. We have lower cost of production than anywhere else, and we are blessed with abundant land and feed resources. But we also need strong markets."
Mike Kleitsch, Poweshiek County Farm Bureau president, said the visit to the Tokyo supermarket and department store was eye-opening. "It really brought home the importance of exports for our livestock markets," he said.
Japan is already America's highest-value red meat export destination. In 2015, Japan bought nearly $1.6 billion worth of pork and about $1.3 billion worth of U.S. beef, ahead of all other export markets.
Meat exports to Japan have a positive effect well beyond livestock sales. They create stronger local demand for feed grains, boost jobs and increase economic activity in rural Iowa.
Despite the fact that Japan has an aging market and its population is expected to decline in the coming decades, there is still room to grow, according to Evan Magino of the U.S. Department of Agriculture, who is stationed in Tokyo.
Japan's diet is evolving away from the traditional rice and fish dominated meals of the past, and pork and beef are taking a bigger place at the dinner table, Magino said. Consumers in Japan are also very willing to pay for high quality food products, he said.
"It's definitely a very high-value market. Japan's imports of value-added products dwarf what we sell to China."
Although Japan is a very good customer, the United States can't take the market for granted, noted Larry Sailer, Franklin County Farm Bureau president and hog raiser. "It's an aging market, but it's a great market for us, and we need to work to take care of it."
Passage of the TPP, which still has to be approved by Congress, is a big part of caring for the Japanese market, said Takemichi Yamashoji, Japan director for the USMEF. It would lower tariffs, reduce supermarket prices for Japanese consumers and, importantly, put U.S. farmers on an even playing field with competitors, he said.
Because Japan is such a lucrative market, there is naturally a lot of competition, Yamashoji said. Some competitors, such as Australia, have already signed a free trade agreement, and others are in the wings. "If the United States doesn't pass the TPP, it will put our farmers at a big disadvantage," he said.
Louisa County's Heater ag­­reed. "We really need the TPP to boost exports. Without exports, I'd just hate to see what cattle prices would go to. I just know it wouldn't be pretty."
Want more news on this topic? Farm Bureau members may subscribe for a free email news service, featuring the farm and rural topics that interest them most!