Iowans view different crops and challenges on farms in Georgia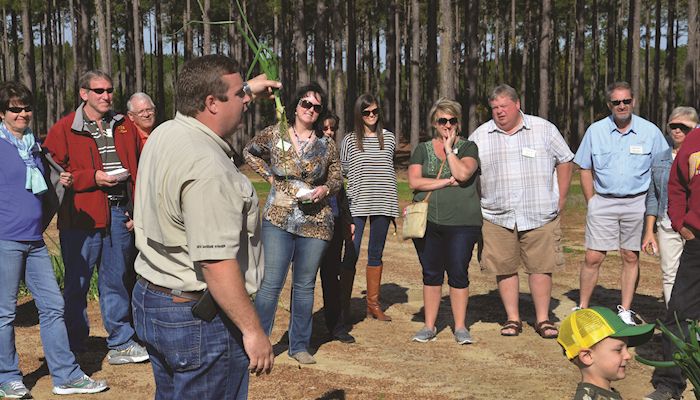 The rocky, porous soils of southeast Georgia are miles away from Iowa, both literally and figuratively, but farmers from the two states can still learn a few things from each other.
"It's so interesting to see how other farmers operate," said Decatur County Farm Bureau President Deanna Brennecke. "It is very eye-opening. They have different challenges, but they rise up and meet those challenges the same as we do with our challenges back home."
Brennecke and her husband David were among nearly 140 Farm Bureau members who spent six days last week learning about Georgia agriculture during the county Farm Bureau President's Incentive Trip to Savannah.
The group toured vegetable farms, the Port of Savannah and a timber exporting company in addition to cultural attractions in the city and the surrounding area.
"We're going to be dealing with the farm bill and lot of other issues like immigration and trade this year," said Joe Heinrich, Iowa Farm Bureau vice president. "By coming here, it's going to help us understand those issues that farmers in other parts of the country are experiencing."
Georgia's temperate climate allows farmers there to grow vegetables year-round, including Vidalia onions, which are only grown in a 30-mile circle around the town of Vidalia. Georgia leads the country in production of blueberries, broilers, peanuts, pecans and spring season onions. It is second in rye, cotton, cucumbers, pullets and watermelon.
"It was a unique look at their kind of agriculture," said Tony Adrian of the Jefferson County Farm Bureau. "They face some of the same challenges that we do as far as water quality and availability, but instead of being corn and soybeans, they're diversified raising cabbage, onions and cotton."
Alternative income
The hog market crash of 1998 forced Mitchell Pittman's family to look for alternate income sources on their farm near Lyons, Georgia. The farm, founded by his grandpa in 1955, used to earn most of its income from tobacco and hogs. Tobacco production was replaced by row crops but when hog prices crashed, the family shifted most of its acres to vegetables like peas, cabbage, sweet corn and watermelon.
"We had to figure out something else to do," said Pittman. "One acre of vegetables will turn about the same money that five acres of row crops will do."
The family sells most of its produce to a wholesale distributor, but also operates a farmer's market storefront on the highway in front of their farm. Today, the 1,300-acre farm supports Mitchell, his two brothers and his dad, Timmy.
Nearby, first-generation farmer Chris Hopkins started his farm on 50 acres of rented ground in 2005. He has since grown his operation to around 850 acres, mostly cotton and peanuts during the main growing season. He also grows Vidalia onions during the winter season. The onions are planted by hand at a population of 80,000 plants per acre in the fall and harvested in the spring, before cotton and peanuts go into the ground.
Labor challenges
Labor is a big challenge for Hopkins and Pittman, who both rely on immigrant labor through the H-2A temporary agricultural worker program. They said one of the problems with the program is that they are required to list specific starting and ending dates for the workers they need several weeks before their crops are ready.
"If we say we need them April 1 but we have inclement weather and can't start harvesting, we still have to pay them," Hopkins explained. And, the immigrant workers are required to leave by the listed date, even if harvest isn't finished, he said.
"It's still not a perfect program," said Hopkins. "It's a step (in the right direction) but it needs improvement."
Pittman said timing is critical during cabbage harvest season, which has to be picked in a three-day window in order to garner premium prices. Cabbage that grows too large ends up in coleslaw instead of the grocery store.
"To have to figure out (labor needs) in advance with produce being so time-sensitive would be excruciatingly hard," said Deb England, Hardin County Farm Bureau president. "Each year is so variable. Even raising corn and soybeans you have a little bit of variance."
"We like to combine our soybeans when they're 12 to 13 percent, but chances are if we get a rain or snow, we'll get another window in a week or two to catch that same quality," Adrian added. "For them, it might be too late. If the cabbage goes (down in condition), they're going to take a 25 percent hit on that."
Farm Bureau members also marveled at the precision of the Georgia Ports Authority, which operates five major terminals in the Savannah harbor.
Port visit
It is the fourth busiest port in the United States. The port's Garden City container handling terminal, covering 1,200 acres, is the largest single-terminal container facility in North America. The bustling terminal handles 9,500 trucks coming and going in an average day as mammoth container ships – which are up to three football fields long – are loaded and unloaded. Even with the huge volume of products being moved, there weren't any bottlenecks as trucks moved quickly through the gates and container yard.
Efficiency stands out
"The biggest thing that stood out to me was the efficiencies," said Jones County Farm Bureau President Darrick Hall. "It's busy, it's chaotic, but it all runs so nice and smooth."
Although the Georgia Ports Authority is a state entity, it operates like a private business and reinvests profits back into its own operations, said Cliff Pyron, the port's chief commercial officer. It also enjoys a good working relationship with its union workers, in contrast to U.S. ports on the West Coast, he said.
The container facility handles a variety of products, including cotton, refrigerated meat, lumber and retail consumer goods. Corn and soybeans are also being moved in containers more often than in the past, due to an abundance of containers going back to Asia and preferences of customers for smaller purchases, said Pyron.
"From a person looking from the outside in, it's a logistical nightmare, but they have the ability to know what's coming in and out, and where to place them," said Hardin County Farm Bureau member Keith England. "It's a neat system. They've got it figured out. I think their business model is probably the best one to gain the most efficiency and productivity."
Want more news on this topic? Farm Bureau members may subscribe for a free email news service, featuring the farm and rural topics that interest them most!