Iowans find kinship down under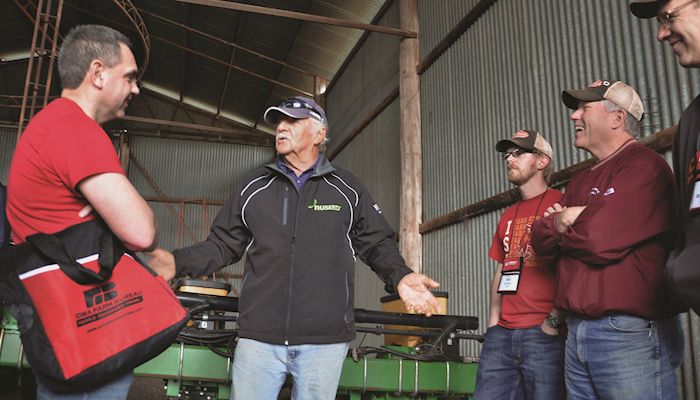 Iowa Farm Bureau members are finding like-minded farmers and reminders of home halfway around the globe during their 11-day market study tour in Australia.
On the first leg of the trip last week, they saw John Deere cotton pickers made in Ankeny, Ag Leader precision technology from Ames and conservation-minded farmers striving to improve their yields on deep, black dirt in prime farming areas.
"One of the takeaways is how much the two countries are integrated," said Dave Miller, Iowa Farm Bureau research and commodity services director who is leading the market study tour exploring top farming areas in the eastern third of Australia. "You've got the huge integration of U.S. ag technology with Australian technology. Because of the dominance of U.S. agriculture, a lot of (Australia's crop) genetics are U.S.-based."
Australia's agriculture sector is geared primarily toward the export market, sending around 75 percent of its production overseas. Its primary exports are beef, grains and oilseeds, going head-to-head with the United States in many markets, especially southeast Asia. Australia enjoys lower transportation costs due to its proximity to fast-growing populations in Asia, as well as price advantages resulting from free trade agreements with China and Japan.
However, Iowa farmers noted superior logistics and infrastructure in the United States help level the playing field. For example, grain receiving capacity at GrainCorp, one of Australia's largest ag exporters at the Port of Brisbane, is lagging compared to U.S. facilities, said Brian Feldpausch, a Grundy County Farm Bureau member.
"Their intake is 13,000 bushels an hour on the truck traffic. That's less than most co-ops in Iowa," he said. "They're counting on trains moving it faster, but half of it's coming in by trucks so it just trickles in."
Transportation to the ports represents about one-third of the cost of Australian grain destined for export, Australian agriculture officials said. Coal shipments take priority over ag commodities on railroads, and efforts to improve rail lines are slow.
Australia's farmers are also limited by smaller on-farm storage facilities, Feldpausch noted. Groups of 2,000- to 3,000-bushel hopper bins were typical of the farms visited during the study tour. "The big surprise is the handling of the grain, the storage of the grain and the transportation of the grain," he said. "It was surprising how small the units are."
Australia's farmers are also at the mercy of wide swings in the weather, since they don't receive government support. Most farmers forgo crop insurance because it is too costly, said Ken Stallman, who farms near Pittsworth in a highly productive region known as the Darling Downs. He typically receives around 22 inches of rain annually, but the region is coming out of a five-year drought, cutting yields in half.
"We probably have some of the most fertile soil in the world in the Darling Downs," said Stallman, who farms around 2,000 acres. "What we don't have is a fertile water supply."
Diverse crops
Farmers use diversification as a hedge against the volatile rainfall amounts, growing a wide variety of crops including cotton, sugar cane, sorghum, barley and chickpeas during a year-round growing season in the temperate climate. At times, they'll also leave ground fallow for up to 11 months to store water for the following season's crops.
"In this climate, they've got a lot more choices," Feldpausch said. "They have the ability to adjust to the weather and the market. They obviously have what they would like to produce, but if the economics tell them to produce something else, they can. And if the climate and economics tell them to let it go fallow, they can do that, too."
Technology is coming slowly to Australia's grain farmers, said Andrew Piper, who farms with his dad, Rob, and brother, John, in the Darling Downs region. He is also the technical support representative for Ag Leader in the Asia-Pacific region.
The Pipers have embraced a zero-till approach and are using GPS to establish controlled traffic patterns on their 1,900-acre farm. They have a John Deere planter with MaxEmerge row units, one of the few in Australia with such a setup, they said.
Linn County Farm Bureau member Jason Russell expects that to change quickly in the next few years as more farmers adopt leading-edge technology. "They're a few years behind us, but they're going to be up and coming on some of these things to try and save money," he said.
Beef competitor
Beef is the primary product where Australia and the U.S. compete head-to-head. In 2017, Australia exported 1 million tons of beef valued at more than $7 billion. More than one-quarter of those exports went to Japan, which is also a leading market for U.S. beef.
The Iowa group got a glimpse of one of the country's top beef producers at the Kerwee Feedlot, a massive 18,500-head fac­ility in southeast Queensland established more than 60 years ago. Kerwee's lots are equally stocked with Angus and Wagyu breeds, and production is oriented for direct sales to high-end hotel and restaurant customers in Japan, said assistant feedlot manager George Lubbe.
The feedlot has specific feeding protocols to produce a consistent product, valuing quality over quantity, Lubbe said. Kerwee's beef is custom packaged at a nearby beef processor and traceable throughout the supply chain.
"I think they're ahead of us as far as the paperwork and the detail of traceability. We don't do near that (in the U.S.)," said David Brennecke, who has a purebred Red Angus cowherd in Decatur County. "They even did the traceability on the (feed) coming into the feedlot."
Want more news on this topic? Farm Bureau members may subscribe for a free email news service, featuring the farm and rural topics that interest them most!