Iowa land values rise 2.3% in 2019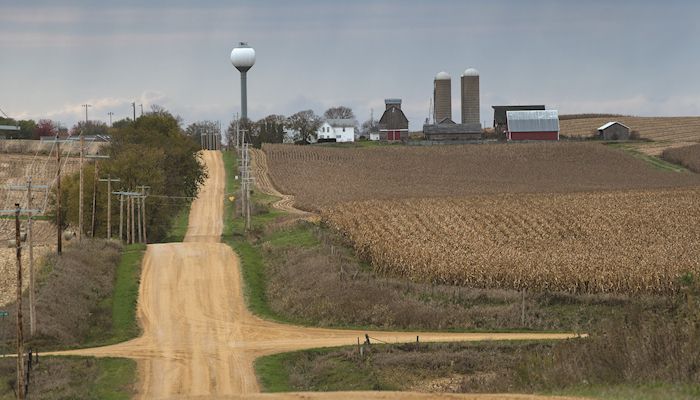 Iowa farmland values overcame negative signals in most facets of the agricultural economy to post a 2.3% gain this year, according to Iowa State University's (ISU) annual land value survey. The survey pegs the average value of an acre of farmland at $7,432, up $168 per acre from last year and the highest level since 2015.
The increase came despite delayed planting across the state, the trade war with China and a spike in U.S. farm bankruptcies, said Wendong Zhang, the ISU assistant economics professor who leads the annual Iowa Land Value Survey.
"I'm hesitant to label this a solid rebound in the land market," he said last week. "The reprieve, unfortunately, is not driven by a much stronger farm economy. We are still faced with significant uncertainty, especially the ongoing U.S.-China trade war, which has significantly affected U.S. agricultural exports and led to lower commodity prices and weaker farm income."
Instead, Zhang said the modest increase in farmland values was driven primarily by low interest rates, strong yields and limited land supply.
Low interest rates result in lower farm expenses, and also limit the attractiveness of alternative investments, Zhang explained.
"That tends to push more demand for farmland," he said.
Market Facilitation Payments (MFP) issued in the past two years to compensate farmers for trade losses also helped stabilize farm income and the land market, he added. MFP payments to Iowa farmers averaged around $40 per acre in 2018 and $66 per acre this year.
"That is not enough to offset the loss but it brings you back close to the breakeven level," said Zhang.
Multiple stresses
The primary negative influences on farmland values were low commodity prices, weather and tariffs applied on agricultural commodities.
The United States saw 580 farm bankruptcies in 2019, the highest number since 2011. Zhang said that the overall share of farm bankruptcies is still low, but there are more farms under financial stress due to continued low commodity prices.
Most of the survey respondents expect land values to remain stable over the next 12 months while anticipating slight gains in the next five years.
Farmers remain the primary buyers of farmland, accounting for an estimated 71% of purchases. Land purchased by investors remained steady at just above 20%.
"I continue to be surprised by how much cash equity was stored (by farmers)," Zhang said. "That indicates there is still a lot of money out there."
Land values increased in all but one of Iowa's nine crop reporting district, the survey showed. The only decrease came in the northeast district, where the 2.9% decline was linked to financial stress in the dairy sector, Zhang said.
Values up in 82 counties
The largest percentage increases were in the east central and central districts, which both posted increase of more than 5%.
The northwest district posted the highest overall land values averaging $9,352 per acre.
Values increased in 82 of Iowa's 99 counties, with most of the declines coming in the northeast Iowa district.
Scott County reported the highest farmland values for the seventh year in a row at $10,837 per acre, up 2.8% from last year. The largest percentage increase was in Boone and Story counties, where values rose 5.4%.
Recreational uses
Low-quality land increased more relative to medium- or high-quality ground, which Zhang said was likely the result of greater interest from recreational land buyers amid a stronger overall U.S. economy.
Low-quality land in the central, east central, and west central districts all saw increases of 5% or more, but low-quality land in the Northeast district saw a 5% decline.
Results from the ISU Land Value Survey are consistent with other surveys by the Federal Reserve Bank of Chicago, the Realtors Land Institute and the U.S. Department of Agriculture, which all show stabilizing farmland prices, Zhang said.
Want more news on this topic? Farm Bureau members may subscribe for a free email news service, featuring the farm and rural topics that interest them most!