Iowa agriculture's enduring act of kindness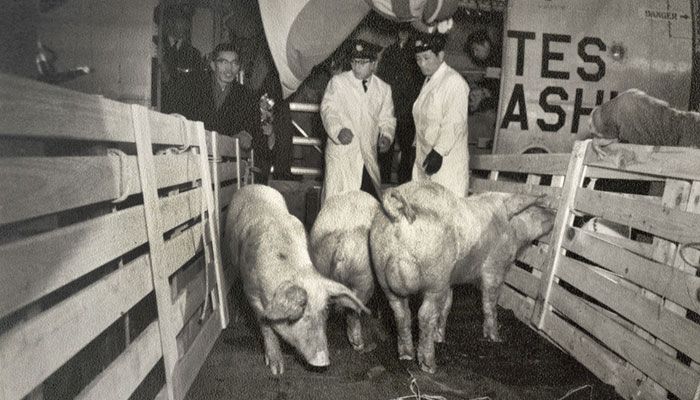 Iowa farmers' act of kindness and caring to help struggling farmers half-way around the world in Japan's Yamanashi region still resonates strongly today, 60 years later.
It was in late 1959 when Iowa farmers and agriculture leaders, learning that two typhoons had devastated agriculture in Yamanashi prefecture, arranged to airlift 36 breeding hogs, along with 60,000 bushels of corn to feed the hogs. That gift, instrumental in helping the Japanese region recover from the typhoon damage, created an enduring relationship between Iowa and Yamanashi. The result has been strong trade ties, numerous cultural exchanges and a friendship that has bridged the Pacific Ocean and cultural differences between the people of Iowa and Yamanashi.
"It's amazing how a single act of kindness could create such a strong relationship between the two countries," said Craig Hill, president of the Iowa Farm Bureau Federation. "It was a very meaningful event which had a major impact on the relationships of our two countries."
Led by an Iowan
The Yamanashi hog lift in 1960 was spearheaded by Master Sgt. Richard Thomas, an Iowan who had served in the U.S. Air Force in Japan. After learning about the devastation of Yamanashi's agriculture and particularly the region's hog sector, Thomas went to work.
He contacted Iowa farm leaders, as well as U.S. Embassy officials, to arrange for the airlifting of 28 gilts and eight boars of different breeds. Two farmers, Roscoe Marsden of Ames and Albert Miller of Ogden, tagged along with the hogs and stayed in Japan for two months to teach Japanese farmers how to raise pigs on corn.
The pigs, people and corn flew on a U.S. Air Force cargo plane that had been fitted with special livestock crates. All but one of the animals survived the arduous transcontinental journey from Iowa to Japan.
The people of Japan, and particularly in Yamanashi, remember and revere the hog lift as an act of generosity, Hill said. That was clear when Hill and other Iowa Farm Bureau leaders traveled to Tokyo and Yamanashi in 2016 for that year's Iowa Farm Bureau Federation President's Incentive trip.
Hog lift revered in Japan
At several events during the trip, Japanese leaders and farm­­ers, as well as officials at the U.S. Embassy in Tokyo, praised the generosity of Iowa farmers and the genetic strength of the breeding animals, he said.
"We were welcomed with open arms, both by government officials and by the population in general," Hill said. "What we learned was that today the vast majority of pigs in Yamanashi are progeny of those animals donated by Iowa farmers."
It was the same for Rich Degner, the retired CEO of the Iowa Pork Producers Association (IPPA). During his frequent trips to Jap­­an to promote Iowa pork exports, Degner often heard about the hog lift from his Japanese hosts.
"There was certainly a fondness for people from Iowa when I traveled to Japan, and I think that can be tied back to the hog lift," Degner said. "We had tremendous success in getting the pork trade to Japan ramped up because of it."
Foundation for trade
Dan Halstrom, an Iowa native and CEO of the U.S. Meat Export Federation, agrees the hog lift helped build a strong trade relationship between Japan and the United States. "Relationships are the key to increasing exports. That is really the case when you are dealing with Asia, and more specifically with Japan," he said.
The relationship built on the foundation of the hog lift has helped the Japanese understand and appreciate the quality and the safety of how U.S. farmers raise livestock, and it has helped U.S. meat processors understand the needs of the Japanese market, Halstrom said. "Something like the hog lift 60 years ago was really a great way to get this long-lasting relationship started."
Today, Japan is among the largest importers of Iowa's top ag products, including corn, pork and beef. A new trade agreement between Japan and the United States, which kicked in at the start of 2020, promises to increase those totals.
Cultural connections
In addition to trade, the hog lift sparked the first sister-state relationship between the United States and Japan. It was signed by then Iowa Gov. Norman Erbe and Gov. Hisashi Amano of Yamanashi in 1961 and is still going strong.
"The Japan hog lift really shows that the seeds of kindness can endure for a lifetime and beyond," Hill said.
Want more news on this topic? Farm Bureau members may subscribe for a free email news service, featuring the farm and rural topics that interest them most!