Iowa ag leaders cheer Northey nomination to USDA post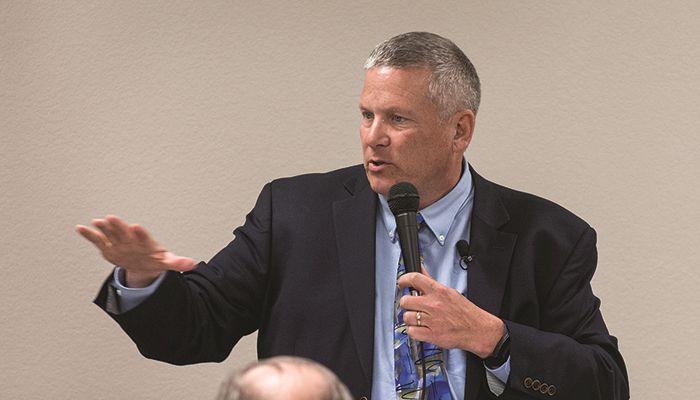 Iowa farm leaders, lawmakers and others last week cheered the nomination of Iowa Agriculture Secretary Bill Northey to the newly created post of under secretary for farm production and conservation (FPAC) in the U.S. Department of Agriculture (USDA).
President Donald Trump nominated Northey, a fourth-generation Dickinson County farmer who was first elected state agriculture secretary in 2006, to the post. If confirmed  by the U.S. Sen­ate, Northey would supervise the USDA's commodity, conservation and crop insurance programs through the Farm Service Agency, the Natural Resources Conservation Service and the Risk Management Agency.
Members of the Iowa Farm Bureau Federation (IFBF) are extremely pleased he was tapped for the new role with the USDA, said Craig Hill, IFBF president.
Extremely qualified
"Secretary Northey's years of work improving water quality and conservation makes him extremely qualified to lead this new office within the USDA," Hill said. "It's important to have someone who understands production agriculture in this important role, and Northey's experience as a farmer, success leading the Iowa Department of Agriculture and Land Stewardship (IDALS), and strong work ethic makes him a perfect fit for the position."
Northey's nomination to a USDA post has been expected for several months. Trump on Sept. 1 also nominated Nebraska Agriculture Secretary Gregory Ibach as under secretary for marketing and regulatory programs (MRP) and Stephen Vaden as USDA's general counsel. The three nominees will now go to the Senate for confirmation.
Iowa lawmakers, including Iowa's two U.S. senators, praised Northey's nomination.
"I've known Bill Northey for years, and he has been an exceptional secretary of agriculture in Iowa," said Iowa Sen. Charles Grassley. "His leadership and passion for agriculture were proven numerous times as he advocated for renewable energy and the adoption of conservation practices like cover crops. He's an Iowa farmer with dirt under his fingernails who knows first-hand what goes into running a family farm."
Sen. Joni Ernst called Northey the right person for the USDA position. "For nearly a decade, Iowa has benefited from having a secretary of agriculture as committed and hardworking as Bill Northey; he will be greatly missed," she said. "However, I know he is the best person for the job and will serve the American people well, along with Secretary Perdue, and will be an advocate on behalf of farmers, and not Washington bureaucrats."
National leader
IFBF's Hill also noted that Northey has been a national leader in conservation programs. Northey, who is also chairman of the U.S. Hypoxia Task Force, spearheaded the first-in-the-nation, science-based nutrient reduction plan known today as the Water Quality Initiative (WQI). It provides a road map to reduce nitrogen and phosphorus by 45 percent in Iowa waters and has helped create tremendous enthusiasm for conservation and water quality programs all over Iowa.
The WQI, the implementation of Iowa's Nutrient Reduction Strategy, is helping Iowa farmers take on the challenge of improving water quality in the state. It has helped farmers add record numbers of conservation practices to Iowa farms; over 4,800 farmers, with participants in each of Iowa's 99 counties, have put in nutrient reduction practices on more than 455,000 acres.
Before his leadership role as Iowa secretary of agriculture, Northey was also active in the Iowa Farm Bureau. He served leadership roles in Farm Bureau offices at the county and state level, including serving as president, vice president and committee chairman of the Dickinson County Farm Bureau.
Northey's successor
Iowa Gov. Kim Reynolds said last week that her office has several people under consideration to replace Northey as Iowa agriculture secretary, if he is confirmed for USDA position.
Reynolds noted that the confirmation process typically takes time and she will, when necessary, appoint a qualified a person to serve as secretary of agriculture for the rest of Northey third term, which will end in January 2019.
"Bill's done a great job, and I'm proud of the work that he's done," Reynolds told reporters last week. "He's set the bar high, and I think anybody that would emulate what Bill has been able to do would be a great person to appoint to that position. We've got a lot of qualified people, so we'll do the due diligence on that. When the time is appropriate, we'll make that decision."
Want more news on this topic? Farm Bureau members may subscribe for a free email news service, featuring the farm and rural topics that interest them most!