Iowa ag delegation sees added export potential to China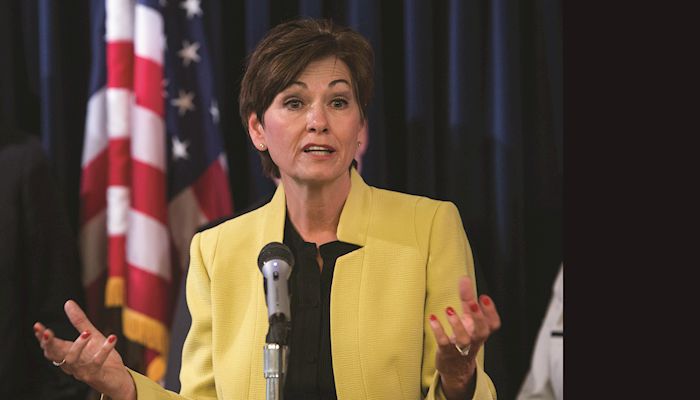 China, already a top customer of U.S. agricultural products, appears eager to boost imports as it works to reduce its overall trade deficit with the United States and meet its citizens' demand for improved diets, according to Iowa Gov. Kim Reynolds, Iowa Agriculture Secretary Bill Northey and others on an agriculture trade mission to China.
Iowa agriculture, the officials said, is ideally positioned to take advantage of the potential growth in demand because of its production strength. Also in Iowa's favor is the strong relationship of former- Iowa Gov. Terry Branstad, now the U.S. ambassador to China, and Chinese President Xi Jinping, they said.
"We talked to Chinese officials a lot about easing the trade deficit and how agriculture is a bedrock of our relationship," Reynolds said last week during a press conference in Beijing. "They really see agriculture as being a bedrock of the trade relationship. And I can't underscore the relationship between Iowa and China enough."
Chinese leaders, Northey said, view increased imports of U.S. agricultural products as a good way to ease political pressure over the Chinese trade deficit. "We picked up a sense that agriculture can be one of the areas where they want to increase trade," he said.
Non-ag trade deficit
The United States enjoys a large agricultural trade surplus with China, but has a stubbornly large trade deficit in manufactured goods and other products. In 2016, U.S. Census Department data showed that China shipped $463 billion worth of goods to the United States and imported goods worth only $116 billion, creating a deficit of $347 billion.
The recent decision to begin importing U.S. beef after a 13-year hiatus, is a good indication of China's interest in building ag imports, Northey said. "It's really very consequential and something that we should celebrate," he said.
In meetings with the Iowa trade delegation, Chinese officials acknowledged that increased food imports are needed to meet the demands of its rapidly-growing middle class, said Craig Hill, Iowa Farm Bureau Federation (IFBF) president, who was a part of the trade delegation along with Joe Heinrich, IFBF vice president. In addition, Hill said, past Chinese agricultural and in­­dustrial practices have created environmental problems, which have re­­duced soil productivity in many parts of the country.
"We can't overestimate the magnitude of this market. And with Iowa being a powerhouse of agricultural production, we have a real opportunity to fill a need here."
Branstad's appointment as am­­bassador will further raise the profile of Iowa as a source for ag imports, Reynolds said. "It's really a game changer for us. We are reaping the benefits of the relationship between Ambassador Branstad and President Xi," she said. "The Chinese really know how important Iowa is in feeding their people."
Taking on export issues
Members of the Iowa trade delegation also worked with Chinese officials on issues causing friction in agriculture trade between the United States and China.
They urged Chinese officials to make their country's approval process for biotech traits more transparent and predictable. China recently approved some biotech traits, but there are other key ones still waiting. "We thanked them for the approvals, but pushed hard to let them know that more needs to be done," Northey said.
The Iowans also asked Chinese officials to work on the anti-dumping case against imports of U.S. dried distillers grains (DDGs). That has sharply curtailed DDG exports to China and has hurt Iowa's ethanol plants.
The 10-day ag trade mission began July 19 and included representatives of the state's major agriculture groups. It's the first time that all of Iowa's major farm organizations have traveled together on a trade mission to China.
"Some of the commodity groups have developed markets in China, some are seeing new opportunities here, some are fac­­ing barriers that we need to resolve," Reynolds said. "By traveling together, we could really show the unity we have in Iowa agriculture."
Want more news on this topic? Farm Bureau members may subscribe for a free email news service, featuring the farm and rural topics that interest them most!