Iowa advocate sees progress in farm safety awareness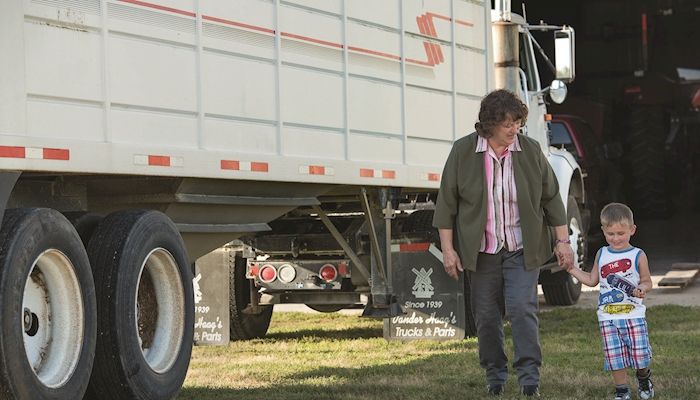 Harvest in Iowa is ramping up, and for most producers, especially those with kids involved in the operation, safety is on their minds. That's no accident.
For the past 30 years, Farm Safety For Just Kids (FS4JK) has highlighted the need for putting safety first.
"The idea is pretty entrenched now," says Farm Safety For Just Kids founder Marilyn Adams of rural Earlham. "The work is never done, but we've been able to make real progress."
It is with that confidence of a job well done that FS4JK will turn over its organizational mission to the Progressive Agriculture Foundation. "They're a great organization and they've been working friends for some time," says Adams. The Alabama-based group specializes in Progressive Agriculture Safety Days that teach farm and home safety to kids.
Adams says the FS4JK web­site will direct viewers to the Progressive Agriculture Found­ation website, where FS4JK educational materials will continue to be available to the public. Farm Safety For Just Kids will bestow the Progressive Agriculture Foundation with its financial resources as well, after granting $5,000 each to the National 4-H and FFA organizations.
"It's kind of like sending a kid off to college," says Adams. "It's time for a new phase of life."
Tragedy spawns activity
Adams retired from full-time involvement with the organization in 2012, but has never been far from the heartbeat of the effort that began with the death of her son in a 1986 farm accident.
It was a bright October day, and harvest was just beginning. Eleven-year-old Keith was excited about staying home from school to help. He was given the task of watching the gravity flow wagon to make sure the corn was moving correctly.
"He was a responsible kid, and we were proud of him for stepping up to be his dad's right-hand man," Adams tells.
Then disaster struck. Keith fell into the wagon and was quickly sucked down into the load of corn and suffocated.
"Life changed," says Adams.
After what she describes as "nearly a year of sobbing on the bed," her daughter unintentionally handed her a mission. Kelly joined FFA wanting to give a speech on the dangers of gravity flow wagons. She enlisted Marilyn's help in the research.
Developing education
That grew into a project to put danger decals on gravity flow wagons. "From there, we researched one safety threat after another and developed an educational program around it," explains Adams. In time, nine full-time staff operating from the office in Earlham, and then Urbandale, directed 400 chapters and nearly $1 million a year in an international movement.
"Keith guided us," says Adams. "He has always been our inspiration."
Over the past 30 years, Farm Safety For Just Kids has been more than a positive avenue for channeling Adams' grief; it has had a very real effect. The number of youth killed each year in farm accidents has decreased from around 300 per year to around 100.
Goal is zero
"Of course, my goal is zero," says Adams, "but it's unlikely we will get there." That's because for all the increased awareness, people are still human, and no safety reminder is ever enough — even where kids are concerned.
"No family is perfect," says Adams, "not even mine. They don't always listen to Grandma the Safety Nerd."
But the true impact may be more than just numbers. Farm safety awareness is now entrenched in ag production and education. FFA and 4-H projects incorporate farm safety. Ag industries include safety in policies and procedures. Enhanced safety has driven farm equipment design.
Even the now-popular grain bin rescue tubes stem from the focus on safety and risks, for both kids and adults, highlighted by FS4JK.
"Farming is dangerous, and you can't be too careful," says Adams. "We've been able to ingrain that message in ag's consciousness.
"But there's still work to do, even though farm accidents involving kids are down 60 percent from where we started," continues Adams. "That's why this move is right. The Progressive Agriculture Foundation can continue what we've started."
Hugs from strangers
The movement that stemmed from unbearable grief has had a personal impact as well. "The grief never goes away, but I'm at peace with it now," says Adams. "The rest of my kids grew up and moved away. Keith moved away, but he never grew up. He's still very much a part of our lives and our family."
The healing came one step at a time. The birth of a daughter five years after Keith's death "gave us back happiness," says Adams. Farm Safety For Just Kids gave a reason to start each new day.
Telling her story on the speaking circuit provided an emotional outlet and a healing touch. "Every time I told the story, it was like a counseling session," says Adams. "When I would finish, people would be hugging me and sharing their own story. They wanted to hear from me as a survivor, and that kept giving me the strength to go on."
Adams no longer gives public speeches. She no longer feels the need to. "You learn to live with it," she says. "You learn to enjoy life again."
Adams now devotes her time to being a farm wife and grandmother to 17 grandchildren and five great-grandchildren. "I missed a lot being on the road for 30 years," she says. "I have some time to make up with my family."
But that doesn't mean Keith doesn't still carry the farm safety banner.
"This was a movement borne of a legacy," says Adams, "and that spirit is alive and well. Keith is still there tapping folks on the shoulder and steering them in the right direction. Farmers are good, responsible business people, and just as they teach their kids to be responsible on the farm, they realize they have to take care to ensure their safety. This message will never die. The Progressive Agriculture Foundation will help make sure of that."
Queck-Matzie is a freelance writer in Fontanelle.
Want more news on this topic? Farm Bureau members may subscribe for a free email news service, featuring the farm and rural topics that interest them most!