Iowa Farm Bureau welcomes new leaders to 2021 Young Farmer Advisory Committee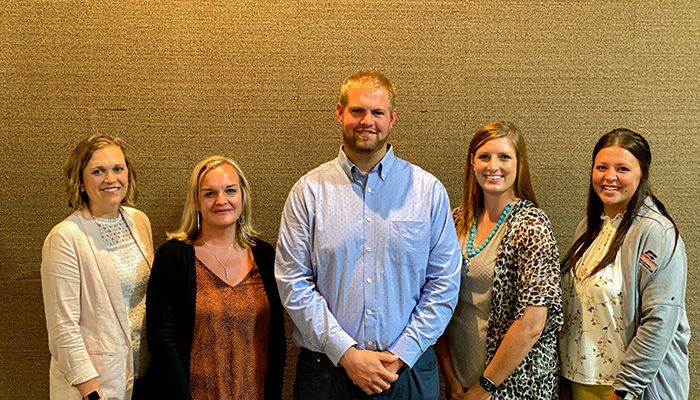 The Iowa Farm Bureau Federation (IFBF) Young Farmer Advisory Committee has elected new leaders for 2021-22. These officers and district representatives are committed to uniting young farmers, ages 18-35, throughout the state through engaging programs and events, including the annual IFBF Young Farmer Conference, which draws hundreds of young farmers and agribusiness leaders together to connect and share ideas. Elected to officer positions were:
Randy Francois, Buchanan County, Chair
Kristin Plate, Mahaska County, Vice-Chair
Megan Hansen, East Pottawattamie County, Secretary
Vanessa Trampel, Hancock County, Historian
Dee Pickard, Marshall County, PR Chair
Randy Francois and his wife, Megan, raise grain and hogs on their northeastern Iowa farm. Megan works as a consumer and mortgage lender, and the pair have two young children who keep them busy, in addition to other farm work like hauling manure and delivering feeds. Randy is a graduate of the IFBF Ag Leaders Institute, serves on the Buchanan County Farm Bureau board and is a past Young Farmer Discussion Meet competition participant.
"The farmers I've met from across the state through the Young Farmer Program are innovative, resilient and forward-thinking," says Francois. "It's exciting to see all these great minds come together throughout the year to share ideas related to how to improve the family farm, as well as our local communities, through rural vitality efforts and helping those in need." 
Kristin Plate returned to the farm in 2010 after living in five states and four countries, following her husband, Sherwin's, U.S. Army orders. They have three kids and raise grain and hogs. Plate also substitutes at her children's school and teaches bible studies to three- and four-year-olds. 
Megan Hansen along with husband, Dan, have three kids and own and manage Ag Decisions Services LCC, an ag consulting business focused on fertility management, seeding prescriptions and soil sampling for the Granular Agronomy, Pivot Bio and Soil Analytics brands. Hansen has also represented Iowa in the American Farm Bureau national discussion meet. 
Vanessa Trampel is a licensed practical nurse, and her husband, Kody, is a crop specialist. The two raise corn, soybeans, alfalfa, cattle and hogs on their farm along with two children. The Trampels are active Hancock County Farm Bureau members, serve with North Iowa Ag in the Classroom and are members of the Garner Chamber of Commerce. 
Dee Pickard works full time at a medical clinic and coaches high school color guard. With her husband, Brandon, and two children, the family raises grain, cattle and hogs. Outside of their Farm Bureau involvement, the couple enjoys playing slow pitch softball, golfing and shuttling their kids to various activities like volleyball and 4-H.  
"Our young farmer program has a long history of building strong agricultural and community leaders," says IFBF President Craig Hill. "These young people see things from a different perspective, take risks, try new things, and even older generations are learning from them. Iowa Farm Bureau is proud to support these farmers who have a passion for agriculture and dare to do more."
New district representatives joining the committee include Kody and Vanessa Trampel of Hancock County, Sam and Danielle Bennett of Ida County and Cordt and Krista Holub of Tama County. These new committee members will serve three-year terms as communicators for their districts.
The 2022 Young Farmer Conference will take place Jan. 28 and 29.  For more information on the Young Farmer Program, visit
https://www.iowafarmbureau.com/Farmer-Resources/Farm-Bureau-Leaders/Young-Farmer-Program
.