Iowa Farm Bureau scholarship winners represent next generation of agriculture leaders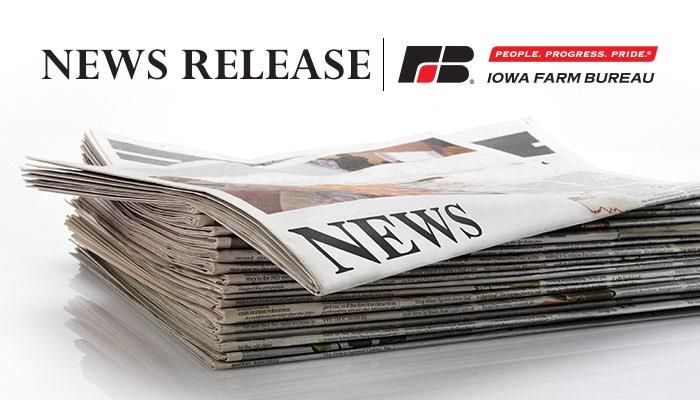 Agriculture is an industry that relies on innovation, new research, high-performing tech and hardworking people with open minds willing to put it all to work. With one in five jobs in Iowa tied to agriculture, the next generation of farmers, agriculturists and researchers are needed to continue to drive and push Iowa ag forward. Iowa Farm Bureau Federation (IFBF) has awarded $1,000 scholarships to 179 of these emerging young leaders to support their continued ag education at their chosen university or college.
"Iowa Farm Bureau takes pride in the strength of our state's agricultural backbone, and we are honored to support our youth across the state who want to continue that strong tradition," says IFBF Community Resources Manager Ronnette Vondrak. "Since 1997 we've awarded nearly 1,200 scholarships to help students pursue their education, and we know these students have gone on to become agronomists, livestock nutritionists, seed geneticists, grain merchandisers and more."
In addition to the 179 IFBF scholarship recipients (54 first-time recipients and 125 renewable scholarships), Malorie Probasco of Davis County received the Daniel Johnson Memorial Scholarship, awarded in honor of the late Daniel Johnson, a former Iowa Farm Bureau director, farmer, volunteer firefighter and school board president. This one-time $500 award is reserved for a student from one of eleven counties in southeast Iowa: Keokuk, Washington, Louisa, Muscatine, Wapello, Jefferson, Henry, Des Moines, Davis, Van Buren and Lee.
Jordyn Salter of Wapello County was named the recipient of the Edward W. and Isabelle M. Klodt Memorial Scholarship, a one-time $500 award for a Wapello County student pursuing a degree in agriculture. The Klodts were community leaders, progressive farmers and conservationists focused on the future and improving their farm and community. The memorial scholarship embodies the values of leadership, hard work, dedication to others and a belief in higher education that Ed and Isabelle represented.
Six graduating high school seniors or students currently enrolled in secondary education from each of IFBF's nine districts were selected to receive a first-time Farm Bureau scholarship. These 54 scholarships were awarded to children of Farm Bureau members who plan to or currently attend an accredited college, university or community college to earn two- or four-year degrees, and applicants were asked to write an essay on the contributions they expect to make to agriculture and their rural communities through their studies. Selections were made based on academic achievement, financial need, community and extracurricular involvement and letters of recommendation. Students are eligible to renew the scholarships for up to four years by being a student of good standing and maintaining a minimum grade point average of 2.5.
FIRST-TIME SCHOLARSHIP WINNERS (Hometown, Student, Parents, University/College)
Ackley, Jaiden Shahan, Shawn Shahan and Billie Jo Shahan, Iowa State University
Adel, Seth Entriken, Wade and Brenda Entriken, Iowa State University
Albia, Lauren Kaldenberg, Tim and Cindy Kaldenberg, Iowa State University
Beaman, Abby Feldpausch, Brian and Jen Feldpausch, Iowa State University
Bedford, Emma Lucas, Joseph and Jane Lucas, Kansas State University
Bellevue, Miranda Peters, Charles and Jennifer Peters, Iowa State University
Birmingham, Catherine Lowe, Scott and Cindy Lowe, Drake University
Bloomfield, Grace Fleming, Chad and Mitzi Fleming, Simpson College
Bondurant, Lydia Johnson, Craig and Katie Johnson, Iowa State University
Britt, Marissa Eekhoff, Ryan and Lori Eekhoff, Iowa State University
Calamus, Brian Forret, Lori Forret and the late Chris Forret, Iowa State University
Cedar Falls, Nathan Eggena, Joan Eggena, Montana State University
Chariton, Noah Offenburger, Andy and Brenda Offenburger, Des Moines Area Community College
Cherokee, Dustin Kohn, Gerard and Donna Kohn, South Dakota State University
Clarion, Cole Lindaman, Benjamin and Erica Lindaman, Central College
Climbing Hill, Gracia Widman, Matt and Jodi Widman, Dordt University
Cresco, Wyatt Curtis, Gregory Curtis, Iowa State University
Danville, Lauren Beckman, Steve and Teri Beckman, Kirkwood Community College
Davenport, Chloe Engelbrecht, Corey and Erin Engelbrecht, Iowa State University
Denison, Maggie Chapman, Gayle Chapman, Iowa State University
Duncombe, Halle Mason, Trent and Angela Mason, Iowa State University
Gilman, Carson Burchland, Aaron and Lanise Burchland, Iowa State University
Greenfield, Mallory Kuhns, Matthew and Denise Kuhns, Iowa State University
Hastings, Emma Seipold, Bret and Karen Seipold, Iowa State University
Hedrick, Kylie Noel, Michael and Stacie Noel, University of Northern Iowa
Holstein, Katlyn Wiese, Jan and Shane Wiese, Northwestern College
Holy Cross, Adam Schmitt, Jeff and Linda Schmitt, Iowa State University
Honey Creek, Grace Borgaila, David and Jennifer Borgaila, Iowa State University
Honey Creek, Ryan Genereux, Mike and Sheryl Genereux, Iowa State University
Inwood, Lydia Lee, Scott and Jennifer Lee, Iowa State University
Jesup, Hans Riensche, Benjamin and Lisa Riensche, Iowa State University
Keota, Sophie Bell, Lance and Kerri Bell, Iowa State University
Lacona, Lane Dittmer, Jaren and Dana Dittmer, Iowa State University
Lake Mills, Katelyn Groe, Steve Groe and Melissa Groe, Iowa State University
Monmouth, Brett Schoenherr, Jennifer Schoenherr and the late Randal Schoenherr, University of Wisconsin-Platteville
Montrose, Abbigail Johnson, Jeremy and April Johnson, University of Iowa
Moville, Sarah Nelson, Eric and Carol Nelson, Iowa State University
Murray, Kendra Boles, Kurt and Diane Nish, Ellsworth Community College-IA Valley
Neola, Jonathon Franke, Quintin Franke, Grand View College
Northwood, Peyton Pangburn, Donald and Bryn Pangburn, Columbia University in New York City
Osceola, Marshall Curnes, Kelly and Jill Curnes, University of Iowa
Parkersburg, Diana Mulder, Gaylen and Carla Mulder, Iowa State University
Plainfield, Kollyn Lentz, Patrick and Brittney Lentz, Hawkeye Community College
Pocahontas, Deanne Ekstrand, Dean and Deb Ekstrand, University of Northern Iowa
Primghar, Emily Chicoine, Carol Chicoine, Morningside College
Randolph, Colton Moore, Trent and Amanda Moore, Iowa State University
Red Oak, Easton Hultman, Brett and Danis Hultman, Iowa State University
Remsen, Skylar Waldschmitt, Rick and Angie Waldschmitt, Iowa State University
Rock Valley, Sarah Rosgaard, Joel and Jean Rosgaard, Dordt University
Roland, Jake Sterle, Steve and Jodi Sterle, Iowa State University
Tipton, Britney Ford, Nolan and Julie Ford, Iowa State University
Tipton, Charli Mosier, Scott and Lisa Mosier, Iowa State University
Waucoma, Abraham Schmitt, Greg and Sara Schmitt, University of Northern Iowa
Weldon, Riley Bell, Lance and Heidi Bell, Iowa State University
Want more news on this topic? Farm Bureau members may subscribe for a free email news service, featuring the farm and rural topics that interest them most!