Iowa Farm Bureau pleased 2016 legislature coupled state and federal tax policies and approved protections for property taxpayers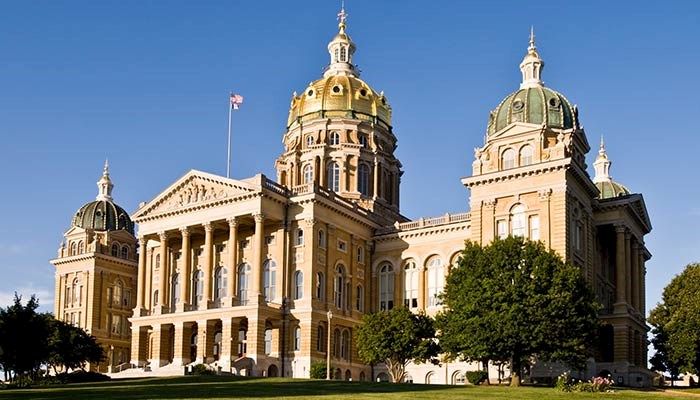 The Iowa Farm Bureau Federation (IFBF), Iowa's largest grassroots farm organization, saw the advancement of several priority issues during the 2016 legislative session. Iowa Farm Bureau members were pleased the legislature passed measures to couple state tax rules with recently-passed federal rules to provide much needed economic help for farmers and rural communities by adding more consistency to the tax code. The coupling legislation will provide an economic jumpstart in rural communities as farmers are better positioned to invest in equipment, buildings and other capital purchases to create economic opportunities in rural Iowa.
"Tax coupling has been a key issue for Farm Bureau members during this legislative session because the lack of coupling would threaten to raise farmers' state tax bills at a time when low commodity prices have drastically reduced margins and incomes," Craig Hill, IFBF president, said.
Hill also complimented the legislature for extending property taxpayer protections in the funding of the mental health system. The county levy system has operated under a statewide dollar cap since 1995, and this bill keeps these property tax protections in place for an additional year. Farm Bureau will work to ensure that the statewide dollar cap is not increased and focus efforts on making these property taxpayer protections permanent. Additionally, lawmakers approved a one-year extension of last year's property tax credits.
The passage of status quo conservation funding during a tough budgetary year will continue the positive improvements in soil conservation and water quality across the state. Hill said members are disappointed lawmakers did not prioritize a long-term funding plan to continue implementation of the water quality initiative, instead going with a one-year plan.
IFBF supported a House-passed bill that would have prioritized nearly $500 million in existing state funds to create a long-term, sustainable funding source to supplement Iowa farmers' own investments to improve water quality and soil health. Unfortunately, the plan did not advance in the Senate.
"Our members are committed to conservation progress and to the Iowa Nutrient Reduction Strategy and have invested as much as $2.2 billion in conservation practices in the past decade," Hill said. "We believe it's important for the state to also do its part."
Next year, $9.6 million will be allocated to Iowa's Water Quality Initiative (WQI). Additionally, nearly $2 million will go to the Ag Drainage Well Closure Program and $6.75 million to continue funding the conservation cost-share program which provides state matching funds for farmers to implement successful conservation practices on their farms. Farm Bureau members will continue to work with Governor Branstad and both chambers next session to create a long-term, sustainable funding plan that prioritizes conservation and water quality and supports the Iowa Nutrient Reduction Strategy.
"Farm Bureau's grassroots work at the statehouse during the 2016 legislative session had a positive impact for agriculture and for all of Iowa," Hill said after the close of the legislative session. "Our members continue to step up to develop sound policy and work with lawmakers to implement it."
Want more news on this topic? Farm Bureau members may subscribe for a free email news service, featuring the farm and rural topics that interest them most!