Iowa Farm Bureau announces '2018 Built Tough F-150' Sweepstakes exclusively for members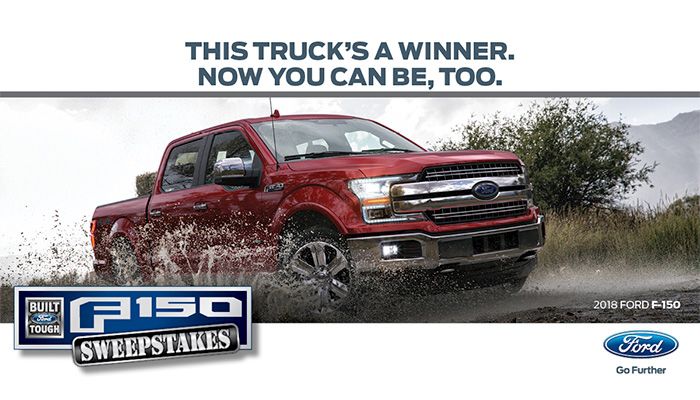 Iowa Farm Bureau members now have a chance to win a 24-month lease on a new 2018 Ford F-150 truck through a '2018 Built Tough F-150' sweepstakes being offered by Ford Motor Company, an exclusive member benefit partner of the Iowa Farm Bureau.
To register for a chance to win, members can visit www.fordspecialoffer.com/farmbureau/sweeps or text the word SWEEPS to 46786 now through September 30. Eligible members must be current Iowa Farm Bureau members, be at least 21 years old, have a valid driver's license and an email address. "This is a real win-win for Iowa Farm Bureau members who are already eligible for exclusive $500 savings on the purchase or lease of most new Ford vehicles through a partnership with Ford Motor Company," says Evelyn George, IFBF marketing coordinator. "Since we first partnered with Ford in 2011, we've helped members save more than $8 million on their new vehicles. Members care about programs and services that offer value, and we're pleased to provide additional value through this sweepstakes."
To learn more about the Ford sweepstakes or other benefits exclusive to IFBF members, visit www.iowafarmbureau.com/member-benefits or call the toll-free helpline at (866) 598-3693.