Inspiring flood relief efforts are leaving a lasting mark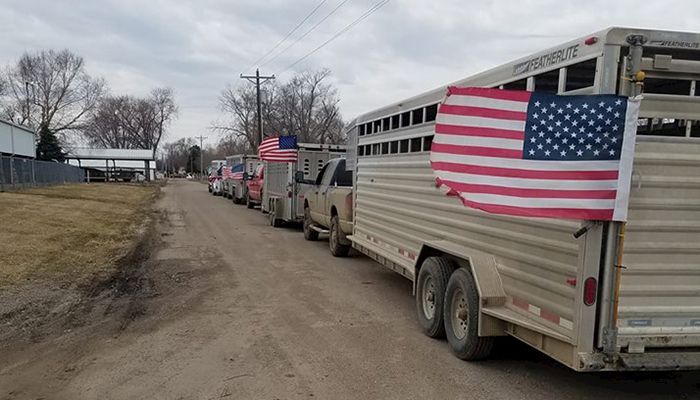 The feeling you get from helping someone in need is one of the most heart-warming and rewarding experiences, and it's a virtue I work to instill in my kids. I know I'm fortunate that my four- and five-year-old kids don't have the countless struggles others face, but they understand the power of giving back, no matter how big or small the donation. When we take a load of donations with their favorite outfits they've outgrown or toys that aren't loved as much as they once were, they feel good knowing they're going to a family who will use them and love them just as much. It's a small gesture, but I know it's a valuable experience for my kids because I still remember the lessons learned from helping others when I was a kid.
It's a lesson for all of us, because there are a lot of Midwesterners in need right now due to the spring flooding. While Iowa farmers recover from $2 billion in economic losses from spring flooding and face uncertainty around planting a 2019 crop in their flood ravaged fields, the character of Iowa farmers shines through the flood waters with stories of neighbors and communities rallying to support each other. It's the Iowa way.
I was moved to hear the story of Adam Glienke, a Cherokee County Farm Bureau leader, who was recently contacted by a friend to help take a load of hay to Nebraska to assist cattle farmers with the most devastating floods in decades. Although western Iowa farmers are dealing with their own flood recovery efforts, they felt a calling to help others. "When I learned about the struggle of fellow cattlemen in Nebraska and their need for hay to feed their animals, I decided we can help, too," Glienke says. "I knew we had to do something."
Glienke made several phone calls and recruited local farmers to assist with the effort, and before they knew it, Glienke and his neighbors had two semitruck loads of large hay bales destined for Stanton, Nebraska.
Fortunately, farmers are accustomed to handling curveballs, because just as Glienke and his crew were leaving, they learned the National Guard helicopters needed to deliver their hay to cattle in the fields, were pulled away for another mission. And, the access roads were impassable because of flooding.
"An absolute scramble" is how Glienke described the 24 hours that followed the unexpected news. They had to replace the big hay bales with smaller bales, so they could be transported into the fields by ATVs. Before they knew it, 600 small hay bales, enough to fill five large trailers, were being snatched up by several grateful Nebraska cattlemen awaiting the delivery.
"It was an eye-opening experience," Glienke explains. "Local FFA students and the high school track team helped us unload, and thanks to the extra manpower, an all-day job was completed in a half hour. It was a total team effort by so many in the community."
No one likes dealing with adversity, and this this year's devastating flooding isn't over yet, particularly in eastern Iowa, but sometimes the worst situations can bring out the best in humanity. I remember the Iowa floods of 1993, being without water at home and the challenges our family faced, but the most vivid memories that last isn't the rising water or things lost, but rather, inspiration gained by seeing neighbors helping neighbors and our small community rallying together.
I can vividly picture my dad coming home in his fishing waders after full days of helping sandbag and the emergency management folks handing out bottled water at the grocery store. He was tired, but I remember him smiling because of the feeling of community unity that lifted him up. Those memories of helping those in need, and receiving help when we needed it, will stick with me for life.
As the Missouri River slowly begins to recede, the clean-up efforts on the farm and in the affected communities continue, so do Glienke's relief efforts. The next big job is replacing fencing lost in the floods, and I hear Gleinke is back on the phone, making calls for fence post donations to help livestock farmers.
I hope by sharing these stories with my kids, they see the value and reward in helping others. Whether it's a small gesture like a clothing donation, or a bigger endeavor like hauling hay across the state, there is still a need for flooding victims and that means we can all step up and show the world and our kids that helping each other, is the Iowa way.
By Andrew Wheeler. Andrew is Iowa Farm Bureau's Public Relations Coordinator.
Want more news on this topic? Farm Bureau members may subscribe for a free email news service, featuring the farm and rural topics that interest them most!