Innovation key in managing crop risk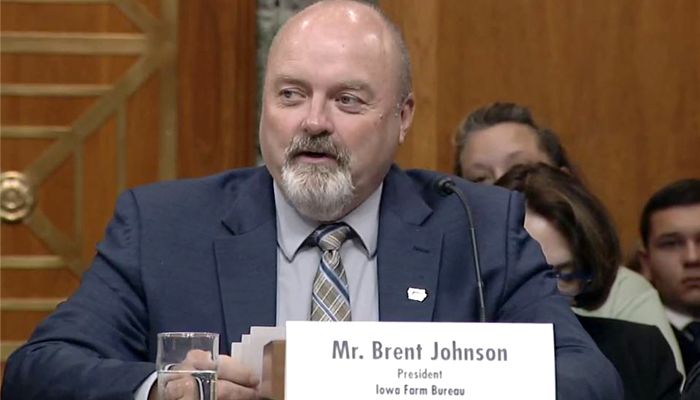 In a Senate Budget Committee hearing last week on climate risks to the agriculture sector, Iowa Farm Bureau President Brent Johnson said voluntary, incentive-based programs will allow farmers to drive progress through innovation and technology. 
"I think progress is always made better with carrots instead of sticks," said Johnson, a fifth generation farmer from Calhoun County. "It's natural for a farmer to want to make progress, to want to do better, to want to be more efficient. If you remove that incentive through burdensome regulations, (the) focus changes to meeting a regulation instead of finding new opportunities."
Precision ag benefits
Johnson highlighted how farmers are using precision agriculture to increase crop yields while optimizing inputs and protecting the environment. Planter technology opt­imizes seed placement, and sprayers can identify and precisely target weeds. Drones and satellites provide imagery for real-time crop monitoring and adjustments. Telematics enable farm implements to work together seamlessly, with data automatically sent back to the farm office for analysis.
"As far as adopting precision agriculture, on our farm it's become a necessity," said Johnson. "The ability to make progress starts with measurement and management. If I can't measure it, I can't make progress."
In terms of protecting the environment, Johnson noted that Iowa ranks first nationally in CRP acres as a percentage of area, as well as first in the use of conservation tillage, buffer strips, grassed waterways, filter strips, pollinator habitats, bioreactors, saturated buffers and constructed wetlands. Conservation practices have led to a 27% reduction in phosphorus loss and increased nitrogen efficiency, he noted.
"These advancements are pos­sible because of technological improvements in machinery, genetics, and a new horizon of biologicals and seed treatments that will help farmers continue to increase production while simultaneously improving the environment," Johnson said.
"Our history shows a track re­cord of progress that is hard-wired into the soul of farmers. Burdensome regulation will drive consolidation, remove creativity in innovation and ultimately impede sustainability progress. My ask of you is to help us continue to make progress in sustainability. Help us by advancing technology. Help us by funding research. Help us by allowing multigenerational farmers, who are literally the best in the world, do their jobs even better for years to come."
Addressing climate risks
Committee Chair Sheldon Whitehouse, a Rhode Island Democrat, called the hearing to discuss the economic costs of climate risks to agriculture, including crop insurance and disaster aid outlays. 
He said climate-smart agriculture practices such as cover crops and no-till can play a key role in mitigating these impacts by improving soil health and making farm production more resilient.
"Unpredictable weather has al­ways been a challenge to raising crops and livestock, but farmers are seeing more frequent and extreme weather variability than ever before," Whitehouse said. 
Iowa Sen. Chuck Grassley, the ranking member on the panel, said farmers are actively working to confront the impacts of weather events while running successful farming operations.
"We can do this without de­structive government regulations," said Grassley. "The first step to running a sustainable farm is for the farm at least to be able to pay the bills. Only then can a farmer implement practices that reduce emissions and improve soil health."
Crop insurance and other federal safety net programs that provide assistance to farmers are valuable risk management tools because they are designed to change with the times, said Brandon Willis, an assistant professor in the Department of Applied Economics at Utah State University.
"One of the advantages of crop insurance is you do not have to wait every five years for a farm bill," he said. "The USDA has the authority to adjust those programs to take into account new problems that are coming about — and they have a shorter timeline. I think crop insurance is a good tool because they can (react to) the data. It's more responsive."
Want more news on this topic? Farm Bureau members may subscribe for a free email news service, featuring the farm and rural topics that interest them most!