Inflation Reduction Act provides major funding boost for farm conservation programs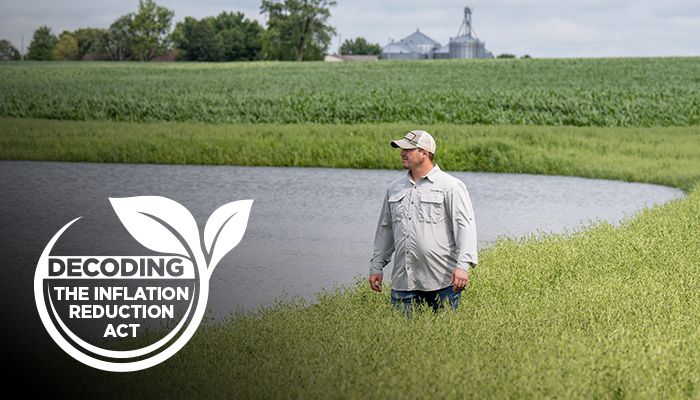 Editor's note: This article is part 1 in a special 3-part series examining how the Inflation Reduction Act will impact agriculture and funding opportunities that may result for farmers. The series will highlight conservation provisions included in the bill, rural development, energy and other agriculture-related provisions, as well as ag credit and technical assistance.
---
At more than 750 pages long, the Inflation Reduction Act (IRA) of 2022 is teeming with billions of dollars in grants, loans, rebates, incentives and other investments to bolster conservation, renewable energy production and other activities that address climate-related concerns.
The bill, passed in August 2022 at a total cost of $770 billion, includes nearly $44 billion for agricultural conservation, rural development, forestry and other programs administered by the U.S. Department of Agriculture.
"Most of the total funds appropriated in the IRA 2022 are designed to rapidly advance efforts to respond to climate change, including reducing greenhouse gas emissions from farming, capturing, sequestering and storing greenhouse gases in soils, and advancing renewable energy in rural communities and on farms," said Jonathan Coppess, director of the University of Illinois ag policy program.
About $19.5 billion will go toward increased funding for existing conservation programs that are usually "oversubscribed," meaning they run out of funding before all applications are considered. The influx of IRA money will allow the NRCS to offer more contracts under programs such as the Environmental Quality Incentives Program (EQIP) and Conservation Stewardship Program (CSP). Over the next four years, the IRA will invest 9.35 times the amount of funding previously included in the 2018 farm bill for working lands programs.
In total, EQIP was appropriated $8.45 billion, the Regional Conservation Partnership Program (RCPP) was appropriated $4.95 billion, CSP was appropriated $3.25 billion and the Agricultural Conservation Easement Program (ACEP) was appropriated $1.40 billion.
However, questions linger regarding exactly how the money will be allocated over the 10-year period covered by the bill. While the IRA dollars are budgeted to be spent by fiscal 2026, the expectation is that the USDA could spread the spending out through FY 2031, according to an American Farm Bureau Federation review of the legislation.
The question of how to spend IRA conservation funds has already been a topic in conversations about the 2023 farm bill. Some members of Congress have suggested reallocating IRA spending for other farm bill purposes, noted Christopher Pudenz, Iowa Farm Bureau manager of economics and research.
"The Inflation Reduction Act does not change the baseline farm bill mandatory spending, but it could impact discussions surrounding discretionary spending in the 2023 farm bill," said Pudenz.
Additionally, an analysis by the Congressional Budget Office (CBO) suggested that the USDA might have challenges distributing IRA-funded programs due to staffing shortages. The CBO estimated that the USDA will only be able to spend $15.3 billion of its IRA funds because of the department's historic difficulty in approving projects funded through the Regional Conservation Partnerships Program. 
However, in a House Agriculture Committee hearing recently leaders of the Natural Resources Conservation Service (NRCS) and Farm Service Agency expressed confidence that they will be able to administer the funds in a timely manner.
NRCS Chief Terry Cosby said the agency has made changes to program rules to ensure that projects are funded more quickly. The modifications include reducing the number of required agreements, providing consistent guidance and training to agency staff, and streamlining the reimbursement process for project participants.
NRCS accepts applications for its conservation programs year-round, but producers interested in the Conservation Stewardship Program should apply by June 15 to be considered for fiscal year 2023 funding. Nearly $5 million in additional CSP funds have been designated for Iowa through the Inflation Reduction Act. The funding is available for practices designated by NRCS as climate-smart activities — focused on soil health, nutrient stewardship, grazing and pasture lands. Eligible practices include cover crops, no-till, field borders, prescribed grazing and nutrient management. To apply for funding, contact your local NRCS field office.
Applications for other conservation programs will be considered for the next fiscal year. Funding is provided through a competitive process.  
To learn more about how the Inflation Reduction Act will impact agriculture, check out the Iowa Farm Bureau Spokesman's special series, along with resources available through American Farm Bureau and USDA.
Want more news on this topic? Farm Bureau members may subscribe for a free email news service, featuring the farm and rural topics that interest them most!