ISU Meat Lab steps up to help Iowans in crisis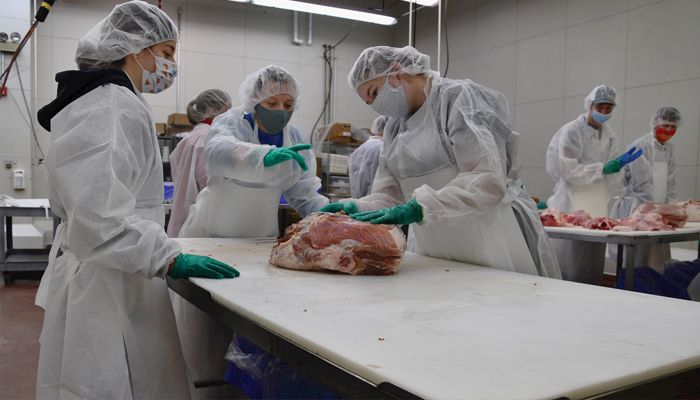 The Meats Laboratory at Iowa State University (ISU) has always been a place where helping to feed the world through animal protein has been front and center. But in 2020, as the COVID-19 pandemic gripped the country, the ISU Meats Lab also played a vital role in keeping food on the tables of the most vulnerable Iowans.
Partnering with the Iowa De­­partment of Agriculture and Land Stewardship (IDALS), livestock industry groups and food banks across Iowa, the Meats Laboratory became a conduit between farmers with animals ready for market who couldn't get their livestock processed due to packing plant shutdowns and those most in need of high quality protein.
Helping farmers
Since last July, through the Pass the Pork and Beef Up Iowa programs, the Meats Laboratory has harvested and processed hundreds of head of hogs and cattle, producing a combined total of more than 220,000 pounds of ground beef and ground pork for Iowa food banks.
"We started out this program harvesting cattle and hogs for people who couldn't find locker space, couldn't find a spot for these animals to go but they were ready to go to market," said Matt Wenger, a program specialist at the Meats Laboratory who oversaw the day-to-day operation of the programs.
When the pandemic hit in May 2020, ISU's campus shut down, and most of the staff were sent home at the same time as the students.
From May to late June, the Meats Laboratory was idle with no students and only a skeleton crew on hand. Then after a call from IDALS, Wenger and his crew sprung back into action.
Teaching with a cause
"While many times our teaching focus is on science with practice, this project allowed us to teach our students meat science while serving humanity," said Dan Thomson, chair of the ISU Department of Animal Science.
"It connected us with the beef and pork industries on a daily basis, and it connected us to the food pantries that work so hard to help those in need. We have the facilities, the people and we care. It was a highlight of our year," Thomson said.
In addition to coordinating activities within the Meats Laboratory's processing facility, Wenger also oversaw the distribution of the ground meats to food banks, a logistical heavy lift of its own.
"Matt coordinated this whole thing," said Meats Laboratory Director Terry Houser. "He's the key person that got it done … Matt's just done a yeoman's job of coordinating the logistical part."
The Meats Laboratory program is funded through June 30 to provide ground meat products to Iowa food banks. Wenger said the livestock are now coming from ISU's own learning farm because the state's processing capacity has returned mostly to normal in recent months.
Honored by IDALS
In March, IDALS honored both the Meats Laboratory and the Iowa Food Bank Association for their efforts through the COVID-19 crisis with the Iowa Ag Leadership awards.
"Our partners at the ISU Meats Lab and Iowa Food Bank Association embody the spirit of the Iowa Ag Leader Award," said Iowa Secretary of Agriculture Mike Naig. "When times got tough, these groups found creative solutions to help livestock producers and food insecure Iowans who were going through a very difficult time."
The Meats Laboratory's mission of preparing the preparers, or teaching those who cut and process the meat to feed the world, has never been so obviously vital.
Houser said this fact has reinforced the laboratory's focus on education and workforce development.
A bright future
"We have a bright future ahead," Houser said. "We've got new course offerings on the horizon and great potential to do an even better job of supporting our students, our partners and the state of meat processing globally."
In addition to graduate and undergraduate programs, the Meats Laboratory is perhaps most known for its short course offerings — programs aimed at working professionals who want to reinforce or expand their knowledge of the meat processing industry in just a few days, rather than a whole semester.
The courses often include a combination of classroom and hands-on instructions and cover topics like cured meats and basic sausage making. Many of the courses allow participants to make finished processed meat products by the conclusion.
"Anyone who has any involvement in the meat processing industry will participate in our short courses," Wenger said. "You name it, they've come through our programs."
Offering short courses
Last year's short courses were all canceled, but the laboratory plans to offer short courses once again starting this July.
The laboratory usually hosts a week-long sausage and processed meats course with an enrollment of around 70 people every July. This year's course will focus on basic sausage and will be limited to a couple of days and an enrollment of around 24 people.
But the laboratory plans to open the course back up to larger enrollments as soon as it's safe to do so.
The lab also plans to expand its course offerings in 2022 to include new programming on fresh beef and pork, snack sticks and barbecue.
Want more news on this topic? Farm Bureau members may subscribe for a free email news service, featuring the farm and rural topics that interest them most!