IFBF to focus on property taxes, conservation funding in 2016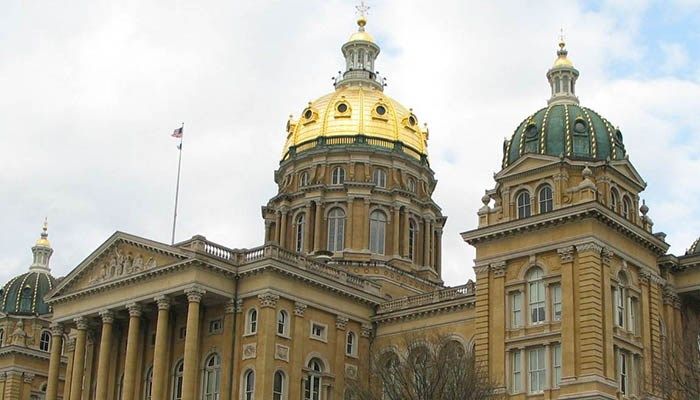 In the upcoming session of the Iowa Legislature, which will open on Jan. 11, Farm Bureau will focus on protecting property taxpayers, addressing the school infrastructure tax and adequately funding Iowa's critical water quality and soil conservation programs.
With state revenues projected to be lower than earlier estimates, the fiscal 2017 budget is likely to be a key focus during the 2016 Iowa legislative session. Farm Bureau will re­­main vigilant during the session to make certain that protection of property taxpayers continues to be a priority for lawmakers as they work to craft a budget in tighter conditions, said Craig Hill, president of the Iowa Farm Bureau Federation (IFBF).
Easing property taxes
"Iowans will pay more than $5 billion in property taxes this year, and the Legislature has the opportunity to address several measures that help protect property taxpayers in this year's session," Hill said. "We want to make certain that lawmakers put a priority on these measures in the upcoming session."
During the past three fiscal years (fiscal 2014 through fiscal 2016), property taxpayers have saved a total of $31 million through a funding mechanism that ensures increases in state supplemental aid for school districts are fully financed by state funds, instead of through increased property tax contributions. Farm Bureau will work to ensure that this funding mechanism, which is set to expire, is extended into the fiscal year 2017 budget and beyond.
In addition, Farm Bureau will work to protect property taxpayers as lawmakers once again address the issue of property tax contributions to fund Iowa's mental health system, Hill said.
Since 1995, there has been a limited and controlled statewide cap on property tax contributions for mental health. However, this cap is scheduled to sunset, and the legislature will address the fate of the cap in the future. Farm Bureau will work to ensure that property taxpayer contributions for mental health remain limited and controlled, Hill said.
In addition, Farm Bureau will work to ensure that the Ag Land/Family Farm and the Homestead property tax credits remain unchanged from last year's levels, as well as look for opportunities to couple Iowa tax policies with federal tax policies beneficial to Iowa farmers, he said.
Updating SAVE
During the 2016 session, Farm Bureau will also work to update the state's one-cent sales tax for school infrastructure, called Secured and Advanced Vision for Education, or SAVE.
Farm Bureau policy calls for the elimination of a scheduled sunset on the SAVE program in 2029. In addition, your organization will work to encourage increased public input and property tax reductions.
Farm Bureau will continue working to advance Iowa's water quality and soil conservation ef­­forts during the 2016 legislative session, Hill said. "Using the guidelines of the Iowa Nutrient Reduction Strategy, Iowa farmers have made significant progress in planting cover crops and installing conservation structures," he said. "We believe it's important for the state to do its part to keep that momentum going."
In 2015, for the second year in a row, Iowa distributed a record amount of cost-share dollars: $8.78 million went to farmers to help offset the cost of conservation structures, such as terraces, waterways and sediment basins. Farmers more than matched that investment with $12.8 million of their own funds for a total investment of $21.6 million to improve water quality and reduce soil erosion.
Showing commitment
"Over the past several years, strong demand for cost-share dollars to plant cover crops and use other technologies to reduce nutrient loss demonstrated that Iowa farmers are committed to conservation and are continuing to make significant progress in their conservation efforts," Hill said.
Farm Bureau, Hill added, will also provide strong support for the Iowa Nutrient Reduction Strategy.
"The strategy is overwhelmingly supported by Iowa farmers because it allows them to use the conservation and water quality improvement practices that best fit their operations without adversely affecting their productivity," he said.
Farm Bureau will work to increase funding for the Water Quality Initiative, the conservation cost-share program (which continues to have a back-log of unfunded project requests) and the Ag Drainage Well Closure Program. These programs operate on a cost-share basis, with farmers investing their own money when using these programs to help advance their efforts.
Want more news on this topic? Farm Bureau members may subscribe for a free email news service, featuring the farm and rural topics that interest them most!