Hustling to find a foothold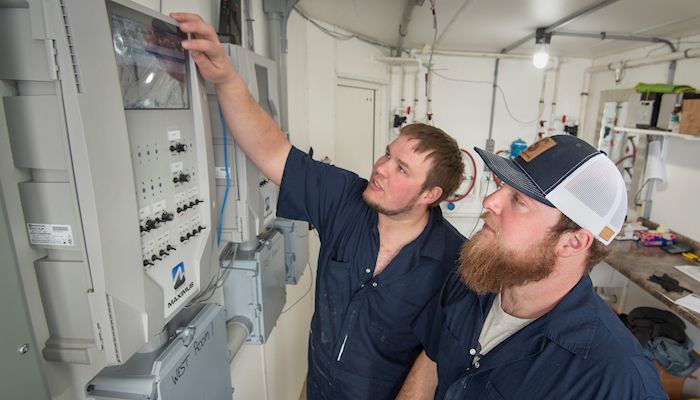 To succeed in today's competitive agriculture, young farmers are looking for new opportunities, such as adding livestock barns or becoming a custom applicator. They are trying new practices, such as grazing cover crops. And they are constantly looking for ways to increase efficiency in both crop and livestock production.
"As farmers, we're all entrepreneurs. We're running our own business on our farm," said Shelby Smith, a young farmer from Story County.
She was one of more than 500 young Iowa farmers who filled the Prairie Meadows Hotel and Conference Center in Altoona recently for the Iowa Farm Bureau Federation's (IFBF) annual Young Farmer Conference.
The conference offered attendees a chance to learn from and connect with other farmers, go on industry tours and, of course, enjoy plenty of great food.
"It can get really lonely and you may not have a lot of contact with your peers," Smith said. "That's why events like [Young Farmer Conference] are great. It's a good chance to meet and learn from others."
The Spokesman caught up with three young farmers at the conference to learn about their operations and what keeps them in the business during tough economic times.
For Mitch Sievers, being on the farm is all about being with family.
"You're born into this, for sure. I get to work every day with my brother, my dad, my uncle, you can't beat that," the Buena Vista County farmer said.
In recent years, Sievers and his family expanded their hog business, putting up their fourth barn last fall. In addition to the corn and soybeans he raises, Sievers also contracts with a local co-op as a custom fertilizer applicator.
"It's a good option for me. I'm able to help guys who don't feel safe putting it on themselves or older guys who just need an extra hand."
A love of farming
Despite a few tough years, economically speaking, Sievers said he wouldn't trade farm life for anything. "There's nothing I love more than getting out there and turning dirt," he said. "I love the smell of it, being out in nature. Nothing beats it."
And he's already working on adding to his family farming operation. He has an 8-month-old son, and Sievers said he is excited to get out in the fields with him in the future.
"This is what I'm going to be doing for the rest of my life. This is it."
Always wanted to farm
For Andy Smith, farming is what he's always wanted to do.
"In school, every time a teacher asked the class what they wanted to do when they grew up, most of the kids said professional athlete or firefighter or whatever. But every time, I always said farmer," Smith said.
He got his wish. He is a full-time farmer in Marshall County, growing row crops and cow-calf pairs with his wife and parents. He also sells and manages the installation of Accu-Steel buildings and does some work for other farmers part-time.
Especially in the last few years of low corn and bean prices, Smith has focused on feeding his cattle with cover crops part of the year.
"We graze on cover crops and also harvest some as silage," he said. "We try to use the poor soils that don't grow corn and soybeans very well and are able to get two or three different crops off of those same acres — fast growing, high tonnage crops."
Always evolving
In Mark Tapper's experience, "if there's one thing you have to do in farming, it's you have to evolve with it. If you don't evolve, you're not going to be in business long."
He has followed that philosophy while farming with his dad in Hamilton County.
In addition to row crops, the Tappers have a farrow-to-finish hog operation that produces about 6,000 head a year. "We're an independent producer, which is sort of rare these days."
Tapper is always on the lookout for efficiencies. On the hog side, that could mean changing up rations depending on prices.
On the row crop side, "you have to use more technology and use the money that you have wisely," he said, noting he tries to buy fertilizer and seed when prices are low and always has an eye on his costs. Tapper said it's in his blood to keep farming, even in tough times.
"There's no better way to raise a family," he said. "[At planting or harvest time] when the whole family is sitting there at lunch and all the machines are stopped, you know there's no better feeling when you see the whole family pitching and helping. We respect family; we respect God and respect the land. That's what it's all about."
Want more news on this topic? Farm Bureau members may subscribe for a free email news service, featuring the farm and rural topics that interest them most!