Hunger in Iowa: Take the #10gallonchallenge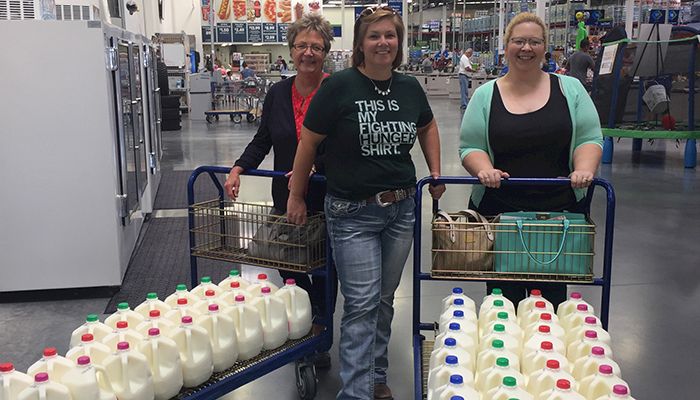 We've all seen how the power of social media can turn a small idea into a nationwide movement.
There's the teal pumpkin project to help kids with food allergies enjoy a safe Halloween; the ice-bucket challenge, which generated millions of dollars to support breakthrough ALS research; and the Hawkeye Wave, a simple act at University of Iowa football games that has raised awareness of childhood cancer.
Now a new social media campaign aims to provide food-insecure Iowans with something that many of us take for granted: a gallon of milk in the fridge.
The 10 gallon milk challenge, started this summer by a Wisconsin radio host in dairy country, asks Americans to buy 10 gallons of milk to donate to their local food pantries.
Participants are encouraged to snap a photo of themselves when they make the donation and share it on Instagram and Twitter with the hashtag #10gallonchallenge.
There's no better time to join the challenge than in October. On October 15, more than 500 Iowa hunger fighters will gather in Des Moines for the annual Iowa Hunger Summit, sponsored by the Iowa Farm Bureau and FBL Financial.
The summit, which kicks off the World Food Prize ceremonies in Des Moines, aims to share strategies and ideas to help combat hunger both here in Iowa and around the world. One in nine Iowans, or 11 percent of the state's population, struggles with food insecurity, according to the Iowa Food Bank Association. This staggering number includes more than 139,850 children in Iowa.
And food pantries report that one of the most requested foods is fresh milk. However, it's also one of the least donated foods because it's perishable.
Earlier this fall, the Iowa Department of Agriculture and Land Stewardship (IDALS) created a video featuring Secretary of Agriculture Mike Naig as he donated 10 gallons of milk to the Food Bank of Iowa. Naig then tagged other prominent leaders in Iowa to join in.
"The 10 gallon challenge is easy to do and is a great way to help families in need at the same time you are supporting our state's dairy farmers," Naig says.
Iowa Gov. Kim Reynolds and Lt. Gov. Adam Gregg accepted Naig's challenge and posted photos on social media as they donated 10 gallons of milk each for Iowa food pantries. Leaders at Iowa State University (ISU), including ISU President Wendy Wintersteen and College of Human Sciences Dean Laura Jolly, also accepted the challenge and posted photos with the #10gallonchallenge hashtag.
In total, Iowa leaders and hunger fighters have donated more than 245 gallons of milk to Iowa food pantries because of Naig's initial challenge, says Alyson Fendrick at Midwest Dairy in Ankeny.
"So 10 (gallons) turned into 200. That's amazing, right? Just from a simple Facebook post," Fendrick says.
If you, or your church or civic group, is interested in joining the 10 gallon milk challenge, Fendrick recommends contacting your local food pantry to make sure they have space to store the milk. If not, ask if it's possible to make a financial contribution.
Also, check with your local grocery store to make sure there is enough milk in stock, especially if it's a small-town independent grocery, Fendrick says.
"We encourage you to go and purchase those 10 gallons and deliver it to your food bank, and we would love for you to share it via social media using the hashtag #10gallonchallenge," Fendrick adds. "We're committed to sharing those success stories ..., and we hope to continue to watch (the donations) go up."
By Teresa Bjork. Teresa is Iowa Farm Bureau's Senior Features Writer.
Want more news on this topic? Farm Bureau members may subscribe for a free email news service, featuring the farm and rural topics that interest them most!