Hemp production blossoms in Oregon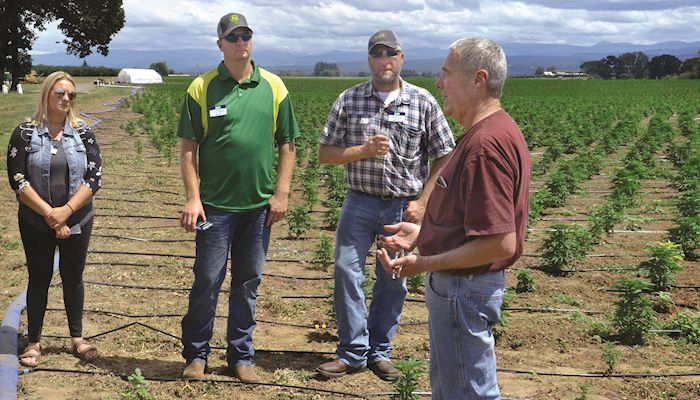 Industrial hemp is the new "gold rush" crop, says Ken Iverson of Red Barn Hemp Farm in Woodburn, Oregon.
"In this industry, there's dreamers, schemers and a few honest people. It takes a while to find the honest people," Iverson told a group of Iowa Farm Bureau members who visited the farm earlier this month on the annual IFBF County Presidents Incentive Trip.
The visit was a good primer for Iowa farmers, who have demonstrated significant interest in growing hemp since it was legalized nationwide in the 2018 farm bill, notes Brett Peelen, O'Brien County Farm Bureau president.
"It was good to see how they're growing it, because I know a lot of people have questions on it," he says. "It was neat getting to see it in the field and their way of doing it."
Since hemp was legalized in Oregon, production has ballooned from a handful of growers and a few thousand acres in 2015 to more than 1,400 growers and 50,000 acres this year, reports Lauren Henderson, as­­sistant director of the Oregon Department of Agriculture. The market became saturated quickly, and a good share of growers are having trouble finding buyers for their crop.
"My best advice for anyone thinking about growing hemp is not to grow it (without) having a market for it or a way to process it," Henderson says.
Peelen says that is the same message he's heard back home in Iowa.
"Iowa State (University) is highly recommending slow growth. They're recommending everybody try to crawl before they can walk," he says.
High initial returns
It's easy to see the reason behind the acreage boom with the lure of high returns in the early years. Red Barn Hemp Farm's net return on its hemp production was $40,000 per acre last year, Iverson says, although he acknowledges those large returns are fleeting.
"The price will come down as production rises," he says. The boom is also inflating land values in his region.
The biggest challenge facing many budding hemp growers is finding a market, Iverson cautions. However, he believes the opportunities will ultimately be much larger than the recreational marijuana industry because of hemp's many uses, ranging from fiber to nutritional supplements.
Industrial hemp contains only trace amounts of THC, the compound in marijuana that causes users to get high. THC levels in hemp are closely regulated, and exceeding the allowed amount of 0.3% THC can result in a farm's entire crop being destroyed.
Red Barn focuses its production on cannabidiol, or CBD, which is gaining popularity as a way to alleviate pain, inflammation, anxiety, sleep problems and other ailments. The farm's entry into hemp production came after Iverson's dad was diagnosed with cancer and was heavily sedated.
"We were desperate. Dad was essentially non-functional," Iverson recalls. The family searched for another solution to painkillers and found CBD oil allowed their father to be fully cognizant during his final days.
Red Barn Hemp grows about 200 acres of hemp on its land and contracts with area farms for additional acres. The farm built its own extraction facility and sells its CBD oil in liquid form, capsules, creams, lotions and dog products in the on-farm store associated with its tulip farm, called Wooden Shoe Tulip Farm, which draws 180,000 visitors for its annual spring festival.
It's been a learning experience to fine-tune production methods from planting to harvest in order to achieve optimal CBD oil properties, Iverson says.
"We've looked at this as just another agricultural crop," he says. "It's kind of fun. It's been a big puzzle. It's not often that we start with something that we have to write the rules for."
Iverson is also working with a Colorado-based company called Charlotte's Web to expand CBD oil production across the United States.
Opportunity for growth
CBD oil sales in the United States totaled $392 million in 2018, a significantly larger market than consumer textiles and industrial applications for industrial hemp, according to the Hemp Business Journal. Re­­­searchers estimate the market for CBD in the U.S. could be worth almost $24 billion by 2023.
Peelen, who has an agronomy degree from Iowa State, believes Iowa farmers have the ability to grab a share of that market. State lawmakers passed a bill this year allowing farmers to grow up to 40 acres of hemp, possibly as early as next year, but the Iowa Department of Agriculture and Land Stewardship still has to develop a state plan and get it approved by the USDA.
"Back during World War II, Iowa was a very large hemp producer. So it's not like it hasn't ever been done here before," Peelen notes.
Want more news on this topic? Farm Bureau members may subscribe for a free email news service, featuring the farm and rural topics that interest them most!