Harnessing the sun for food and energy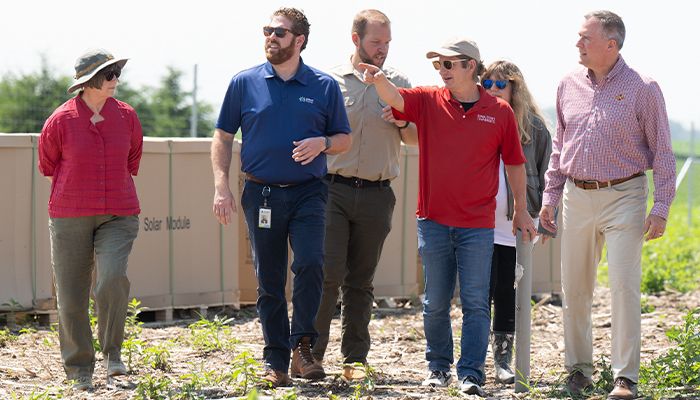 An innovative partnership between Iowa State University (ISU) and Alliant Energy will allow researchers to study the feasibility of growing crops underneath a solar panel field on a 10-acre plot of land a few miles south of Ames.
Funded by a four-year, $1.8 million grant from the U.S. Department of Energy, construction began this summer on the 1.35 megawatt solar farm, which will include more than 3,300 solar panels and 16 inverters, but also offer trial plots for the ISU horticulture team to plant, grow and study crop production and pollinator habitat.
The goal is to determine how successful a variety of fruits and vegetables grown amid the cluster of solar panels can be, and to collect data that can be used for possible additional projects across Iowa and the Midwest.
"It's a very unique project," said Ajay Nair, associate professor of horticulture who will oversee growing the vegetables at the site. "A great public/private partnership to include entomologists, horticulturalists, engineers, sociologists, economists in tandem with Alliant Energy."
The group will analyze agrivoltaics, a relatively new approach pairing solar sites with agricultural initiatives, making the site more efficient while creating additional opportunities for the land's use.
"One of the big questions driving agrivoltaics is not just can you farm under the panels, but how does the farming affect energy production," explained Matt O'Neal, ISU professor in plant pathology, entomology and microbiology. "There's some evidence from other agrivoltaic experiments where vegetation grown underneath the panels improves energy production.
"There are many such agrivoltaic projects further ahead than us with data already, but not in Iowa and very few in the Corn Belt of the Midwest. We're excited about the possibilities."
A beneficial partnership
Alliant and ISU have a long-standing relationship, said Nick Peterson, strategic project manager for Alliant. It was approximately four years ago that the company expressed interest in a partner to help explore how the company could provide solar energy within an ag context.
At the same time, ISU President Wendy Wintersteen and College of Agriculture and Life Sciences Dean Dan Robison were investigating possible green energy solutions to assist in reducing utilities costs at the university's teaching and research farms.
Together, ISU and Alliant Energy were able to make the project come to fruition — selecting the site close to an Alliant substation but on ISU land, while also identifying research, teaching and extension goals for the site.
"For this specific project, I have focused on meeting ISU's sustainability needs and exploring how the project could eventually benefit the agriculture economy and the customers and communities we serve," said Peterson.
Incorporating ag research into the project was part of the plan from the start, said Peterson. Alliant owns and operates the site on land leased from the university, while ISU receives the benefit of renewable energy to meet the growing energy needs of the school.
ISU also receiving renewable energy credits from the solar energy produced that will reduce its carbon footprint.
"Our alignment is an example of how renewable energy and the ag industry can work together," Peterson said. "Our hope is this project, along with the research and demonstration opportunities it provides, brings to light some best practices in agrivoltaics within the Midwest."
Crop research
The ISU research will be conducted by a multi-disciplinary team of professors, graduate and undergraduate students who will plant, grow and harvest the crops.
The solar project is expected to be completed this fall, with most crops being seeded in the spring of 2024.
Fruits and vegetables sowed initially will be summer squash, broccoli, peppers, strawberries and raspberries, all of which lend themselves well to the climate. The perennial fruit may make it into the ground yet this fall.
The crops will be planted underneath the panels — configured at 5- and 8-foot heights — with the majority of the panels able to be tilted for research purposes.
Alliant plans to study how growing crops under and near solar panels could impact energy production "with the capability to collect more granular information about energy production than at a standard facility," said Peterson.
By comparing plot-to-plot energy production with temperature and moisture data collected from sensors under the panels, researchers can see whether crops make changes that impact the panels.
"The humidity will be different, moisture in the soil, temperature….it will be a very unique micro-climate underneath," explained Nair. "We'll be able to figure out what will be the micro-climate condition under these panels."
O'Neal concurred, adding that there's some data that shows these mini micro-climates can actually cool the panels "making them more efficient, more effective."
ISU will be able to determine which fruits and vegetables thrive in the conditions, while economists determine the viability of growing crops under solar panels and who may find interest in considering doing so.
O'Neal said he's also excited about the pollinator possibilities while managing a colony of bees at the site, measuring the response of the bees and providing educational opportunities for students in beekeeping and conservation.
"I've been looking for a place to explore these questions when it comes to pollinators, and more specific to ag, beekeeping as a form of agrivoltaics," said O'Neal. "Can beekeeping be done there given resources available and as an additional form of agriculture that can be practiced at the site?
"We'll find out."
Many possibilities
Nair said utilizing the site for student educational purposes is another benefit. "There are possibilities not only for research, but for education," he said.
He and O'Neal will be joined by Suzanne Slack, ISU assistant professor of agriculture, who will manage the fruit production, as co-advisors of the students who tend to the crops. A hired technician will oversee the site.
"Our role in this is to follow the science behind it," said Nair. "It's a great research opportunity (to determine the) science of whether such a system can exist."
O'Neal said if agrivoltaics proves viable, the possibilities are endless.
"You can imagine that we could start breeding for the unique constraints, the unique environment of this, and the crops would do even better into the future," he said. "I'm hoping that we can develop the research base to show if agrivoltaics is viable, profitable, sustainable for this part of the world.
"It opens up a new avenue for farming that is coupled with renewable energy, but also coupled with helping local communities farm more profitably and sustainably."
Ray Klein, director of the ISU Office of College Partnerships, said solar farms are growing as a green energy source, and planting high-value crops in and around the solar panels provides an emerging tool to maximize the land.
"We hope that through our mission-driven partnership with Alliant Energy we will investigate potential opportunities for farmers and community members in Iowa to benefit from the opportunities inherent by planting high-value crops on site," Klein said.
"This is all exciting and new, and ISU hopes …. we can become a state and regional resource for those considering solar farms and agrivoltaics in their communities."
Want more news on this topic? Farm Bureau members may subscribe for a free email news service, featuring the farm and rural topics that interest them most!