Greenway's gridiron success, character stem from "Farm Strong" roots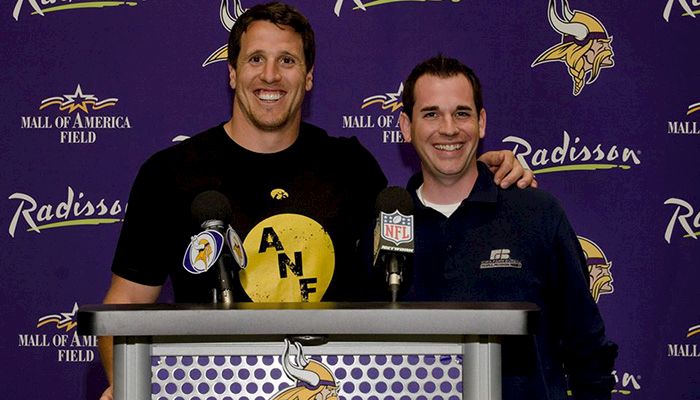 Three years ago, when Chad Greenway signed on to support the America Needs Farmers (ANF) program, I had the opportunity to meet the All-Pro linebacker, and it's a memory I will always cherish. I was familiar with Greenway's outstanding football career (All Big 10, NCAA All-American, first round NFL draft pick, Minnesota Vikings captain, two-time Pro Bowl selection), but I didn't know much about the man underneath the helmet and pads.
I quickly learned why Greenway was a perfect fit for the ANF team. He grew up on a family farm in South Dakota and credits the work ethic and determination he learned on the farm for his on-field success. His rise from a 9-man football team from a town of 400 to team captain of the Minnesota Vikings and one of the most productive pro linebackers in the last decade is a storyline for a movie. Perhaps most importantly, in addition to being a great football player, Greenway is a great guy.
It wasn't surprising when Greenway announced his retirement earlier this week, and for those who know him, it wasn't surprising he spent his 40-minute press conference thanking dozens of people who impacted his life and helped with his success, including a special acknowledgement for the only Division I school to offer him a scholarship when he said, "Thank you, Iowa."
Greenway's gridiron success is well known, but his Farm Strong character that made him the perfect fit for the ANF squad is less reported. In 2007, Greenway received the Ed Block Courage Award from the Minnesota Vikings for his dedication and effort coming back from a devastating knee injury in his rookie season. In 2012, the Twin Cities media presented him with the Korey Stringer Good Guy Award. In 2014 and 2015 Greenway was named the Vikings Man-of-the-Year for exemplary character.
Greenway also established the Lead the Way Foundation, a program to support underprivileged children and those with chronic and critical illnesses, that has been credited with touching the lives of 375,000 residents in the Twin Cities.
Even during the NFL's off-season, Greenway's name remained in the headlines. In June 2014, Greenway made national news for rescuing a couple on Lake Minnetonka after their new boat became disabled in rough water. The rescued couple didn't realize they were saved by an NFL star until speaking with the media afterwards. In fact, the couple shared they were Chicago Bears fans, the archrival of Greenway's Vikings. Greenway showed his sense of humor with a witty response, "Good thing he told me that afterward!"
Greenway is the first to admit he loves talking about his rural family farm upbringing and sharing the story of agriculture, which he calls "the backbone of America." As a farm kid, he understands the hard-working men and women on the farm who go the extra mile to provide safe food choices and truly exemplifies what it means to be "Farm Strong." I'm confident Greenway will remain an active advocate for agriculture in retirement, and I look forward to seeing what the future holds for a truly good guy and proud member of the ANF squad.
By Andrew Wheeler. Andrew is Iowa Farm Bureau's public relations coordinator.